News/Media

*If a menu item has a submenu clicking once will expand the menu clicking twice will open the page.

Study & Practice

*If a menu item has a submenu clicking once will expand the menu clicking twice will open the page.

Projects

*If a menu item has a submenu clicking once will expand the menu clicking twice will open the page.

FPMT

Proper guru devotion – correct devotion to your virtuous friends – allows you to actualize successfully all the steps of the path to enlightenment, from the perfect human rebirth up to buddhahood itself.

Lama Zopa Rinpoche

*If a menu item has a submenu clicking once will expand the menu clicking twice will open the page.

Shop

The Foundation Store is FPMT's online shop and features a vast selection of Buddhist study and practice materials written or recommended by our lineage gurus. These items include homestudy programs, prayers and practices in PDF or eBook format, materials for children, and other resources to support practitioners.

Items displayed in the shop are made available for Dharma practice and educational purposes, and never for the purpose of profiting from their sale. Please read FPMT Foundation Store Policy Regarding Dharma Items for more information.
A young man recently wrote this letter to Lama Zopa Rinpoche asking for advice. Rinpoche's reply is one to share.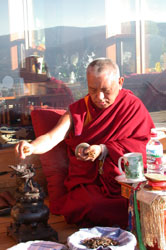 Dear Rinpoche, my kind and benevolent guide,
Let me thank you once more for all the wise advice you have given me. As I continue to reflect on it and put it into practice, it brings greater and greater results. My talks with Ven. George Churinoff and Ven. Sarah Thresher have helped me to understand your message more deeply. I am unbelievably happy to have met you when I did.
Since our meeting I have carefully and hopefully approached the Gelug tradition and the Prasangika Madhyamaka way of thought. Thich Nhat Hanh is a great guru to me in that he teaches brilliantly on patience, compassion, loving kindness, and meditation. I do find that the Prasangika Madhyamaka view is, for me, the complete antidote for all wrong views; I feel I have somehow known it all along, but finally here it is in words.
Something had blocked me from completely immersing myself in the Gelug tradition. After receiving your first letter, I kept Liberation in the Palm of Your Hand by my bedside for quite a while until one night I finally felt it was time to begin reading it, as you advised.
Within an hour of starting the book I had an intense experience of having woken up from a dream and realizing that I had in fact been awake all along. I also felt great love for all beings lost in forgetfulness and believing themselves to be self-existent. While blissful, this experience, like anything, was impermanent and faded by the next day.
The following night, I had an even greater experience that I can only describe as renunciation. I realize that is a very strong term but I feel comfortable in using it here. After reflecting a great deal on suffering, I no longer felt a sense of confusion about it but instead had the thought, "What does one expect from samsara?" That thought was accompanied by a complete understanding that seeking solace in the conditioned would forever be ineffective. To see other beings continuing to seek such solace brought to me a deep sense of compassion, and from this peaceful state I vowed, quite spontaneously and effortlessly, and with a deep sense of urgency, to devote myself to the path of the bodhisattva from now until I reach enlightenment so that I could have the skillful means to liberate all of these beings … [This letter is considerably longer in the print version of Mandala.]
RINPOCHE'S REPLY
My very dear friend,
Thank you very much for your email. I am rejoicing about your experiences, your life; definitely it is the result of having practiced Dharma in the past. My suggestion is just to continue these experiences every day.
If you see emptiness that is non-dual, then there is no thought of desire, so this is something other than worldly emptiness, that nothing exists, there is nothing there. This is something most profound, most deep, not just shallow – that you cannot find, cannot label on a base. It is such a strong experience, so then you can try to come back to that again and again and try to establish it, to be able to last longer and have longer concentration.
It is good if you can study more in depth on calm abiding, like from Liberation in the Palm of Your Hand. Try to use that meditation technique, going through the nine stages.
Generally, to achieve calm abiding you need to stay in an isolated place where there are no obstacles from outside, and inside, the basis needs to be pure, living in morality. This is the main cause not to have obstacles on the inside.
So to help your meditation on emptiness last longer, use the method of calm abiding.
Concentrate on emptiness using two methods – awareness and remembrance: awareness of whether the mind is distracted, and remembrance of the object of meditation. When meditating on emptiness, have a part of your mind watching at the same time, watching if your mind gets distracted or not …