News/Media

*If a menu item has a submenu clicking once will expand the menu clicking twice will open the page.

Study & Practice

*If a menu item has a submenu clicking once will expand the menu clicking twice will open the page.

Projects

*If a menu item has a submenu clicking once will expand the menu clicking twice will open the page.

FPMT

For happiness, cherish others.

Lama Zopa Rinpoche

*If a menu item has a submenu clicking once will expand the menu clicking twice will open the page.

Shop

The Foundation Store is FPMT's online shop and features a vast selection of Buddhist study and practice materials written or recommended by our lineage gurus. These items include homestudy programs, prayers and practices in PDF or eBook format, materials for children, and other resources to support practitioners.

Items displayed in the shop are made available for Dharma practice and educational purposes, and never for the purpose of profiting from their sale. Please read FPMT Foundation Store Policy Regarding Dharma Items for more information.
Autobiography of a Yogi as a Child
Lama Zopa Rinpoche, FPMT's spiritual director, is the reincarnation of the Nyingma yogi Kunsang Yeshe, the Lawudo Lama. Rinpoche was born in 1946 in Thami, not far from the cave Lawudo, in the Mount Everest region of Nepal, where his predecessor meditated for the last twenty years of his life.
From time to time whilst giving teachings at various centers around the world, Rinpoche would tell stories of his childhood: in Thami, then in Tibet, where he went when he was ten, and finally India, where he first met Lama Thubten Yeshe, with whom he would remain as heart disciple until Lama passed a way in 1984. Compiled and edited by Ven Ailsa Cameron.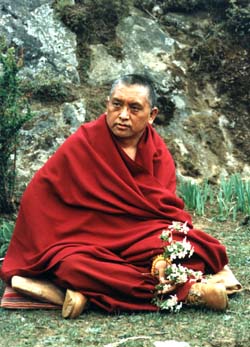 I don't remember what my father looked like. I think he died when my mother was carrying my brother, Sangye, and was a baby. People say that he had a beard and didn't speak much; they describe him as a placid person who didn't get upset very easily. I don't know whether he was ever a monk, but I was told that he was very good at reading texts and doing pujas for other people.
My father was sick for some time before he died. One day after coming came back into the house from working in the field, my mother saw my father sitting quietly by the fireplace. She called to him, "Father, do you want anything?" but he did not reply. His body was upright; it is possible that he was in meditation, but I think my mother didn't realize this. She went to tell her friends, but they didn't know what to do. She should have asked a lama, but I think her understanding was quite limited. Her friends must have thought he was dead, so they told her to take the body outside and burn it.
My mother didn't go to the cremation because it is not the Sherpa custom. I think is possible that my father was not actually dead when he was cremated, that his mind had not yet departed from his body. The people who burned the body told my mother, "He looks so alive. He doesn't look dead."
All I remember of my father are the clothes he left in the house. As very small children, my sister, brother and I would all sleep together at night in our father's chuba, which was lined with animal fur. Sometimes we would say to each other, "This belonged to our father."
When my father was alive, our family was a little better off than other families. We had many possessions, though according to Western standards of living we were probably only rich in garbage. However, after my father died, because my mother was in debt, our possessions were taken away by force. She had great difficulties, especially after I was born, when many of our animals — dris, goats and sheep — died.
My mother had to take care of all the work in the fields and then go to the forest to collect the firewood, which took many hours. Only my sister could help her. My brother and I just played in the field all day with stones and pieces of wood, coming back home when my mother shouted from the window that our food was ready.
When I was very small my best friend was a boy who could not speak. Every day we would play together. He and I liked to play games involving rituals. Near our house was a large rock with mantras carved into it. I would sit a little way up the rock and pretend that I was giving initiations, while the other boys had to try to take them. I didn't know any prayers, so I would just make some kind of noise and pretend I was praying. (Actually, think I am still playing like that now.) We also pretended to do pujas. Some boys would imitate the sound of cymbals, while others would be the benefactors. We would mix earth and water on small flat stones and the benefactors would serve this as food to the other boys.
Because there were some rumors going around about my past life and because I had a strong wish to become a monk, when I was three or four years old my mother sent me to one of my uncles, a monk in the local Thami monastery, to learn the alphabet. I was carried there on someone's back.
I was very naughty at that time and only wanted to play, so I wouldn't stay in the monastery. My uncle used to teach me the alphabet outside in the courtyard in the sun, and when he went inside to the kitchen to cook our food I ran away to my mother's house, which was very close to the monastery. I was very small and alone. Like most mountain children, I didn't walk slowly, but like water falling I ran down to my mother's house, never stopping to rest along the way. My mother would then scold me and send me back to the monastery. I escaped to my home quite a number of times.
Because of this, my mother sent me with another uncle to Rolwaling, in a much more secluded part of Solu Khumbu. I was carried there on top of the luggage. There is no way I could escape from Rolwaling to my home because you have to cross very steep and very dangerous snow mountains for two days. Sometimes when people were crossing the steep snow slopes, there would be an avalanche and all the people would disappear.
Click here to read Rinpoche's story of meeting Lama Yeshe.