News/Media

*If a menu item has a submenu clicking once will expand the menu clicking twice will open the page.

Study & Practice

*If a menu item has a submenu clicking once will expand the menu clicking twice will open the page.

Projects

*If a menu item has a submenu clicking once will expand the menu clicking twice will open the page.

FPMT

I encourage people not to express their anger, not to let it out. Instead, I have people try to understand why they get angry, what causes it and how it arises. When you realize these things, instead of manifesting externally, your anger digests itself. In the West, some people believe that you get rid of your anger by expressing it, that you finish it by letting it out. Actually, in this case what happens is that you leave an imprint in your mind to get angry again.

Lama Thubten Yeshe

*If a menu item has a submenu clicking once will expand the menu clicking twice will open the page.

Shop

The Foundation Store is FPMT's online shop and features a vast selection of Buddhist study and practice materials written or recommended by our lineage gurus. These items include homestudy programs, prayers and practices in PDF or eBook format, materials for children, and other resources to support practitioners.

Items displayed in the shop are made available for Dharma practice and educational purposes, and never for the purpose of profiting from their sale. Please read FPMT Foundation Store Policy Regarding Dharma Items for more information.
Of Siberian Cranes and Broken Worlds
December 2006 / January 2007 Issue
Letter from Bodhgaya
By Ven. Kabir Saxena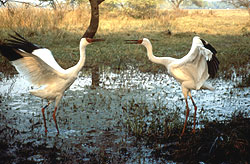 Bodhgaya had its annual visitors this August – smelly, feathered friends from the icy northern tundras of the vast Siberian land-mass. I presume they are some species of crane. They spend their time eating, nesting, and, of course, generously taking advantage of Newtonian laws by liberally bestowing ploppy, initiatory, fecal sprinklings on hapless shoppers below. The latter may be absorbed in critically examining a khatag, Buddha rupa, or mala when, lo!, like manna from shamanic heavens, the branches appear to drip nectar, and the pilgrims find their vestments have absorbed a unique sort of memento of the Holy Place.
The aroma is quite unpleasant indeed, except to those well-tutored in vipassana or mahamudra sadhana, but the effect on me tended to be like howling blasts from some bewitched Macbethian heath that chills the wanderer down to the very marrow.
The birds must take off in that strange preternatural light of the north, perhaps fly over some dismal gulag, abandoned to the ice, and head south over, say, Mongolia, with its endless mountain steppe-land, its rugged nomads, and the glorious standing Chenrezig of Ulaan Baatar with the Kalachakra Temple next door; then proceed over the rest of Central Asia with its unimaginable Buddhist heritage, much still, no doubt, buried under shifting sands.
Perhaps the cranes gaze down next on the great Boudhanath stupa in Nepal, or Swayambhunath, or Khen Rinpoche Lama Lhundrup exhorting youthful monastics during evening debate at the blessed Kopan Gompa.
Crossing the Ganga near Patliputra, modern Patna, they soar above the caste-ridden violent entrails of badlands Bihar before espying sacred Vajrasana in the distance, beyond the filth and squalor of Gaya and on whose outskirts the Buddha preached the Fire Sermon, encouraging us to recognize that the five sense organs are on fire with the delusions.
Cooing contentedly in the evenings, the white visitors reminded your trusty hack of a recent article stating that the Siberian ice was thawing significantly enough for the ground there to be releasing vast quantities of methane into the atmosphere, alarming, the article continued, given that methane has about twenty-three times the power of carbon dioxide to trap heat in the atmosphere, thus contributing further to global warming. So it's not just the fact that the cranes may want to make Bodhgaya their future longer-term habitat (their drippings providing excellent manure no doubt for Root Institute and Maitreya Project School gardeners), but a picture emerging worldwide that will force us to put our money where our mouth is in terms of our Bodhisattva vows.
It looks like I need to read and reread and then practice the teachings enshrined in books like Transforming Problems into Happiness by Lama Zopa Rinpoche, and The Eight Verses of Langri Thangpa, and encourage others to do so as well. It also brought to mind what I consider an extraordinary novel by the British writer Doris Lessing who was born in Persia in 1919. The novel is Shikasta (meaning the broken one), published in 1979 as part of a quartet exploring a genre the author terms space fiction. Its panoramic sweep over the whole of earth history leaves one crying at the degeneration in minds and environment that has taken place over the millennia. Great literature, read in the appropriate spirit, can and does, in my experience, engender virtuous mental factors.
So although the cranes and the attendant analysis left me feeling sad last week, I was buoyed up by a recent Mandala magazine article in which dharma brother and elder Venerable Rene Feusi spoke of his dharma practice and how to meditate on the Stages of the Path, especially the great compassion. It provided hope for the future and rekindled trust in the potential of my mind to eschew the garbage and engage in a substantial reconstruction of consciousness just as the Buddha and the gurus tell us we could and should.
The cranes are departed, the world is still broken, and I cradle softly my genuine heart of sadness, with as yet a seed of joy buried in there too.
Ven. Kabir Saxena (Losang Tenpa) works for the Maitreya Project School in India.