News/Media

*If a menu item has a submenu clicking once will expand the menu clicking twice will open the page.

Study & Practice

*If a menu item has a submenu clicking once will expand the menu clicking twice will open the page.

Projects

*If a menu item has a submenu clicking once will expand the menu clicking twice will open the page.

FPMT

See everyone as precious and fulfilling all your wishes.

Lama Zopa Rinpoche

*If a menu item has a submenu clicking once will expand the menu clicking twice will open the page.

Shop

The Foundation Store is FPMT's online shop and features a vast selection of Buddhist study and practice materials written or recommended by our lineage gurus. These items include homestudy programs, prayers and practices in PDF or eBook format, materials for children, and other resources to support practitioners.

Items displayed in the shop are made available for Dharma practice and educational purposes, and never for the purpose of profiting from their sale. Please read FPMT Foundation Store Policy Regarding Dharma Items for more information.
Who are you and where can you be found?
A teaching from Lama Thubten Yeshe
One of the essential practices of tantra is that of deity yoga. When we practice tantra, we have to arise as the deity we're practicing. In order to do this properly, we need to experience a certain degree of non-duality. If we don't, we'll think that our arising as the deity is the same as arising as a flower or a wall. It will make no sense. In fact, there's incredible sense in arising as the deity and there's a vast difference between arising as a flower and arising as a deity.
It's essential to dissolve the normal ego projection of the physical nervous system body; to absorb the image that our conception of ego instinctively feels — that I'm somewhere around here; Thubten Yeshe is somewhere here. Where is Thubten Yeshe? My ego's instinctive interpretation is that I'm here, somewhere in my body. Check for yourself. See what comes up in your mind when you think of your name. The huge mountain of your self will arise. Then check exactly where that mountain of "me" can be found. Where are you? Somewhere around your body. Are you in your chest, in your head?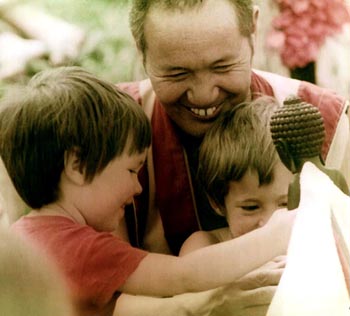 You feel this instinctively. You don't have to study philosophy to learn it; you don't have to go to school; your parents didn't teach you. You've known this since before you were born. Buddhism describes two kinds of ego identity: kun-tag and lhen-kye. The one I'm talking about is lhen-kye, the simultaneously born one, the one that exists simply because you exist. It was born with you; it needs no outside influence for its existence. Like the smell that comes with a pine tree, they're one. The pine tree doesn't grow first and then the smell comes later. They come together. It's the same with the innate sense of ego; it comes at conception.
Kun-tag means the sense of self that's philosophically acquired. It's something that you learn through outside influence from teachers, friends, books and so forth. This is the intellectually derived ego. Can you imagine? You can even acquire an ego through reading. This one is easier to remove, of course, because it's more superficial. It's a gross conception. The simultaneously born sense of self is much, much harder to get rid of.
This instinctive conception of ego is really convinced that around my body is where you'll find Thubten Yeshe. Someone looks at me and asks, "Are you Thubten Yeshe?" "Yes," I reply, "I'm Thubten Yeshe." Where is Thubten Yeshe? Around here. Instinctively, I feel I'm right here. But I'm not the only one who feels like this. Check up for yourself. It's very interesting.
Until I was six years old, I was not Thubten Yeshe. That name was given to me when I became a monk at Sera Monastery. Before that time, nobody knew me as Thubten Yeshe. They thought I was Döndrub Dorje. The names Thubten Yeshe and Döndrub Dorje are different; different superstitions give different kinds of name. I feel my name is me, but actually, it isn't. Neither the name Thubten Yeshe nor Döndrub Dorje is me. But the moment I was given the name Thubten Yeshe, Thubten Yeshe came into existence. Before I was given the name, he didn't exist; nobody looked at me and thought, "There's Thubten Yeshe." I didn't even think it myself.
The reality, however, is that Thubten Yeshe is merely the dry words applied to the bubble-like phenomenon of the five aggregates [physical body and the four mental aggregates of feeling, discrimination, compositional factors and consciousness]. These things come together and that's it: Thubten Yeshe, the name on the bubble. It's a very superficial view. The ego's instinctive feeling that Thubten Yeshe exists somewhere around here is very superficial.