News/Media

*If a menu item has a submenu clicking once will expand the menu clicking twice will open the page.

Study & Practice

*If a menu item has a submenu clicking once will expand the menu clicking twice will open the page.

Projects

*If a menu item has a submenu clicking once will expand the menu clicking twice will open the page.

FPMT

If we want to understand how we are ordinarily misled by our false projections and how we break free from their influence, it is helpful to think of the analogy of our dream experiences. When we wake up in the morning, where are all the people we were just dreaming about? Where did they come from? And where did they go? Are they real or not?

Lama Thubten Yeshe

*If a menu item has a submenu clicking once will expand the menu clicking twice will open the page.

Shop

The Foundation Store is FPMT's online shop and features a vast selection of Buddhist study and practice materials written or recommended by our lineage gurus. These items include homestudy programs, prayers and practices in PDF or eBook format, materials for children, and other resources to support practitioners.

Items displayed in the shop are made available for Dharma practice and educational purposes, and never for the purpose of profiting from their sale. Please read FPMT Foundation Store Policy Regarding Dharma Items for more information.
Shakyamuni Buddha's model of the mind is so sophisticated, but if Dharma is not practical, then it is just words. Buddhism is an incredible philosophy, but unless it comes together and becomes experiential, it's a complete waste of time. We can be sucked into thinking we're really practicing because we have a head that's full of knowledge, but the point is to really taste it, as Lama Yeshe would say.
So what is practice? As Lama Zopa says, the workshop is in the mind — that's where practice is. The meaning of the Tibetan word for meditation is gom — becoming familiar — and on the basis of becoming familiar with Buddha's psychological model of the mind, we become familiar with what's there. The Buddha is saying we have phenomenal potential, and it's innate in every living being. If we could get a taste for it, we would be inspired. It's an antidote to depression and hopelessness, which is so common in our culture.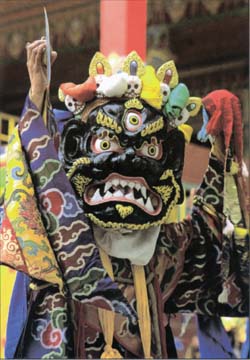 But potential for what? Not something holy, like heaven in the sky or the next life, but potential for unbelievable bliss, for joy, for contentment, for clarity, for kindness, for compassion — for something we actually want. It is something so earthy, so tasty. Spirituality is experiencing the positive qualities we actually possess and developing them. It is also seeing the deluded, polluted parts of ourselves and reducing them. We need to become deeply familiar with all aspects of ourselves, and the only way we can do that is by looking inside.
It's not enough just to do our meditation and be "holy" — we have to analyze. Otherwise, it's as if someone were to present you with a delicious cake and you want to know how to make it. You can't be all airy-fairy, cross your fingers, put in 14 eggs and hope for the best. Excuse me, you have to have a precise recipe, right? Two eggs, three and a half cups of this, two spoons of that — you need to know the relationship between those boring ingredients and that delicious cake. It's exactly the same with our mind, with practice. This is why, especially in the Tibetan tradition, studying the psychology is seen as a profound way to transform our mind. It's learning the recipe so you can transmute the theories into practice. Don't underestimate using the conceptual mind — it's a powerful stepping-stone.
On the other hand, if you learn the recipes, pretend you know how to make a cake, but never make it, you can't call yourself a cook. That's the trouble with spiritual practice — we throw out the intellectual and become totally experiential, or we get caught up in the intellectual: we learn the recipe but we forget how to make the cake. We need both.