News/Media

*If a menu item has a submenu clicking once will expand the menu clicking twice will open the page.

Study & Practice

*If a menu item has a submenu clicking once will expand the menu clicking twice will open the page.

Projects

*If a menu item has a submenu clicking once will expand the menu clicking twice will open the page.

FPMT

Actions that give harm to other sentient beings aren't those of a bodhisattva. In Buddhism, there's no such thing as a holy war. You have to understand this. It's impossible to equalize everybody on earth through force.

Lama Thubten Yeshe

*If a menu item has a submenu clicking once will expand the menu clicking twice will open the page.

Shop

The Foundation Store is FPMT's online shop and features a vast selection of Buddhist study and practice materials written or recommended by our lineage gurus. These items include homestudy programs, prayers and practices in PDF or eBook format, materials for children, and other resources to support practitioners.

Items displayed in the shop are made available for Dharma practice and educational purposes, and never for the purpose of profiting from their sale. Please read FPMT Foundation Store Policy Regarding Dharma Items for more information.
Freedom from the ego mind
by Lama Thubten Yeshe
We would all like to be free from ego mind and the bondage of samsara, but what is it that binds us to samsara and makes us unhappy? It's not having renunciation. So, what is renunciation? What makes us renounced?
The reason we are unhappy is that we have extreme craving for sense objects, samsaric objects, and we grasp at them. We are seeking to solve our problems, but are not seeking in the right place. The right place is our own ego grasping; we have to loosen that tightness, that's all.
According to the Buddhist point of view, monks and nuns are supposed to hold renunciation vows. The meaning of monks and nuns renouncing the world is that they have less craving for and grasping at sense objects. But you cannot say that they have already given up samsara, because monks and nuns still have stomachs! The thing is that the English word "renounce" is linguistically tricky. You can say that monks and nuns renounce their stomachs, but that doesn't mean that they actually throw their stomachs away.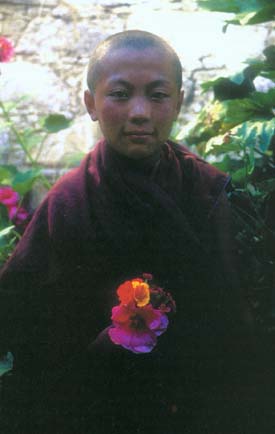 So, I want you to understand that renouncing sensory pleasure doesn't mean throwing nice things away. Even if you do, it doesn't mean you have renounced them. Renunciation is a totally inner experience. Renunciation of samsara does not mean you throw samsara away because your body and your nose are samsara. How can you throw your nose away? Your mind and body are samsara — well, at least mine are. So I cannot throw them away. Therefore, renunciation means less craving; it means being more reasonable instead of putting too much psychological pressure on yourself and acting crazy.
The important point is that we should have less grasping at sense pleasures, because most of the time our grasping at and craving desire for worldly pleasure does not give us satisfaction. It leads to more dissatisfaction and to psychologically crazier reactions.
If you have the wisdom and method to handle objects of the five senses perfectly such that they do not bring negative reactions, it's all right for you to touch them. As human beings, we should judge for ourselves how far we can go into the experience of sense pleasure without getting mixed up and confused. It's like French wine — some people cannot take it at all, even though they would like to; other people can take a little; others a bit more; some can take a lot.
This teaching was given at Vajra Yogini Institute, France, in 1982. It has been excerpted from a new book by Lama Yeshe, The Essence of Tibetan Buddhism: The Three Principal Aspects of the Path and an Introduction to Tantra, edited by Nicholas Ribush, Lama Yeshe Wisdom Archive, Boston, 2001. These teachings are also available on video. Both the book (which is free of charge) and the videos ($40 a set) are available from the LYWA, PO Box 356, Weston, MA 02493, USA; telephone 1 (781) 899-9587; email info@LamaYeshe.com See also the LYWA Web site: www.LamaYeshe.com
The full teaching can be read in the September issue of Mandala. Subscribe now.