News/Media

*If a menu item has a submenu clicking once will expand the menu clicking twice will open the page.

Study & Practice

*If a menu item has a submenu clicking once will expand the menu clicking twice will open the page.

Projects

*If a menu item has a submenu clicking once will expand the menu clicking twice will open the page.

FPMT

See everyone as precious and fulfilling all your wishes.

Lama Zopa Rinpoche

*If a menu item has a submenu clicking once will expand the menu clicking twice will open the page.

Shop

The Foundation Store is FPMT's online shop and features a vast selection of Buddhist study and practice materials written or recommended by our lineage gurus. These items include homestudy programs, prayers and practices in PDF or eBook format, materials for children, and other resources to support practitioners.

Items displayed in the shop are made available for Dharma practice and educational purposes, and never for the purpose of profiting from their sale. Please read FPMT Foundation Store Policy Regarding Dharma Items for more information.
How the Kopan Course Began
April / June 2009
By Lama Zopa Rinpoche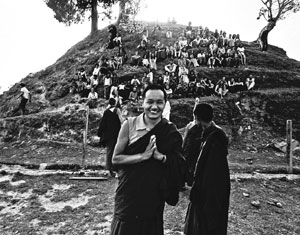 You may not have heard of the great lama Kachen Yeshe Gyaltsen [1713–93, tutor of the Eighth Dalai Lama] but like the sun illuminating the world, he was well known in Tibet and offered unbelievable benefit to sentient beings and the Buddhadharma. Even now his teachings benefit the world. I have spoken before about how the Kopan meditation courses started but actually, it was Kachen Yeshe Gyaltsen's teachings that inspired them.
The Kopan courses also came from Lama Yeshe, who was kinder than the numberless buddhas of the past, present and future. Why was Lama kinder than the buddhas, whose only purpose in achieving enlightenment was to liberate us sentient beings from the ocean of samsaric suffering and its cause, delusion and karma, and bring us to enlightenment?
Even though all these buddhas exist, we don't have the karma to see them. For example, from my side, I can't see the numberless past, present and future buddhas or deities in their pure aspect because my mind is blanketed by impure karma. Therefore I can't receive direct guidance from them. However, by their manifesting according to my level of mind in human form as Lama Yeshe, in an ordinary aspect showing mistakes and faults that my obscured mind can perceive, I can receive their guidance directly.
One highly attained Tibetan geshe practitioner mentioned in his lam-rim teachings that one way to meditate on guru devotion is to imagine having fallen into a deep pit full of red-hot coals and desperately wanting to get out. The people above have thrown down a rope; if you hang onto it with total trust and complete reliance, you'll be able to get out. In this analogy, the pit is samsara, the people throwing down the rope are the three-time buddhas, and the rope is the guru in ordinary aspect.
When we do this meditation we should consider our gurus as the rope and single-pointedly put our complete trust in them. If we do that we can get out. If we don't hold the rope firmly, if we don't devote to the guru with complete reliance, but instead have doubt and keep examining him with a superstitious mind, then even though numberless buddhas are trying to help us, we can't be guided. Even though all the buddhas have compassion and loving-kindness for us and constantly want to liberate us from samsara, if we don't have devotion for our guru there's no way they can help us out. So that's a great way to practice guru devotion meditation.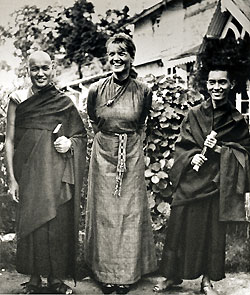 However, I should finish the story of the Kopan courses. It seems that Lama Yeshe and I had very strong karma with teaching Dharma to Westerners. We taught them for many years and then our connections gradually extended to Hong Kong and Singapore. Taiwan and Malaysia came much later. All this started with our first Western student, Zina Rachevsky.
People called her Princess Rachevsky because her father was somehow connected with Russian royalty but he fled the revolution for Paris, where Zina was born [in 1931]. She led a varied life all over the world, sometimes rich, sometimes poor; for a while she was a model, perhaps in Hollywood, although I'm not sure about that.
In the early 1960s the hippie era exploded into existence and Zina came across the writings of the German author, Lama Govinda, who in Tibet had met the great yogi Domo Geshe Rinpoche, the former life of the one who passed away in the United States in 2001. The former Domo Geshe Rinpoche built the Domo Dungkar Gompa in southern Tibet, where I became a monk; I didn't become a monk in Solu Khumbu. This great yogi lived in forests and caves until a wealthy family invited him to come and live in their shrine room. After a year he asked the family if they would build a monastery, and that's how the Domo Gompa began. That monastery also had many branches in India and Tibet, especially in the Darjeeling area.
Lama Govinda wrote several books, including The Way of the White Clouds, Foundations of Tibetan Mysticism and books on Buddhist psychology. In those early hippie days there were very few Tibetan Buddhist books in Western languages. In English there were [Evans-Wentz's] Tibet's Great Yogi Milarepa and The Tibetan Book of the Dead, for example, and later there was a very good book by an English writer who lived in Thailand [John Blofeld's The Wheel of Life: The Autobiography of a Western Buddhist]. Zina read about Domo Geshe Rinpoche in The Way of the White Clouds.
The hippies were rebelling against Western society and searching for alternatives, a new way of life, something more spiritual, you might even say the truth, the Dharma, and many came to India and Nepal. However, what happens and whom you meet when you come to the East is totally up to your karma.
You might be looking for something meaningful but what you find is up to karma. Many of those people were taking drugs, but in some cases drugs could have been the Buddha's skillful means to help break those people's concepts. They had such unbelievably fixed minds, fixed ideas – strong, unchangeable beliefs that there was just this one life; no understanding that the mind can exist without the body. Their thinking was unbelievably gross. People like this needed something external to break their concepts and enable them to see things more deeply. Drugs gave them many experiences such as the mind being able to travel without the body, which shocked and surprised them, because it was completely opposite to what was taught and believed in the West.
This led many people to come to the East, looking for something to give meaning to their lives. They gave up ideas of wealth and a materialistic life and went to India. First they were more likely to meet Hindu gurus, and if they had no karma to meet Buddhism they either stayed with them or drifted into something else. But if they did have the karma, they would eventually come into contact with Buddhadharma, and of course, some actually met the Buddhadharma from the beginning …
This article is an excerpt of the full article printed in Mandala