News/Media

*If a menu item has a submenu clicking once will expand the menu clicking twice will open the page.

Study & Practice

*If a menu item has a submenu clicking once will expand the menu clicking twice will open the page.

Projects

*If a menu item has a submenu clicking once will expand the menu clicking twice will open the page.

FPMT

Cultivating a close, warmhearted feeling for others automatically puts the mind at ease. From the least to the most important event, the affection and respect of others are vital for our happiness.

His Holiness the Dalai Lama

*If a menu item has a submenu clicking once will expand the menu clicking twice will open the page.

Shop

The Foundation Store is FPMT's online shop and features a vast selection of Buddhist study and practice materials written or recommended by our lineage gurus. These items include homestudy programs, prayers and practices in PDF or eBook format, materials for children, and other resources to support practitioners.

Items displayed in the shop are made available for Dharma practice and educational purposes, and never for the purpose of profiting from their sale. Please read FPMT Foundation Store Policy Regarding Dharma Items for more information.
In the fourth excerpt from her unpublished biography of Lama Thubten Yeshe, Adele Hulse describes the first of what was to become the November course at Kopan Monastery. Perched on a hill overlooking the entire Kathmandu Valley, with panoramic views of the Solu Khumbu Range and the Ganesh Himal, this is a truly inspiring place, conducive to study and meditation.
Zina (Rachevsky, the lamas' first Western student) was still eager for Lama Yeshe to teach a course, but he refused. She turned to Lama Zopa Rinpoche. "She pestered me like a mosquito," he said. "She kept on asking until I began to feel encouraged in my heart and developed a strong wish to do it. I asked Lama Yeshe what he thought. He said: 'Well, if you think it will be beneficial, then you do it.' So with Lama's blessing, I agreed," said Lama Zopa.
The course was held in April 1971, springtime. Zina took charge of the overall arrangements and Zopa Rinpoche taught a seven-day course, based on his stamp-filled text on thought transformation. With help from some of the students, he translated a few lines at a time to accompany each meditation. The only substantial book on Dharma in English at the time was Herbert Guenther's translation of Gampopa's Jewel Ornament of Liberation, first published in 1959. "I talked mainly about the lower realms, the sufferings of hell beings and animals, ending up with the sufferings of human beings," he said.
Around a dozen people did that course, including Claudio Cipullo [who] had been down in Bodhgaya when he found himself staring fixedly at a photo of Lama Yeshe. "I decided he was calling me! That course was like an explanation of my whole life," said Claudio.
[Anila Ann McNeil, who attended every course from one to six, but was never able to sit completely through one, said] "Lama Yeshe called me out and said, 'Ann, you're going to leave the course, walk up to Lawudo with some people and spend the summer there. Lama Zopa will fly up in a few days' time but there is no room in the plane for you.' He held out his hand for me to take. His arm was golden, luminous, precious. I took his hand very gently and he said: 'Don't worry. Go to my room tonight and on my bed you'll find my darkam. Wrap it around you and sit on my bed and meditate. Tomorrow you can leave for Lawudo …'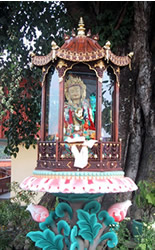 Tara in Courtyard
The organizers' view
The Kopan course would not be the same without the enormous effect that Lama Zopa has on its participants. He did most of the teachings in the early courses – lam-rim, meditation and discussion groups. Ven. Karin Valham, who has been involved with, or taught at, the course since 1974, and Ven. Fran Mohoupt, who has applied her organizational skills to the course since 1992, bring us up to date.
Ven. Karin: I attended my first Kopan course in November 1974. It was the first time I'd heard Buddhist teachings. Lama Zopa Rinpoche and Lama Yeshe taught the course. Nick Ribush was leading it, making the course great fun, with his warm sense of humor.
My feeling is that although the place itself has changed over the years, the courses have not changed. It has become so much more comfortable and clean at Kopan, but the feeling of the courses is the same.
At the beginning we didn't have even electricity or running water or beds. We slept on straw mats. Pits dug in the ground were toilets, and we used the spring down the hill in the local village. Meals were taken on the hillside. Now we have single and double rooms with bathrooms, as well as dormitories with solar showers, a huge dining room, a cyber café, a restaurant, a shop, a clinic with overnight facilities and clean water, which is purified by Kopan itself.
The most wonderful thing about the course is that the people come and receive the theory and immediately are able to put it into practice; it has immediate effect on their minds. You see this. So that when they leave they are not the same as when they came. This hasn't changed over all the years.
Until Lama Yeshe's passing away, Lama Zopa Rinpoche would teach the entire course; now Rinpoche comes for the last ten days or so. He appoints a course teacher every year. An incredible variety of course leaders. The leader sets the tone of the course. That is the only thing that makes the courses slightly different. In November 2003, for example, the emphasis was on mindfulness with Ven. Antonio. Ten years ago, with Chu Nan Lai, a Chinese doctor, the emphasis was on healing. Sometimes the course leader is a layperson, sometimes ordained, although mostly Western monks and nuns …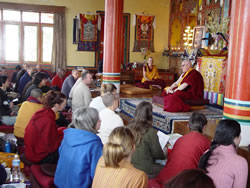 Ven. Antonio teaching
Ven. Fran: When I came to Kopan for the November course in 1991, it was to get ordained at the suggestion of Lama Zopa Rinpoche. I will never forget the first sentence that Lama Zopa said in his first teaching that time: "The purpose of our life is to work for others!" That was it for me; that made it all clear.
Ven. Marcel was leading the course, with Lama Zopa Rinpoche and Kirti Tsenshab Rinpoche teaching every day. It was intense. What I do remember is the kindness of the people I met here at Kopan. How helpful Lama Pasang was when he helped me get my robes straightened out during the ordination. The incredible atmosphere, sitting there in the Chenrezig gompa (just barely finished) with so many monks and lamas receiving initiations from Lama Zopa Rinpoche.
At that time there were about 140 monks here and may be 25 nuns. It was a small village. Now the village is much bigger, a village in the true sense. There are now 320 monks living here, getting schooling, training in the geshe studies, receiving training in tantric rituals.
Kopan is a truly international community throughout the year and more so during November. This year people came from 32 countries, with the largest groups coming from Australia and USA. One person came from the Czech Republic, one from Poland, another from South Africa. The ages ranged between 18 and 65, with most people in their mid- to late-thirties. In another huge difference to earlier years, when most of the students were young people in their twenties, quite a few middle-aged people make the journey to Nepal to meet Buddhism, meet a teacher, and receive teachings. In another very interesting trend, the children of these very early students are coming back to do the November course, just like their parents did twenty or so years ago …
Some heartfelt responses from people who can say, "I was there."
Ven. Marcel Bertels: Rinpoche was the most unusual and mystical being and the fact that Rinpoche was still so young (maybe around 27) made it even more special. These were the days when Rinpoche was doing almost 24 hours of formal meditation each day, with short breaks for meals and occasional teachings. Rinpoche was also available for interviews between 4.00 P.M. and 5.00 P.M., 15 minutes maximum per interview; many were shorter and I can't remember Rinpoche engaging in any small talk with his students. The conditions were spartan; I was staying on the first floor of the school building at the bottom of Kopan hill. With regularity the floor would give way and one of the students would crash through and try to hold on for dear life not to fall to the floor below.
I made so many enduring friendships during the course. My immediate neighbor in the gompa was Paula de Wijs. Nick Ribush was by far the smartest of the attendees and often engaged in debate with Rinpoche.
The course became the most important experience in my life and within a matter of days I was totally convinced and satisfied that Buddhism was for me and I couldn't conceive of ever doing anything else.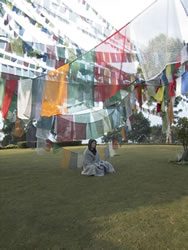 A contemplative moment at Kopan
Lois Greenwood-Audant: I had the privilege of taking the fourth course in March '73 with my fiancé, Gabriel Audant. The course deeply resonated with our mutual thirst for understanding the dissatisfied mind and how to achieve happiness. Lama Yeshe and Lama Zopa became our root teachers from that time forward, and they have always served as strong guiding forces for our lives. Throughout our 30-year marriage, whenever the inevitable relationship conflicts would arise, the foundational teachings at Kopan always served as skillful means for finding our ways back to compassion and love for one another. The Dharma in our family was further strengthened when Lama Yeshe kindly agreed to "baptize" our only child, Gabriel (Gabe) Michael, ten years later. When I returned to U.C.-Berkeley to complete a doctorate degree focusing on workforce development issues, I was able to support the early growth of Vajrapani Institute as its second director and I continue to be an active member of its Dharma community.
Barbara Vautier: The course of my life led me to Kopan in 1972. A refugee from war-torn America, fatigued and deeply grieved as a result of the US involvement in the Vietnam war, the political violence, the deaths of Martin Luther King and Robert Kennedy, I needed a long vacation from America. The riotous years of the late '50s and '60s were leading me to seek a deeper understanding of life. I didn't know that the object of my disgust and disillusion would later be identified as samsara.
In the autumn of 1971 a long overland journey from Europe to Asia began. In 1972 I was formally introduced to Tibetan Buddhism at the Tibetan Library and Archives in Dharamsala. It was here that we learned about the 30-day course in Nepal …
You ask how the Kopan course changed the direction of my life. It didn't so much change the direction of my life as it changed the way in which I approach life. My life has been totally ordinary. I've raised two children; I've worked in social services; and struggled with survival on many levels on the too-fast Western edge. Lama always stressed to us to "integrate", to bring the essence of the teachings into our everyday lives. It is this that I have tried to do and that is what continues to impact and inspire me.
Jhampa Zangpo (Shaneman): I was Lama Yeshe's second male sangha member. I was ordained for 14 years and was one of the few Western disciples of Lama Yeshe to do a traditional three-year retreat.
I had the privilege of attending the first course ever held at Kopan in the spring of 1971. I had just come from Bodhgaya with meditation instruction from Zengo, a Japanese monk, who was to lead a course held immediately after Rinpoche's teachings. Zina [Rachevsky] felt it would give the students contrast. As for Lama Zopa's course, most of us were completely shocked with the material Rinpoche offered. Buddhism was new to the West and most of us thought of Tibetan Buddhism as evolved and esoteric. Lama Zopa maintained the presentation of the suffering of the lower realms, reading from Tibetan texts as there were so few books in English.
In 1973 the fifth course was held behind the gompa in a huge tent. This is where the current temple is now. Two hundred people attended this course and it had the original core of what was to become the FPMT and IMI members. I remember bringing Nick Ribush's and Marie Obst's (Ven Yeshe Khadro) ordination robes from India.
This article can be read in its entirety in Mandala.