News/Media

*If a menu item has a submenu clicking once will expand the menu clicking twice will open the page.

Study & Practice

*If a menu item has a submenu clicking once will expand the menu clicking twice will open the page.

Projects

*If a menu item has a submenu clicking once will expand the menu clicking twice will open the page.

FPMT

Without understanding how your inner nature evolves, how can you possibly discover eternal happiness? Where is eternal happiness? It's not in the sky or in the jungle; you won't find it in the air or under the ground. Everlasting happiness is within you, within your psyche, your consciousness, your mind. That's why it's important that you investigate the nature of your own mind.

Lama Thubten Yeshe

*If a menu item has a submenu clicking once will expand the menu clicking twice will open the page.

Shop

The Foundation Store is FPMT's online shop and features a vast selection of Buddhist study and practice materials written or recommended by our lineage gurus. These items include homestudy programs, prayers and practices in PDF or eBook format, materials for children, and other resources to support practitioners.

Items displayed in the shop are made available for Dharma practice and educational purposes, and never for the purpose of profiting from their sale. Please read FPMT Foundation Store Policy Regarding Dharma Items for more information.
A mind that is desperate for pleasure is an addicted mind. There is a way out, says Ven. Tenzin Chönyi.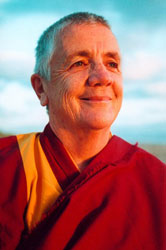 There were many tears. It was, after all, a memorial service and most of the deaths had been of young people in their teens, or barely into their twenties. They had died of drug abuse. Bright, intelligent, pictured with their guitars, their surfboards, at parties, holding their own babies. Their parents feeling shamed and isolated and blamed: the children had been junkies.
It is as if these young people had been swept away on a strong river current, trapped in an iron cage, blindfolded, hands and feet tied up. Only a James Bond could escape from this, and they died. But the metaphor is not mine, as we will see below. I returned home and unwrapped a bar of chocolate. I have my own addiction to feed.
To discuss addiction, we need a definition. So I offer this one: Addiction is a habitual state of mind over which there is no conscious control, that has short-term pleasurable effects and long-term harmful effects, and that puts the concerns of oneself as the highest priority and the concerns of others as the lowest priority. Yes, there may be a physiological component as well, especially when we think of heroin, but also with cigarettes, alcohol, benzodiazepams, amphetamines – drugs legal and illegal. But that physical factor is secondary, the result of a mind desperate for pleasure, or at least for temporary relief from suffering; it is the result of choice, of a mental decision, and a sign of the power of the conditioning.
No matter how much we might blame external circumstances, peer pressure, stress, or deliberate intent by drug dealers (legal and illegal) to create an addiction cycle, in the end we come back to our own minds. Those young people who died, at some point, chose to take their first dose. Each time a cigarette is lit, a bottle of vodka opened, tablets tipped into the hand, a needle prepared, a chocolate bar unwrapped … each time there has been a choice. The mind is the first step. This is why my definition starts with the mind.
I returned home and decided to unwrap a bar of chocolate and said to myself, "I need to feel good, and I need to feel good now." Or did I? More likely I said, "I must have some chocolate," meaning that there would be some dire result if my body did not get its carbo hit. Mindfulness is out the door. Instant gratification rules.
Of course at the time it does not feel like a choice. It feels like an impulse that is impossible to resist. The body is crying out for the drug of choice. We choose to find immediate satisfaction because we cannot bear the dissatisfaction.
Swept away by the strong currents of four great rivers,
Bound by tight bonds of actions which are hard to escape,
Ensnared in iron meshes of conceptions of self:
Beings are enshrouded in thick darkness of ignorance.
The metaphor comes from Lama Tsongkhapa. He was not referring to drug addiction specifically, but to the extreme addiction: samsara …
This article can be read in its entirety in Mandala