News/Media

*If a menu item has a submenu clicking once will expand the menu clicking twice will open the page.

Study & Practice

*If a menu item has a submenu clicking once will expand the menu clicking twice will open the page.

Projects

*If a menu item has a submenu clicking once will expand the menu clicking twice will open the page.

FPMT

Buddhist meditation doesn't necessarily mean sitting cross-legged with your eyes closed. Simply observing how your mind is responding to the sense world can be a really perfect meditation and bring a perfect result.

Lama Thubten Yeshe

*If a menu item has a submenu clicking once will expand the menu clicking twice will open the page.

Shop

The Foundation Store is FPMT's online shop and features a vast selection of Buddhist study and practice materials written or recommended by our lineage gurus. These items include homestudy programs, prayers and practices in PDF or eBook format, materials for children, and other resources to support practitioners.

Items displayed in the shop are made available for Dharma practice and educational purposes, and never for the purpose of profiting from their sale. Please read FPMT Foundation Store Policy Regarding Dharma Items for more information.
The Attitude Behind Social Service
BUDDHISM IN ACTION
December 2001-February 2002
Many Buddhists are heavily involved in social action. We asked Lama Zopa Rinpoche why this is so, when other students devote prayers and practice, sometimes through lengthy retreats, to the solitary task of alleviating suffering. In his response, Rinpoche redefines social action.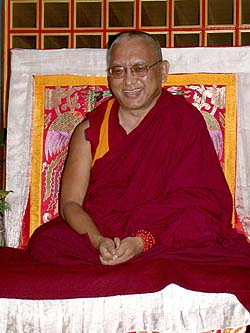 " … The essence of the Mahayana teachings is to cherish others, to benefit them with body, speech and mind. His Holiness the Dalai Lama emphasizes that Buddhism is "to not harm others and to benefit others." Social service comes there in these two points. To not harm others: includes all the advice in the graduated path of the lower capable being, and graduated path of the middle capable being in the lam-rim. To benefit others: is the graduated path of the higher capable being.
"One of my students who studied lam-rim teachings did social service for many years looking after handicapped children and children who were difficult to control. She said it gave her so much satisfaction. That means she did it with the proper attitude.
"It is the same when you take care of a family, work in a company, for the government, etc. It should have some effect. It should bring some satisfaction to your life, some fulfillment to your heart. Why does that not happen? Because the motivation in your daily life is self-cherishing thought, working for self. It becomes more like a burden than enjoyment.
"When you do social service, and from the very beginning what you have in your heart is to offer service to others, because others are most important, then of course you enjoy the work because of the pure heart. You see that it is giving you much fulfillment, and bringing so much meaning to your life.
"When a Buddhist does social service with a good heart, patience, bodhichitta and cherishing others, people feel their warmth, kindness and caring and are always happy to meet them. The student is able to give much peace, happiness, courage, and hope so the other person feels comfortable and relaxed. This is the way to communicate, to help people. You become an example for them to want to develop a good heart and be kind. By making them happy, it is easier to give them advice, explain Dharma, and make their lives meaningful. If you help with a proper attitude you can bring so much light into their lives and the unbelievable opportunity to develop patience, compassion, and bodhichitta; to purify many aeons of negative karma and collect infinite merit.
"It is better to do social service with a good heart than to spend the life practicing in a wrong way, or even trying to meditate on lam-rim or Buddha but only being able to do five minutes meditation and hours being spent in distraction or sleep. In that case just do a very short, good quality meditation and then do something for others. This way you are not lazy and make others happy. You are able to make your precious human life useful for somebody, even if it is not for all sentient beings. They get benefit, and when you see others happy, that makes you happy. So two wishes get fulfilled …"
The complete article is available as a PDF download.