News/Media

*If a menu item has a submenu clicking once will expand the menu clicking twice will open the page.

Study & Practice

*If a menu item has a submenu clicking once will expand the menu clicking twice will open the page.

Projects

*If a menu item has a submenu clicking once will expand the menu clicking twice will open the page.

FPMT

My approach is to expose your ego so that you can see it for what it is. Therefore, I try to provoke your ego. There's nothing diplomatic about this tactic. We've been diplomatic for countless lives, always trying to avoid confrontation, never meeting our problems face to face. That's not my style. I like to meet problems head on and that's what I want you to do, too.

Lama Thubten Yeshe

*If a menu item has a submenu clicking once will expand the menu clicking twice will open the page.

Shop

The Foundation Store is FPMT's online shop and features a vast selection of Buddhist study and practice materials written or recommended by our lineage gurus. These items include homestudy programs, prayers and practices in PDF or eBook format, materials for children, and other resources to support practitioners.

Items displayed in the shop are made available for Dharma practice and educational purposes, and never for the purpose of profiting from their sale. Please read FPMT Foundation Store Policy Regarding Dharma Items for more information.
February-March 2008
By Lillian Too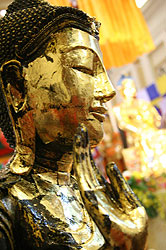 … How lucky I am to be heading a Buddhist Meditation Society – not only in having access to some fabulous teachings on how to live life meaningfully and happily, but also having the opportunity to get up close and personal with very special persons – high lamas I regard as living Buddhas, whose only motivation in life is altruistic and who are totally selfless, whose whole reason for living is to benefit others. I feel very inspired by them and their teachings.
Our Buddhist Meditation Society, Losang Dragpa Centre (LDC), is a non-profit registered society. It has really nice premises in a leafy neighborhood of Petaling Jaya and of course its feng shui has been designed to benefit the neighborhood as well as all its members. The Center offers free courses on meditation and is involved in several community projects that benefit young children as well as senior citizens. People come here to learn meditation techniques on how to cope with the stresses of living and working as well as how to bring spiritual meaning into their lives.
Our resident teacher, Geshe Tenzin Zopa, is a highly-educated, gentle, and soft-spoken scholar from Sera Je Monastic University who speaks perfect English and has a wonderful sense of humor. He is a veritable walking encyclopedia of many of the philosophical and ritualistic aspects of Mahayana Buddhism. One of the benefits to me of running LDC is working with someone so well-qualified in a subject in which I am so interested.
Hosting His Eminence Khenrinpoche Lama Lhundrup
But there are other benefits as well, and in October two events drove home this fact. The first was that the highly revered Abbot of one of Katmandu's largest monasteries accepted our invitation to visit us and preside at our annual thousand offerings event. This was His Eminence Khenrinpoche Lama Lhundrup who, for three days, led prayers, pujas, and gave precious teachings to a continuing stream of visitors who came to the Chinese Assembly hall to participate in our event over three days.
… We brought in a life-sized Buddha so that people could offer real gold to the Buddha, using thin pieces of gold leaf which were "stuck" to the holy object. This is a very powerful practice which creates the cause to have wealth luck manifest for you in this life or the next life. Offering gold to the Buddha is described as amassing great merit. Several people who came to the event, and who recognized me, volunteered their incredible tales of how after gold-leafing Buddha statues that had looked old and nondescript, not only did the Buddhas suddenly look radiant, exuding a glow, the students also went on to receive an unexpected windfall. Two of them even told me that they won the lottery.
The vast merits created in offering gold to holy objects is well documented in the sutras – the teachings of the Buddha. Needless to say this was one of the more popular "stalls" at the event. This, together with other symbolic rituals set up with the motivation for people to create the causes for manifesting wealth in their life, was very popular with the public. What is important, however, is not getting rich per se, but to get rich in order to be able to benefit others. It is the motivation that is important.
Some of the other rituals included offering wish-fulfilling jewels to the Seven Medicine Buddhas to ask for good health and recovery from illness; offering "gold coins" to the twenty-one Taras while reciting their mantra; writing the Sanghata Sutra to create success merit; and bathing the Dzambhala, the Buddha of wealth, to manifest a regular flow of income. Our collective wish and dedication for the three days was for everyone coming to the event to find whatever it was they craved for so that they can find real happiness.
World-renowned feng shui expert, Lillian Too, is also the director of FPMT's Losang Dragpa Centre in Selangor, Malaysia.
Read the complete article as a PDF.