News/Media

*If a menu item has a submenu clicking once will expand the menu clicking twice will open the page.

Study & Practice

*If a menu item has a submenu clicking once will expand the menu clicking twice will open the page.

Projects

*If a menu item has a submenu clicking once will expand the menu clicking twice will open the page.

FPMT

Without understanding how your inner nature evolves, how can you possibly discover eternal happiness? Where is eternal happiness? It's not in the sky or in the jungle; you won't find it in the air or under the ground. Everlasting happiness is within you, within your psyche, your consciousness, your mind. That's why it's important that you investigate the nature of your own mind.

Lama Thubten Yeshe

*If a menu item has a submenu clicking once will expand the menu clicking twice will open the page.

Shop

The Foundation Store is FPMT's online shop and features a vast selection of Buddhist study and practice materials written or recommended by our lineage gurus. These items include homestudy programs, prayers and practices in PDF or eBook format, materials for children, and other resources to support practitioners.

Items displayed in the shop are made available for Dharma practice and educational purposes, and never for the purpose of profiting from their sale. Please read FPMT Foundation Store Policy Regarding Dharma Items for more information.
March-May 2002
We have all experienced occasional bouts of depression, that mysterious and debilitating condition that is sometimes called the common cold of our mental and emotional life.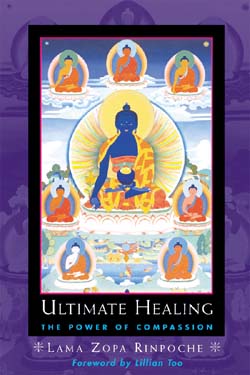 But when it manifests, not just as a fleeting sadness, but a pervasive and relentless despair, doctors give the condition many labels: bi-polar for the variety that has wild mood swings, endogenous if it seems to come from nowhere, reactive when it is triggered by specific events, SAD (seasonal affective disorder) when it flares up in the winter and post-natal or baby blues, after childbirth.
In its many forms, it affects more than 20 million Americans. In Australia it has risen from tenth to fourth-most common problem seen by GPs and costs an estimated $A5 billion annually.
When you are in its grip, you want out – but paradoxically you don't have the energy to do anything about it. The use of medication is controversial, although it can sometimes help stabilize the underlying physiological imbalance – by freeing up serotonin, for instance – so that sufferers don't have to battle with mental exhaustion and can get on with their daily lives. But what remains is the underlying mental dysfunction that must be faced and dealt with, the monkey mind from which everything we see and hear and experience comes.
In Ultimate Healing, published by Wisdom Publications, Lama Zopa Rinpoche, spiritual director of the Foundation for the Preservation of the Mahayana Tradition (FPMT) suggests the cure for not only depression, but all forms of illness and disease: unqualified love in the form of compassion for all living beings – including oneself. Written with humility and kindness, Ultimate Healing is rich in wisdom and practical help for those in pain.
"Depression can be the result of a specific situation, in which case you can apply the relevant meditation to deal with those conditions; however, depression and feelings of hopelessness can also arise for no particular reason. When you are experiencing depression, you should prepare yourself each morning by making a strong determination not to allow the situation to upset you. [This] strengthens you and gives you courage. Also make a strong determination to transform your depression into happiness. During the day, when you start to feel depressed or upset, you should immediately remember the determination you made in the morning and not let the situation overwhelm you. No matter how bad the situation seems, and even if it is commonly regarded as a serious problem, you should not allow it to make your life dark and depressed.
"After making this determination, you then mentally prepare yourself for the day by thinking of the methods you will use when you start to feel depressed or upset. There are various special techniques for fighting depression.
Remember Impermanence and Death
"The first technique is to think of impermanence and death. Remember that your death will definitely happen, but that when it will happen is uncertain. This life is very short; it lasts just for a minute, a second. Rather than thinking that you won't die for a long time, think that you might suddenly die today, even within the next hour – or the next minute.
"Think about impermanence and death every day, every hour, every minute. After waking up in the morning, rejoice that you are still alive, that you still have a precious human body, then decide that today is the day you are going to die… This helps to cut your attachment, your grasping and clinging, which bring a lot of expectations. Depression is related to attachment; you become depressed when you don't get what your attachment wants …Thinking that your life is very short and that it could easily end stops your strong grasping; you then have no worry and fear in your life…"
Read the complete article as a PDF.