News/Media

*If a menu item has a submenu clicking once will expand the menu clicking twice will open the page.

Study & Practice

*If a menu item has a submenu clicking once will expand the menu clicking twice will open the page.

Projects

*If a menu item has a submenu clicking once will expand the menu clicking twice will open the page.

FPMT

By eliminating the self-pitying imagination of ego, you go beyond fear. All fear and other self-pitying emotions come from holding a self-pitying image of yourself.

Lama Thubten Yeshe

*If a menu item has a submenu clicking once will expand the menu clicking twice will open the page.

Shop

The Foundation Store is FPMT's online shop and features a vast selection of Buddhist study and practice materials written or recommended by our lineage gurus. These items include homestudy programs, prayers and practices in PDF or eBook format, materials for children, and other resources to support practitioners.

Items displayed in the shop are made available for Dharma practice and educational purposes, and never for the purpose of profiting from their sale. Please read FPMT Foundation Store Policy Regarding Dharma Items for more information.
Who are we really, and to whom do we pray?
Conversation with a Nun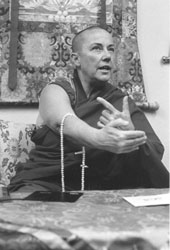 In our last issue, the conversation between Ven. Robina Courtin, free lance writer Lyn Siegel and psychiatrist Dr Normal Safransky began with the Australian-born nun's observations on karma and what life can be like for prison inmates – something she knows well through her work with the Liberation Prison Project. The story continues .
Q: With more and more people practicing mindfulness and working on these negative qualities, do you think human beings as a whole are becoming better people?
A: No, I don't think so. Look at the world. More violence. Look at this country [America] alone. Look at the number of children born now who are experiencing incredible unhappy suffering. Kids who are on drugs already by the age of five, kids with attention deficit disorder. There are so many more children now with mental suffering.
Q: What is the point if things don't get any better? Why bother?
A: You're a living person. If you're alive, then you don't have any other choice than to practice virtue. It doesn't matter what the outside world does. This is what meditation is all about. If I look into my mind from day to day, and I see that anger, jealousy, fear and neuroses make me miserable, then even from my own point of view – forget about the outside world – do I have a choice? Of course, the only thing I should choose is to be kind and loving and patient and generous. Because they're the things that will bring me more sanity and contentment. Then, I can try and change the world.
Q: Many people have an idea that meditation and embracing Buddhism will lead to calm and stillness, yet you're clearly a high-energy individual who approaches a variety of projects at high speed.
A: Yes, it's a bit of a cliché, the purpose of meditation, and the many Buddhist approaches to it. But the meaning in Tibetan of the word meditation is "to become familiar". It means applying sophisticated psychological techniques to help a person become extremely familiar with what kind of hell is going on inside of them.
There are many techniques to help us get a handle on our mind. A natural consequence of that – and this is the real point – is to have a mind that is more steady, more controlled, more happy, more wise, more clear, more loving, more proactive, more beneficial; and, that doesn't necessarily mean being more mindful and slow. The Dalai Lama once said, "I don't want to know about slow, mindful, peaceful. I want a man of action! Long term patience, that's what I want." So the point isn't to just walk slowly and look like you're being this thing called "mindful". It's a tool you use to help you see your mind so that you can make the right choices to be useful to yourself and useful to others. And that can be high energy or low energy.
Q: With all of your busyness, do you ever miss the more contemplative form?
A: No, I have my practice every day. I get up before dawn, I do two hours of practice every morning, and I do an hour every night. It's a part of my life.
Q: Do you ever find yourself at a point where you don't feel like you have the strength to go on?
A: In a sense, all the time! When you learn anything, whether you want to become a carpenter or a skater, all the time you're pushing yourself against your limits, aren't you? You're getting out of your comfort zone and you're trying to become better and better at what you're doing. And that's sometimes very scary, very painful. You have to struggle all the time, and it's the same with this. I don't mean struggle in a dramatic way. But, all the time, I'm trying to become more effective, less lazy, less neurotic. That takes a lot of work…