News/Media

*If a menu item has a submenu clicking once will expand the menu clicking twice will open the page.

Study & Practice

*If a menu item has a submenu clicking once will expand the menu clicking twice will open the page.

Projects

*If a menu item has a submenu clicking once will expand the menu clicking twice will open the page.

FPMT

Cherishing others is the source of all happiness.

Lama Zopa Rinpoche

*If a menu item has a submenu clicking once will expand the menu clicking twice will open the page.

Shop

The Foundation Store is FPMT's online shop and features a vast selection of Buddhist study and practice materials written or recommended by our lineage gurus. These items include homestudy programs, prayers and practices in PDF or eBook format, materials for children, and other resources to support practitioners.

Items displayed in the shop are made available for Dharma practice and educational purposes, and never for the purpose of profiting from their sale. Please read FPMT Foundation Store Policy Regarding Dharma Items for more information.
Recognizing and supporting the Sangha community
December 2007 / January 2008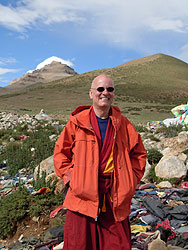 Nearly three-hundred monks and nuns, representing twenty-nine countries, belong to an organization established by Lama Thubten Yeshe in 1973. Lama's vision was of a Sangha community that encouraged and supported those who were inspired to dedicate their lives and practice the Buddhist path through ordination. And thus the International Mahayana Institute (IMI) was born.
"The strength of the Sangha community is that it ensures that everybody has a chance to take teachings and retreat; it makes sure that everybody is okay, and minimizes the external conditions that cause one to lose mental discipline. I think this is really worthwhile. It helps a lot. There's a Sangha vibration, you see; when you look at each other, there's a vibration that automatically helps you control your energy. You should check this for yourselves." Lama Yeshe from Advice for Monks and Nuns, LYWA.
Ven. Losang Monlam, recently appointed as IMI director, explains: "The monastic community is the Sangha jewel. It is said that without the Sangha, the teachings of the Buddha will not survive; that wherever there is a community of five or more ordained, there one will find the Buddha."
For more than thirty years, monks and nuns of the International Mahayana Institute have served in FPMT centers worldwide. Today the community has a growing number of elders with many years of experience of living within the vows. Some monks and nuns are experienced, qualified teachers; others are pursuing their studies in various curricula in Buddhist philosophy. Some members of the Sangha are meditators in retreat. Others serve Buddhist practitioners as retreat leaders, center directors, spiritual program coordinators, developers of educational curricula, editors, and counselors. Many monks and nuns benefit the world-at-large by engaging in social service projects. They tirelessly help bring the benefit of Buddhist teachings to all of us.
"We have turned away from our materialistic culture to pursue a simpler, sustainable lifestyle," said Ven. Losang Monlam. "We work tirelessly to serve and inspire others to develop their own inner qualities of love and compassion. When practicing well, we bring a sense of peace and joy to others. And as one non-Buddhist recently remarked, 'Monks and nuns are good for the planet!'"
US-born Ven. Losang Monlam took his getsul vows from Ven. Choden Rinpoche at Vajrapani Institute in 2000, and was ordained as a gelong by His Holiness Dalai Lama in February, 2007. He took over as IMI director from Ven. Tony Beaumont in 2007. Sangha members say that he is cleverly using cyberspace to connect them with newsletters and the like. "He communicates with us regularly, and is organizing a Sangha meeting at Land of Medicine Buddha in February 2008," said Ven. Tenzin Chonyi.
"Yes, we need to look at the goals and priorities of the IMI monastic community and develop strategies and objectives for moving forward, on both a short-term and long-term basis," Ven. Losang Monlam confirmed.
"I think probably my greatest challenge [as director] is in understanding where we need to go as a community, not only to survive but also to serve as an inspiration (refuge) for the world community, how to actually get there – and be patient in the process.
"IMI also has to establish visibility and credibility among the FPMT family. Our Sangha have served, and continue to serve, the Dharma centers and projects in so many ways, leaving little time to establish itself as a community as in many other monastic traditions. We have to remind ourselves of Lama Yeshe's vision, and take responsibility for our community. IMI as an organization has to reach out to embrace and support its monastic community, and seek the support of the lay community in undertaking this responsibility.
"Another challenge is to develop dialogue and understanding among the different views regarding ordination, and how to sustain ourselves while living within the vows. There is one view that living with the vows, even for five minutes, is extremely beneficial. This is balanced with another view that, without proper support for the monastic trying to keep the vows, the future of monasticism is endangered, and so too is the continuation of the Buddhist teachings.
"The code of behavior for the monks and nuns is called the Vinaya. Our role is to study and put into practice the Vinaya. Many of the rules of conduct relate to subduing our minds, but many were also established to protect the minds of the lay community, who rely on the monastic community as a source of refuge. So in one view, if we do not carefully consider how to support those taking ordination, there is not much benefit in holding the vows since we endanger the faith of the lay community in the teachings of the Buddha. It is a difficult subject with many cultural aspects. It is critical to keep the discussion open, with a willingness to find solutions that will benefit not only the monastic community but also the larger lay community.
"Of course there is also the aspect of the relationship between the lay community and the monastic community. Understanding and appreciation of the challenges faced by each other in our practice is extremely important. Creating awareness among the lay community of some of the day-to-day aspects of living within the vows is needed, as well as an appreciation of the challenges faced in the decision to take on the life of a monastic. As monks and nuns we must continually remember our example, putting into practice our vows through our actions of body, speech, and mind. Our individual behavior reflects on the larger monastic community and should inspire the lay community who look up to us."
To find out more about the IMI community go to www.imisangha.org
The mix of nationalities represented by IMI members:
American 57
Argentinian 1
Australian 64
Austrian 1
Brazilian 1
British 16
Canadian 6
Columbian 1
Danish 1
Dutch 11
French 21
German 8
Indian 2
Irish 2
Israeli 3
Italian 27
Malaysian 4
Mexican 2
New Zealander 4
Norwegian 1
Polish 1
Russian 4
Scottish 1
Singaporean 6
Spanish 22
Swedish 1
Swiss 7
Taiwanese 15
Venezuelan 1