News/Media

*If a menu item has a submenu clicking once will expand the menu clicking twice will open the page.

Study & Practice

*If a menu item has a submenu clicking once will expand the menu clicking twice will open the page.

Projects

*If a menu item has a submenu clicking once will expand the menu clicking twice will open the page.

FPMT

Renunciation of samsara is not only the business of monks and nuns. Whoever is seeking liberation or enlightenment needs renunciation of samsara.

Lama Thubten Yeshe

*If a menu item has a submenu clicking once will expand the menu clicking twice will open the page.

Shop

The Foundation Store is FPMT's online shop and features a vast selection of Buddhist study and practice materials written or recommended by our lineage gurus. These items include homestudy programs, prayers and practices in PDF or eBook format, materials for children, and other resources to support practitioners.

Items displayed in the shop are made available for Dharma practice and educational purposes, and never for the purpose of profiting from their sale. Please read FPMT Foundation Store Policy Regarding Dharma Items for more information.
Editor's Choice – Media Reviews
January-March 2012
FEATURED MEDIA
By Sandra Garson
Part cookbook, part culinary history, part Dharma book, this delicious collection of 108 vegetarian recipes reads more like an engrossing work of cultural anthropology sprinkled with Buddhist wisdom, than a how-to cooking manual. With recipes from around the world and quotes from Buddhist masters, chefs, food historians and celebrities, this book is enjoyable, informative and offers hours of guided cooking meditations
Published by Wisdom Publications
Paperback US$15.96
www.wisdompubs.org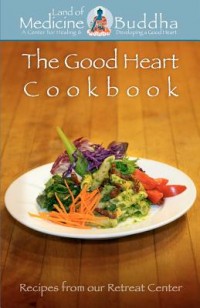 The Good Heart Cookbook: Recipes from Our Retreat Center
By Land of Medicine Buddha
Anyone who has stayed at Land of Medicine Buddha in Soquel, California, USA, knows that one of the perks of spending time at this retreat center is being able to enjoy the delicious vegetarian food. Now you can create and enjoy these inspired offerings in the comfort of your home through The Good Heart Cookbook. The recipes are creative enough to impress the most cultured palette, but simple enough to be cooked by a beginner. While the recipes are all vegetarian, you don't need to be vegetarian to enjoy these hearty dishes.
Published by Land of Medicine Buddha
Paperback US$10.00
www.landofmedicinebuddha.org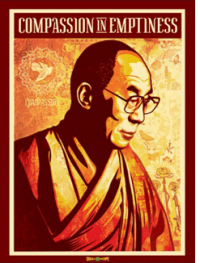 Compassion in Emptiness
By His Holiness the Dalai Lama
Each year, His Holiness the Dalai Lama travels the world offering teachings and public talks to individuals from many different faiths and backgrounds. In 2010, His Holiness traveled to New York City to teach A Commentary on Bodhicitta by Nagarjuna and A Guide to the Bodhisattva's Way of Life by Shantideva.
Following the teachings, His Holiness the Dalai Lama went on to address a sold-out crowd at Radio City Music Hall with "Awakening the Heart of Selflessness," a public talk followed by a candid question and answer session. In this talk, His Holiness discusses ways in which one can achieve the realization of selflessness and ultimately achieve inner peace, which in turn generates a genuine sense of responsibility for the happiness of others and eventually creates a more compassionate world for everyone.
Oscilloscope Laboratories, the same producer as the successful documentary Unmistaken Child, has put together an extremely professional recording, unlike most that are made available. The colors are bright and clean, the sound is high-quality, the angles are interesting, and with optional English subtitles, to content is accessible and intelligible. And luckily for us, the editors have not sent His Holiness' entrances, greetings and goodbyes to the cutting room floor, allowing viewers the pleasure of witnessing His Holiness' undeniable charm and friendliness.
With such a long run time, this DVD set would be perfect for small groups to include in their own activities as material for group viewing and discussion.
Produced by Oscilloscope Laboratories
Four-disc DVD set, 835 minutes US$39.99
www.oscilloscope.net
(Get this DVD and support the FPMT through The Foundation Store!)
Remembering Impermanence and Understanding What is True Dharma
By Lama Zopa Rinpcohe
Drawing from teachings given in Mongolia, Remembering Impermanence and Understanding What Is True Dharma is a concise explanation on how reflecting on impermanence supports spiritual progress and the different levels of motivation that transform daily activity into authentic Dharma. Lama Zopa Rinpoche also skillfully weaves in a brief explanation on the nature of samsara, the definition and quality of the mind of renunciation, and a micro-commentary on a short but powerful lam-rim prayer suitable for any practitioner.
From the producers of FPMTs immensely popular Discovering Buddhism DVD series, Remembering Impermanence and Understanding What Is True Dharma is sure to inspire even the most timid of hearts!
Produced by Dharma Vision, Rereleased by FPMT Education Services
DVD, 50 minutes US$15.00
shop.fpmt.org/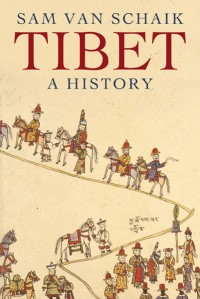 Tibet: A History
By Sam van Schaik
Reviewed by Laura Miller
Sam van Schaik's Tibet: A History demystifies Tibet through recounting the fascinating and complex narrative of Tibet's development over the last 1500 years. Van Schaik, a British scholar who specializes in Tibetan manuscripts, pieces together Tibet's story, referencing hundreds of documents that include ancient first-hand reports and thousand-year-old histories as well as more recent writings. From great battles between warring kingdoms over spice route traffic to the introduction of Buddhism from India and the sometimes halting and bloody development of the Tibetan Buddhist schools, van Schaik dispells any notion of a peaceful and self-contained Tibet. Far from being removed from the chaos of the rise and fall of empires or a secluded sanctuary of holy men untouched by strife, Tibet's history is as compelling and dynamic as that of any great civilization.
For Western Tibetan Buddhists, we easily latched on to the simple story of a pristine and contented Tibet before the People's Liberation Army invaded in 1950. We fall into a narrative in which the Chinese are all bad and the Tibetans, all good. But van Schaik's account of the 100 years prior to the Chinese invasion should be required reading for anyone taking a political stand on Tibet, primarily because the Tibet story is not that simple. The turmoil between Buddhist schools, the significance of the patron-priest relationship and British colonialism play into the 20th-century political develops in Tibet even if they are overshadowed by the rise of the Chinese Communists. That's not to say that van Schaik's account excuses or denies the atrocities of the PLA, instead he explains the political and religious context into which the Chinese were both welcomed and resisted.
But van Schaik most impressive work comes in the early history of Tibet, which is his academic focus. Through an array of manuscripts, he breathes life into the names heard in Tibetan Buddhist teachings: the Dharma Kings, Atisha, Shantarakshita, Padmasambhava. With legendary figures like the Dharma kings, van Schaik works as a skilled historian, revealing Songsten Gampo as an accomplished warrior and unifying leader. Van Schaik's telling of history suggests that a strong, powerful and violent leader like Songsten Gampo was what was necessary to create the conditions for the Dharma to take root in Tibet.
More than names and dates, van Schaik's history comes across as a thrilling political drama full of intrigues, deceptions and maneuverings. Reading Tibet: A History, if anything, confirms the fact of impermanence, at least as far a political power goes. Holding authority over the region of greater Tibet has never been easy and many rulers have failed to keep stability for very long. China has seen emperors and dynasty rise and fall and the political boundaries of Tibet have shifted along with these changes. If history can be a guide, it is only a matter of time before the political situation in Tibet changes again.
For those who cannot get enough Himalayan history and who are drawn to early Tibetan texts, van Schaik keeps a blog where he reflects on his work examining ancient manuscripts.  Recent entries include an account of a woodslip written by an imperial Tibetan soldier requesting supplies and 8th-century manuscripts describing Chinese life under Tibetan rule.
Tibet: A History would be a good book for anyone interested in Tibet and its incredible story. Many lessons are to be found in a history that travels over the course of a millennium from when warlords vied for power over trade routes to a world in which the 14th Dalai Lama is the most recognized advocate for peace and tolerance in the world.
Published by Yale University Press
Hardback US$35.00
http://yalepress.yale.edu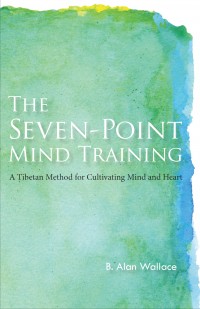 The Seven-Point Mind Training: A Tibetan Method for Cultivating Mind and Heart
By B. Alan Wallace
"Mind training," or lojong is one of the most fundamental and popular concepts of Tibetan Buddhist practice. The idea that the mind can be transformed from self-centered to oriented toward others gives hope to those wishing to lessen the problems experienced in life and increase the joy. In B. Alan Wallace's characteristic clarity and ease of language, he presents this fresh commentary on the ancient teachings of Seven-Point Mind Training in a way that is both accessible and compelling for new and seasoned practitioners alike.
Published by Snow Lion Publications
Paperback US$16.95
www.snowlionpub.com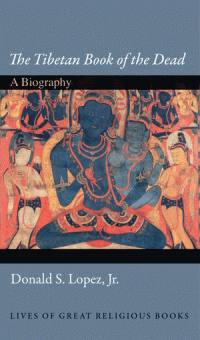 The Tibetan Book of the Dead: A Biography
By Donald S. Lozpez, Jr.
Reviewed by Laura Miller
Donald Lopez's The Tibetan Book of the Dead: A Biography examines how a religious text becomes significant to a foreign culture in a way that has less to do with the text's actual content and more to do with the culture itself. Lopez traces the so-called Tibetan Book of the Dead's trajectory through history, describing how its import stretched far beyond its original source and context. Lopez's "biography" is part of a new series of books called Lives of Great Religious Books offered by Princeton Press. While the story of the Tibetan Book of the Dead is interesting in itself, Lopez's account portrays the book's life as a fascinating example of the always provocative intersection between Tibetan Buddhists and modern American Spiritualism.
Bardo Tödöl is the transliterated Tibetan for the name of the text upon which the Tibetan Book of the Dead is based. The name of this time-of-death text can be translated literally as "Liberation in the Intermediate State through Hearing." Bardo Tödöl belongs to the genre of Tibetan literature called a terma or "treasure" text. These texts are said to have been composed by the great 8th-century Indian master Padmasambhava and buried by him to be discovered in the future. In this case, Karma Lingpa revealed the Bardo Tödöl in 14th-century Tibet. "Among the many biographies of the great treasure revealers of the Nyingma sect, that of Karma Lingpa's is one of the less glorious," Lopez tells us. And it's true, Karma Lingpa's story is better suited for the tabloids – an out of wedlock child, a scheming attendant, poison and a bird carrying healing fruit. It makes for great reading and reminds us that old Tibet was quite the wild place.
The Bardo Tödöl didn't become the Tibetan Book of the Dead until an American Theosophist named Walter Evans-Wentz stumbled upon a Tibetan text while traveling in the Himalayas in 1919. He asked an English teacher in Sikkim to translate the mysterious text. The resulting work was packaged with prefaces, introductions, commentaries and annotations and published under its popular name in 1927. Since then, Evans-Wentz's book has gone through several editions, featuring new additional commentaries and prefaces. There are also several other published translations and commentaries on the Tibetan text, including ones by Robert Thurman and Chogyam Trungpa Rinpoche with Francesca Freemantle. This adds up to the Tibetan Book of the Dead becoming the most published and most read Tibetan text in the West while remaining mostly unknown to Tibetans.
Lopez spends the majority of his short book recounting the proliferation of the English versions of the Tibetan text and exploring the reasons for its popularity, including providing a brief history of American Spiritualism and an intriguing comparison between the Tibetan Book of the Dead and an even more popular revealed text: the Book of Mormon. Lopez, who also authored the book Prisoners of Shagri-La: Tibetan Buddhism and the West, is keen to highlight how own cultural baggage influences the ways we think about Tibet and the teachings of Tibetan Buddhism. As always, his insights into our perceptions of Tibet are provocative. For that reason, I think both new and old Western Dharma students would find Lopez's biography of Bardo Tödöl enjoyable and worthwhile and would be benefited by his critical eye when we turn our attention towards Tibet.
Published by Princeton University Press
Hardback US$19.95
www.lamayeshe.com
Like a Yeti Catching Marmots: A Little Treasury of Tibetan Proverbs
By Pema Tsewang Shastri
Reviewed by Laura Miller
As the West keeps speeding towards the future, we seem so ready to toss aside the old wisdoms uttered by our parent and grandparents. Their proverbs might seem quaint and old fashioned to our 21st-century sensibilities. But just when we're ready to dismiss them completely, one of those familiar pithy saying pops into our minds and captures the moment perfectly.
Like a Yeti Catching Marmots, a new collection of Himalayan proverbs from Wisdom Publications, offers 108 of these smart little saying, ready to be deployed in our daily lives. The proverbs are written in Tibetan and English, making the book a treasure for Tibetans and English-speaking Westerners alike.
Sitting down to write this review, I got distracted a dozen times before typing a single word. I realized how much I was acting "like a yeti catching marmots." As the book explains:
The Yeti, or Dremo in Tibetan, is a dim-witted mythical beast said to feed only on marmots. It sees a marmot, grabs the hapless creature, and then sits on it – saving the delicious morsel for later. And then the Yeti sees another marmot and leaps up to snatch it – while the first marmot makes a quick break for freedom. An image of bumbling, foolish effort.
The recognition of the yeti inside me made me laugh at myself, but also motivated me to get serious and focus on completing one task before starting the next.
Whether you are reconnecting to the proverbs of your elders or learning a new saying to share with friends, this book can find a welcome spot in the center of any home. Keep it on your kitchen table, and you'll be prepared. You never know when you might find a use for one of these gems. As they say, "If the tiger has eighteen great leaps, the fox has nineteen hiding holes."
Published by Wisdom Publications
Hardcover US$12.76
www.wisdompubs.org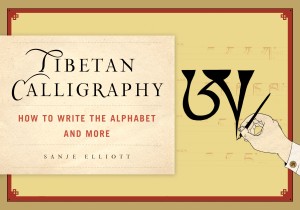 Tibetan Calligraphy: How to Write the Alphabet and More
By Sanje Elliott
Reviewed by Laura Miller
Tibetan Calligraphy is a beautiful book. Beautiful in the sense that it brings into the reach of any student the foundations of calligraphy – the art of creating inspiring text created with supreme care. Just like it is wonderful to hear a resonant and controlled voice chanting prayers, seeing the syllables and words carefully written gives joy. Sanje Elliott has studied and taught Tibetan thangka painting for many years as well as becoming a skilled calligrapher. In his book, he seeks to introduce "the classical uchen alphabet to Western students of Tibetan and to Tibetans growing up in the West." He provides instructions, photos and exercises, sketching out the basic elements of traditional Tibetan calligraphy.
In an age where letters and characters are just an accumulation of pixels, I think my longing for words and phrases that have been created by a hand pulsing with blood goes mostly unrecognized. Elliott's book reminds me of how when seeing handwritten script, it seems to me to register the breath of the reader. I believe this possible when created by a body that itself breathes. I realize that text can be alive in a sense, which is much closer to how I think I should see Dharma texts; they are alive even in digital renderings.
Elliott suggests to students using his book that calligraphy can be used as a contemplative practice. He recommends saying refuge and bodhichitta prayers before taking up the pen in a practice session and dedicating the merit of the practice at the session's close. As a writer, I can think of nothing more perfect than a practice that see every words as a possible vehicle for compassion and as requiring care, patience and deliberate effort. We so often take the creation of words for granted, leading to careless and harmful speech. It is wonderful to see a book dedicated to showing how every syllable can be beneficial.
Published by Wisdom Publications
Paperback US$11.96
www.wisdompubs.org
CHILDREN'S BOOKS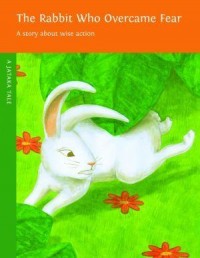 Jataka Tale Series
Some of the most moving examples of Buddhist literature can be found in the Jataka Tales, the fables originating in India that present some of the great deeds from the former lives of the Buddha. Dharma Publishing has taken some of these stories, adapted them for children, and designed 24 attractive paperback books perfect for young people beginning to read. The pictures are bold and colorful, and the story is certainly never boring. Also, parents and educators will appreciate that stories themselves are devoid of religious jargon or terms (although they still provide lots of material for exploring ethics and values!) and the helpful discussion guides and exercises added to the back of the book for the series' second edition.
Published by Dharma Publishing
Paperback US$8.95www.dharmapublishing.com