News/Media

*If a menu item has a submenu clicking once will expand the menu clicking twice will open the page.

Study & Practice

*If a menu item has a submenu clicking once will expand the menu clicking twice will open the page.

Projects

*If a menu item has a submenu clicking once will expand the menu clicking twice will open the page.

FPMT

One must practice with the bodhisattva attitude every day. People can't see your mind, what people see is a manifestation of your attitude in your actions of body and speech. Pay attention to your attitude all the time, guard it as if you are the police, or like a maid cares for a child, like a bodyguard, or like you are the guru and your mind is your disciple.

Lama Zopa Rinpoche

*If a menu item has a submenu clicking once will expand the menu clicking twice will open the page.

Shop

The Foundation Store is FPMT's online shop and features a vast selection of Buddhist study and practice materials written or recommended by our lineage gurus. These items include homestudy programs, prayers and practices in PDF or eBook format, materials for children, and other resources to support practitioners.

Items displayed in the shop are made available for Dharma practice and educational purposes, and never for the purpose of profiting from their sale. Please read FPMT Foundation Store Policy Regarding Dharma Items for more information.
OBITUARIES
October-December 2013
Alison Kaye Harr, 36, died in San Francisco, California, United States, June 1, 2013, of complications due to a car accident
By Carina Rumrill
Alison Harr was born in Fresno, California, on December 28, 1976 to Bruce and Pearl Harr.
Alison's involvement with FPMT began in 2002 when she was invited to visit a friend who was living in a cabin high up in the redwood forests of the Santa Cruz mountains in California. With her beloved Boston Terrier, Buster, she drove the five-mile dirt road leading up to Vajrapani Institute. In 2009 she recalled in a conversation with Mandala, "The minute I stepped on Rinpoche's land I found refuge, the feeling and protection I was searching for, for so very long. The FPMT saved my life by being there for me." She would continue to refer to Vajrapani Institute as her "heart center" throughout the remainder of her life.
In 2004 she attended a lam-rim retreat with Ven. Robina Courtin at Land of Medicine Buddha in Soquel, California. During this retreat she identified Ven. Robina as her teacher. Another retreatant remembers Alison asking many questions during this retreat and really checking out sincerely if this path was right for her.
In 2005, she went on Buddhist pilgrimage with Ven. Robina to Nepal and India and ended up staying a year in the area. She often expressed that it was a year of incredible experiences, growth and focus. She moved to San Francisco in 2006, determined to offer service to the Liberation Prison Project (LPP), which Ven. Robina founded in 1996, and ran until 2009. I met her at this time while I was serving the project as operations director and teacher coordinator. At LPP she offered service in many capacities: offering water bowls, cleaning, packing books, managing the resources department, and eventually writing to prisoners herself.
As the teacher coordinator, I handled letters between prisoner-students and their assigned Dharma friends. As an extension of this, I read Alison's correspondence with the prisoners she was helping mentor. She had a natural ability to connect with people who are struggling in the most unimaginable ways. Alison didn't throw up the same walls many of us do in relation to others: She was able to find commonalities and ways to communicate with anyone, no matter their background or current situation. Ven. Robina often praised Alison for the care she gave to running the resources department. She worked closely with Dharma friends to help them provide books and materials specific to their prisoner-students' needs.
"What I've always admired about Alison is her courage, the effort she made to practice. She persevered." Ven. Robina said after Alison passed away. "The dictionary says that this means 'to persist in anything undertaken; maintain a purpose in spite of difficulty, obstacles, or discouragement; continue steadfastly.' Well, that's Alison! This was evident ever since we first met. … She never gave up. No matter how difficult things got, she picked herself up, renewed her faith in the Buddha, in the teachings, and kept on going. And she never gave up on others, either. She always had enthusiasm to help. The prisoners she looked after when she worked for the prison project felt so supported by her. She made such effort to give good advice, to write nice letters, to send the most helpful books. Our lamas tell us that without this joyful effort or enthusiastic perseverance, we simply can't succeed, we can't get enlightened. And Lama Zopa Rinpoche says that unless we make effort, we don't create much merit at all. Well, Alison must have created bucket-loads!"
Alison worked for LPP until 2009, when the US office downsized and relocated from San Francisco to Raleigh, North Carolina. She continued on as a volunteer, writing to inmates and forwarding prisoner letters received at the San Francisco post office box each week to the Raleigh office.
She was thrilled when Ven. Robina invited her and a handful of former San Francisco prison project staff to help with an auction fundraiser in Raleigh in November 2012 to support Ven. Robina's Bodhichitta Trust. "A great event," Alison said. "So good to work with the old prison project crew again!" I created all of the food for this event with Alison on my "kitchen crew." It was wonderful to work closely with her again; I think we laughed more than we cooked.
She often used her Facebook page as a platform for articulating her motivations to benefit others. In January of this year she posted, "I have so much love in my heart to give. Therefore, I could never give most of it to just one other person. I want to find love in every being in samsara no matter if we are friends, enemies or strangers. I love you, no matter what" and, "Sending lovin' vibes to all migrating beings suffering in Samsara. We shall continue to strive to reach enlightenment's shores. Carry on despite harsh hardships."
On May 5 of this year, she attended Big Love Day at Vajrapani Institute. Tenzin Ösel Hita was in attendance and took many questions from the crowd. Alison asked the last two questions of the day. Her final question was, "They say 'welcome hardships' in Buddhism. … Is there any advice you can give me for welcoming difficulties?" Ösel answered, "As long as you don't learn what you have to learn when those things happen, they will keep happening. As soon as you learn what you have to learn from that, it will be different. It keeps on happening because you haven't learned what you need to learn." She replied, "Ah … okay, well said, and thank you." Laughter erupted among the others and as usual, Alison asked a probing question that got to the heart of many people's experience.
Alison was hilarious, sharp, generous, altruistic and extremely open-minded. She was a committed Dharma practitioner who was always pushing to deepen her practice and understanding. She was quite courageous in teachings, asking questions most people would not ask for fear of damaging their reputation. Her questions were often really helpful to others. You could always count on Alison to speak up if she felt something wasn't right. She was brave and sincere in her convictions.
She graduated from the Bay Area Medical Academy in 2011 and was a nationally certified medical technician. After her graduation, she volunteered at San Francisco's Haight Ashbury Free Medical Clinic. She was a phlebotomist and her work included drawing blood, collecting samples, and running them through lab tests or sending them out to labs for more complex testing. She also roomed patients, took their vitals, and in-took patient charts and data. During this time she also volunteered as a medical assistant at rock concerts for RockMed, a social service project of HealthRIGHT 360.
About this work she commented, "I love serving Haight Ashbury Free Clinic. Helping the homeless and all those in need gives my life greater meaning. I love making vitals and lab tests a comfortable experience for patients. It's a beautiful day as I watch it go by from the rooftop of the clinic on my break."
Alison was registered for a retreat at Vajrapani Institute called "Breaking Through Illusions" led by Bay Area teachers, which was scheduled for May 23-26. On May 20, 2013, she was driving near her parents' home in Santa Cruz when she swerved to miss hitting a cat in the road. She was released from the hospital on the same day as the accident and went home to San Francisco. However, by May 23, the day she was supposed to drive to Vajrapani Institute to attend a retreat, she was unable to move. Her father drove her to the emergency room at the hospital. Once admitted, they discovered she had internal bleeding. Alison's teachers – including Lama Zopa Rinpoche; Geshe Ngawang Dakpa, resident teacher of Tse Chen Ling in San Francisco; and Ven. Robina – were immediately informed of her critical condition. Her Dharma friends around the world participated in 24/7 prayers and practices for her, and Ven. Robina arranged for prayers and pujas to be done by 100 monks at Kopan Monastery.
She was added to the prayer lists of many FPMT centers. Sangha communities at Kopan Monastery, Sravasti Abbey, Istituto Lama Tzong Khapa, Land of Medicine Buddha and elsewhere offered prayers and practice. Additionally, retreatants at Vajrapani Institute and Vajrayana Institute in Australia engaged in group prayers for her. Her hospitalization and subsequent passing brought people together worldwide in prayer and practice. Her parents and her partner, Irene, expressed how much it meant to have the spiritual side of her passing handled with such organized care.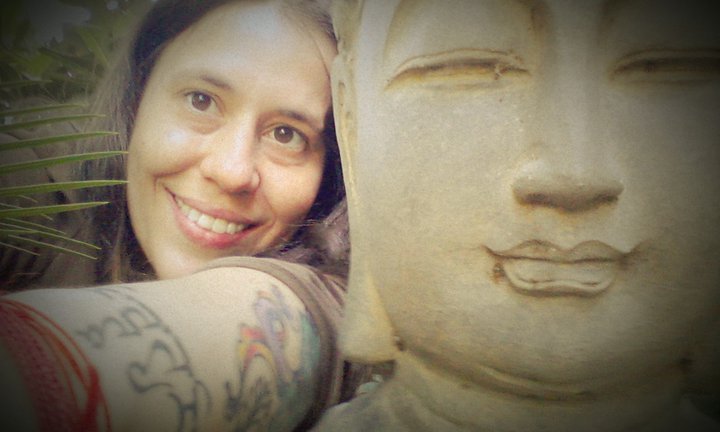 The day she passed away, a handful of her Bay Area Dharma friends, including Geshe Dakpa, were with her. She was blessed by holy objects and her friends performed puja and prayers beside her body. A flood of prayers and condolences were expressed on Facebook and many posted fond and profound memories of this remarkable woman.
Alison's voicemail greeting captures her view of the world, and her wish for those she knew: "May you be blessed with a joyous, splendid and auspicious day today and every day." 
Lama Zopa Rinpoche requests that "students who read Mandala pray that the students whose obituaries they read find a perfect human body, meet a Mahayana guru and become enlightened quickly, or be born in a pure land where the teachings exist and they can become enlightened." While reading obituaries we can also reflect upon our own death and rebirth, prompting us to live our lives in the most meaningful way.
More advice from Lama Zopa Ripoche on death and dying is available on Lama Zopa Rinpoche's advice page.