News/Media

*If a menu item has a submenu clicking once will expand the menu clicking twice will open the page.

Study & Practice

*If a menu item has a submenu clicking once will expand the menu clicking twice will open the page.

Projects

*If a menu item has a submenu clicking once will expand the menu clicking twice will open the page.

FPMT

Dharma is a total way of life. It's not just for breakfast, Sundays, or the temple. If you're subdued and controlled in the temple but aggressive and uncontrolled outside of it, your understanding of Dharma is neither continuous nor indestructible.

Lama Yeshe

*If a menu item has a submenu clicking once will expand the menu clicking twice will open the page.

Shop

The Foundation Store is FPMT's online shop and features a vast selection of Buddhist study and practice materials written or recommended by our lineage gurus. These items include homestudy programs, prayers and practices in PDF or eBook format, materials for children, and other resources to support practitioners.

Items displayed in the shop are made available for Dharma practice and educational purposes, and never for the purpose of profiting from their sale. Please read FPMT Foundation Store Policy Regarding Dharma Items for more information.
Collaborators in Preservation: Key Education Services Contributors Reflect on the Future of FPMT Education and Their Work with Merry Colony
January-March 2012
EDUCATION
The successes of FPMT Education have been due to the collective efforts of the many individuals who have worked on the wide array of programs and materials now available. In this section, we'll meet some of the key contributors to FPMT Education and hear, in their words, how FPMT Education has developed, the part it plays in preserving the Mahayana tradition of Tibetan Buddhism, and what they view as the direction it will follow in the future. They also share their thoughts on working with outgoing Education Services Director Merry Colony, whose story appears in Mandala January-March 2012.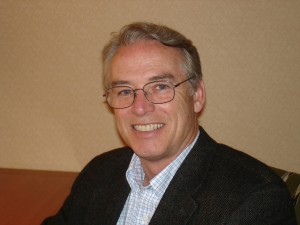 Tubten Pende, a.k.a. Jim Dougherty, was involved in Lama Yeshe's Geshe Study Program, which began at Manjushri Institute in England in 1979 and was historic both for FPMT and the Gelug tradition. Lama Yeshe envisioned the program as open to women and men, lay and ordained, and as leading to a true Geshe degree, one recognized commonly by other Gelugs. To that end, Lama Yeshe eventually convinced the Gelugpa Society, which consisted mainly of the abbots of the three great monasteries, to support it. Pende both helped administer the program and attended it as a student. He says, "I owe a great deal to that program as it provided me with knowledge I would never have obtained otherwise." The program's time requirements for students, however, made it impractical to maintain. While not entirely successful in itself, the Geshe Studies Program inspired the development of other initiatives such as the Seven-Year Program.
"When I started to work for the Education Department at International Office, I observed that the Seven-Year Program was nearly out of energy and I decided to do whatever it would take to re-energize it," Pende recalls. This led to the development of the Masters Program (MP), FPMT's most advanced study program based on the traditional studies at the great Gelug monastic universities. This program also required both an extensive time commitment and a good foundation in Buddhist education. To help create the latter, other educational programs were designed to introduce newcomers to Buddhism and gradually develop their knowledge, including the Basic Program (BP) and Discovering Buddhism program. Western Buddhist teachers within the FPMT, including Pende, developed Discovering Buddhism in 2003. Pende authored the program's 12th module, "The Wisdom of Emptiness," and, as an "elder," continues to provide advice to those studying the program through the Online Learning Center (OLC).
Pende has had over a decade of experience working on the development and support of FPMT education programs with Merry Colony, who served as director of Education Services from 2000 to 2011. "Merry is a good communicator and organizer. She had the skill set necessary to manage people who were more technically involved with education to help ensure that the objectives of the Education Department were achieved," he says. "This is not easy and it is very selfless work, as the administration of international education programs can go unnoticed. One of Merry's accomplishments that I especially appreciate was that she was able to ensure compliance with FPMT education policy and procedures without a heavy hand. She was reasonable, understanding, sympathetic, helpful and still maintained the integrity of those programs."
Concerning the future of FPMT Education, Pende says, "FPMT Education needs to develop more facilities for intensive practice, namely retreat facilities. It has done a good job of establishing academic programs to provide the education necessary to support practice. However, to take an intellectual understanding of Buddhism to the next level – direct experience – it takes a great deal of meditation. This will require people who are sufficiently mature in merit, knowledge and determination to be able to meditate effectively for the long haul. Such people can be expected to emerge from our education programs. But we can't rely on the cultures of our countries to support yogis (not in the USA anyway), so we need to develop such supportive cultures within the FPMT and specific facilities to enable them to complete the path."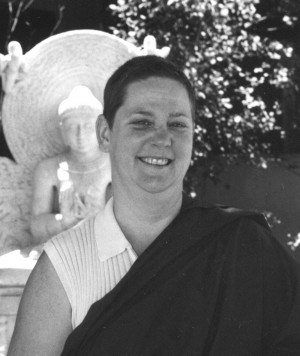 Ven. Connie Miller participated in the Geshe Studies Program at Manjushri Institute as well as in the Masters Program at Istituto Lama Tzong Khapa (ILTK) in Italy in the 1980s. She organized the first conference on Universal Education (now called Universal Wisdom Education). She then stayed at ILTK and served in the spiritual program department. Ven. Connie also worked on a magazine about Universal Education called Educaré. From 1990 to 1995, Ven. Connie was employed by Wisdom Publications. She then went to Land of Medicine Buddha (LMB) in California to staff FPMT's International Office, serving under Tubten Pende who was then director of FPMT Education. She quickly realized the need for a standard prayer compilation for FPMT. Her prototype for a standardized prayer book was tried out at the 3-month Vajrasattva retreat led by Lama Zopa Rinpoche at LMB and resulted in what we now know as FPMT Essential Prayers, Volumes 1, 2 and 3. When International Office moved to Taos, New Mexico, Ven. Connie worked with Merry Colony. Ven. Connie focused her efforts on materials development, including prayer books and sadhanas, as well as on various other editing priorities. She also assisted in the founding of FPMT's Thubten Norbu Ling Tibetan Buddhist Center in Santa Fe, teaching weekly there for many months.
Since then, she has worked with Universal Wisdom Education and as an FPMT Education consultant, helping with the development of Discovering Buddhism, and since 2008, she has been working full time as an editor for the Lama Yeshe Wisdom Archive, focusing primarily on the biography of Lama Yeshe.
Ven. Connie sees the benefits of FPMT Education's development of materials and programs. "In order to complete advanced practices, and beginner practices as well, people need to know how to complete the sadhanas and meditations," she says. "With the materials we have prepared and made available, students have instructions right there, and if they have a teacher to fill in exactly how to meditate, then they have everything they need to be able to engage in practices. Certainly if one is doing advanced retreats with long sadhanas and fire pujas, it's not possible to do them without the texts. All these materials are essential elements enabling people to engage in the Dharma. As far as programs are concerned, if we are a big family of brothers and sisters in the Dharma with a common collection of fathers and mothers as our gurus, it really helps to be doing the same things, using the same language and studying in consistent ways together so we're sure we are traversing the path without getting sidelined on tangents or incorrect paths. We can now have confidence that those programs are laid out in a way we can take refuge in and trust."
About Merry, Ven. Connie says, "Merry is an amazing combination of Tara energy with 1,000 arms. I don't know anyone who can hang on to so many threads at one time, keep them all moving and keep track of them all. She never, ever ceased to amaze me. Plus, she has always been completely dedicated to fulfilling Rinpoche's wishes. Everything she does is arising out of that. And then to bring those wishes into practical fulfillment which is sometimes not a small feat at all! It's a hard job she's done all these years. It is going to be incredibly hard to fill her shoes.
"Given all those things I said about standardized programs, I also feel that standardized programs can also bog people down, that they can become stagnant. FPMT is getting so big!" Ven. Connie reflects. About FPMT Education's future, Ven. Connie adds, "I met the Dharma strictly from Tibetans, at least at the beginning. But the generation who had that experience is fast disappearing – and that means significant change. It's true that much effort was made to take that into account when developing the current standardized programs. Yet our programs are, for the most part, still based on monastic study programs. I think that eventually things are going to shift hugely and that the appearance of Osel Hita is one sign of this. We have to stay open to such change. In the movement of the Dharma into contemporary 21st-century cultures, there has always been the question of what is the essence of the Dharma and what are the trappings – you know, the issue of not throwing the baby out with the bathwater. That is going to continue to be at the crux of how we move forward. How can we be truly creative in spreading the Dharma and yet not dilute or even lose the purity of the Dharma's unbroken lineage?
"[In summer 2011] I attended the Garrison Institute conference, which was attended by teachers from every single Buddhist tradition: Japanese, Zen, Theravada, Pure Land, Tibetan, etc. Much of the discussion that took place there was about being creative and communicating the Dharma in the 21st century," Ven. Connie continues. "But one thing we hardly looked at was how we preserve our lineages, so that the Dharma remains pure. How do we avoid going down the path of losing lineage and losing purity? I don't think that having just one American Buddhism, for example, can possibly work, because, for instance, the Zen lineage and the Gelug lineage aren't the same. We're still at the beginning; there's a lot to work out. But as we move forward, the more concretized we become, the less we'll be in harmony with the Dharma – because things are constantly changing."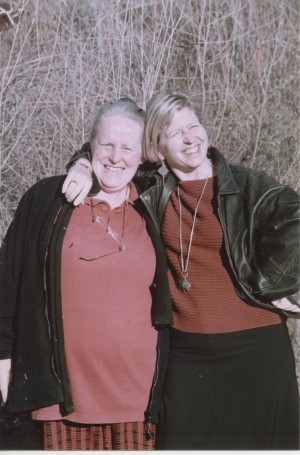 Olga Plankten was also a student of Lama Yeshe's Geshe Studies Program at Manjushri Institute and showed an aptitude for study and meditation early on. She has been instrumental in the development of FPMT's Basic Program and promoting it in centers. She also assisted with development of the Masters Program. These days she helps with coordination of the Basic Program and supporting BP participants with information and advice on practical issues. She recalls, "It was clear to many of us in the mid-'90s that our centers were struggling to provide quality structured Dharma programs, and despite our wealth of resources in the FPMT, we were failing to combine our efforts to offer students the best possible Dharma training. Developing the Basic Program was particularly appealing as it represents a good balance between study and practice that suits many students and centers."
Olga has provided consistency to the programs on which she's worked by keeping development and Rinpoche's recommendations on track over the years, maintaining a detailed knowledge of the programs and purpose behind them as well as ongoing teacher input. She says, "It has been very satisfying to see the progress we've made. Apart from many individual students benefiting from improved training, I believe we have contributed to drawing the FPMT centers, staff and students together in a very positive way in a shared Dharma study and practice."
Olga had the following to say about Merry Colony: "Over the years Merry's good personal skills, excellent communication and extensive networking, often based on great personal friendships, her loyalty to FPMT and her vision of its aims, and her dedication to International Office, making it effectively function as 'Rinpoche's Office' and actualizing that essential message – all this has made me feel rather indebted to her. She made it possible for me to do my job as Basic Program and Masters Program consultant for Education Services, and has supported me throughout while developing the Basic Program Guidelines and Basic Program materials, by commissioning translations, by helping me get coordinators for the development of the program and materials in French and Spanish, and by backing me up while guarding and supporting implementation of the BP.
"Recently, with essential support from her side, the Masters Program Guidelines were completed," Olga continues. "Merry's work on the development of the first MP, together with Ven. Joan Nicell and in consultation with the MP students, in order to implement Rinpoche's wishes and input, has been one of her most successful efforts. Setting up the first FPMT Translation Office, the Lotsawa Rinchen Zangpo Translation Team, and organizing the first, very productive, translation conference at Istituto Lama Tzong Khapa last May is a huge step forward towards standardizing terminology and bringing not only practice materials, but also our translations of standard BP and MP texts and commentaries to another level. Her vision and her impressive talent to capture ideas and translate them into achievable action have shaped FPMT Education and have given it much of its current quality and reach."
Concerning the future of FPMT Education, Olga comments, "In my area of BP and MP, we will continue to develop and refine the programs and their translations and support materials, making sure we preserve their integrity and support centers that implement them. Basic Program Online will be up and running in the near future. The Masters Program may be implemented in more centers in line with Lama Zopa Rinpoche's wishes and encouragement. University accreditation is another interesting development, with the first accredited BP starting next year at Istituto Lama Tzong Khapa – hopefully forming the basis for a university-accredited Master Program. The programs will also continue to develop in languages other than English, with Education Services' continued support."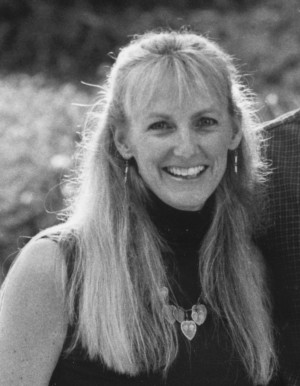 Kendall Magnussen started working for FPMT Education in 2000 after serving at Land of Medicine Buddha for seven years. Her first roles were as a spiritual program coordinator support person, as organizer for the FPMT Education Conference of 2001, and following that as a developer of an FPMT introductory program (which became Discovering Buddhism) and a Spiritual Program Coordinator Training Program and Service Manual. The trainings and program were quite well received and as a result, she helped further develop a Rituals Training and the Foundation Training for Compassionate Service. Kendall has facilitated a total of seven training events globally. In 2002, she came on board to help Ven. Connie Miller with materials development (including revisions) and eventually became the main person working in this area. Kendall took time out to do retreat in 2006 and came back to work on specific projects in 2009, starting with the text for Buddhism in a Nutshell. She continues her Education Services work with developing all of the Living in the Path (LP) modules.
"The most significant advancement in FPMT Education is its relevance to the organization as a whole and to the general public. We finally have standard materials internationally, which was a huge achievement," Kendall says. "There are a number of standard Education programs that centers are encouraged to host and all of the support materials and personnel are there to help them – whether it is a short course like Buddhism in a Nutshell or Meditation 101, the introductory course Discovering Buddhism, or more advanced programs like Masters Program and Basic Program. These have all been fully developed over the last 12 years by FPMT Education, including translations of some major texts and commentaries for the more advanced programs.
"People now know that if they need something related to education or practice in the organization, they can reliably depend on FPMT Education to provide whatever they need to the best of our ability. I think we have a good customer satisfaction rating," Kendall adds. "We now have reputable at-home study versions of many of our programs and courses, as well as a formidable Online Learning Center that is gaining recognition daily. People know if they do an FPMT course that it is a quality program, based on a valid lineage that they can trust.
"There is no doubt in my mind that Merry has been the primary dynamic force behind all of this productivity," Kendall continues. "She is always making lists and re-adjusting those lists and makes it clear how excited she is to check things off her list. It is very satisfying to make Merry happy by giving her something to check off one of those lists! There are many areas that Merry was managing, cheerleading, envisioning for, etc., simultaneously. Materials and trainings were only two areas, both major ones. … She was also the interface for other Buddhist organizations and translation teams as well as artists, publishers and such for permissions. More recently, she has spearheaded the first efforts to come up with standardized terms for translation within FPMT by putting together a translation conference in Italy and supporting Ven. Joan in creating an online lexicon of terms for translation which includes a number of translator's terms as well as Rinpoche's personal comments and advice regarding certain words. Merry's work ethic is incredibly admirable. She puts in very long hours.
"One of her key strengths is her steadfast encouragement and support for her team, making sure they have what they need to not only do their jobs but also that they feel emotionally supported in the midst of sometimes extremely challenging circumstances, deadlines and politics. She checks in regularly, makes sure we are OK, finds out where we are at with our projects and makes us commit to deadlines so things actually get finished. If the money isn't in the budget for a project she feels strongly about, she fundraises for it personally. I have never worked with such an effective team leader or boss in terms of feeling appreciated and supported to be as productive as I could – and when I needed a break, that was also supported. She has an incredible depth and breadth of knowledge – not only of Dharma, but of the history of the organization, Rinpoche's wishes, who to contact for any number of variable things, etc. She has built up a wide network of people that FPMT Education can now rely on for help or resources when needed. Merry is a very good people person and networker, which helps us a lot!
"Merry also has wisdom and amazing devotion to Rinpoche. She is an excellent thinking partner to work out the 'how' and 'what' of any project and it was always extremely clear that Rinpoche always had the final say. While I know she was under great pressure herself, she always maintained a calming steady presence at the helm of Education. It has been a great honor to work with her, for her, under her and I hope I get to do so many times again in lives to come!"
About the future of Education, Kendall says, "I imagine that FPMT Education will continue to expand as a reliable global source of Buddhist study and practice materials. We will have more and more of an online presence, a virtual FPMT community, and at-home students as well as centers that have a reputation for offering quality programs in many more languages. Living in the Path will expand to include Lama Yeshe's teachings so that it is a hub of experiential learning from the direct teachings of Lama Yeshe and Lama Zopa Rinpoche. Training will also expand as it will become even more important to help centers stay connected and receive the support they need and inspiration regarding the greater vision of FPMT that training provides. Maybe we will even have a residential training program for SPCs for education programs, rituals training, and familiarity with all the amazing resources at their disposal – we certainly have enough material
"Of course, what happens over the next decade in FPMT Education will depend very much on Lama Zopa Rinpoche's wishes, guidance and inspiration," Kendall says. "Without Rinpoche, none of this would have happened thus far and we pray for Rinpoche's long and healthy life and continued guidance and involvement with all aspects of FPMT Education."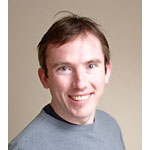 Eamon Walsh is the administrator for the Online Learning Center. Since late 2005, he has worked in a variety of capacities for International Office, including serving as CFO. Eamon began his close involvement with FPMT Education programs during studies at Maitripa College in Portland, Oregon, USA. Having a background and aptitude for technology, he helped develop a new multimedia online program based solely on Lama Zopa Rinpoche's teachings called Living in the Path (LP) as well as worked on the creation of the Online Learning Center and the FPMT Media Center.
"Since I have been involved with FPMT Education, I think the greatest developments are the OLC and the new LP courses, and also the potential for adding more teachings from Rinpoche either through live streaming or on-demand videos," Eamon says. "It is not possible to get to all of Rinpoche's events throughout the world, but I like to think that people can watch some of them live through live webcast or after the event. I also like that we have free courses available and options for people who cannot afford courses to be able to complete them online."
Eamon has enjoyed working with Merry. "She was always very supportive of and encouraging of the work I was doing on the OLC and I relied on her a lot to ensure that I was keeping my work on track with the bigger Education direction and vision," he says. "She brought the qualities of support and encouragement and vision to my work on the OLC."
In terms of the future of FPMT Education, Eamon says, "I think it is important for FPMT Education to continue to produce new materials and consolidate and expand the existing programs. I think there are some major new distribution channels which we need to be part of including having all our materials available in the latest electronic forms such as on the Kindle bookstore, as mobile apps, etc. I also think we need to work closely with having all the teachings of Rinpoche available live over the next few years as well as after the event."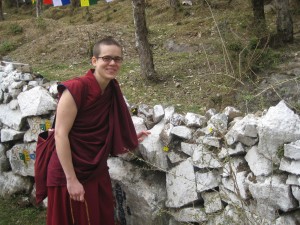 Ven. Detchen took over from Eléa Redel as coordinator of the French Translation Service in 2009.
About working with Merry, Ven. Detchen says, "She has always been very supportive of our work, always ready to offer any help and advice she could. It felt like she was a mother supporting us. We are all part of a big family speaking different languages and she did her very best to help us making the Dharma available in these languages."
In terms of the future of translation within FPMT, Ven. Detchen says, "After our meeting last May at Istituto Lama Tzong Khapa, I think we now have, in the FPMT, a real wish to work together on the standardization of translation terminology – of course, from Tibetan into English, but also into all our respective languages. Another priority is to train our younger translators to make sure that our translations meet a high standard of precision combined with a high standard of readability. As Rinpoche advises, we need 'sweet' translation."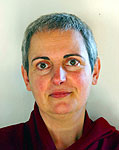 Ven. Nerea Basurto has been translating since she was 18. Her work always involved oral and written translation. When she became a Buddhist (nearly 30 years ago), she was asked to translate the teachings from English into Spanish. She attended the first Masters Program in Istituto Lama Tsong Khapa. After graduation, she was asked to coordinate the Spanish Translation Services and since then, except for some months teaching, she has been managing, translating and editing for the Translation Service.
About working with Merry, Ven. Nerea says, "As the incredible education programs were being actualized in English, it became obvious the need to provide it in the different languages that are part of the worldwide organization, and Merry took on a big load to support and organize this work. In our case, we have always relied on her for the bigger picture and Rinpoche's view, and all the help with the everyday work. We are really grateful to her. Many people have helped to make what the Spanish Translation Service is now, but without Merry's help, it would not have been possible, we will miss her a lot. Merry has brought a broad view of the whole organization, lots of common sense, lots of patience – especially with all the problems of communication due to different cultures and languages – warmth, great humor, and the attitude of always helping, no matter how big her work load would be. I admire her and it is a delight working with her."
About the future of translation, Ven. Nerea says, "I think that the development of the English Translation Office will be a key factor for translations into the different languages, since many of the translations are done from English, and having revised and accurate English translations with a standardized vocabulary will provide the proper base for all the texts in other languages.
"From our side in the Spanish Translation Service, we have prepared all the structure with training, investigation of terminology, working procedures and using the best technology available, so that based on the previous work, we can improve continuously and the knowledge accumulated can be available to all the collaborators of the future. We hope that the next generations can continue improving the work to preserve and make available the Mahayana tradition."
Ven. Joan Nicell was instrumental in setting up the first seven-year Masters Program at Istituto Lama Tzong Khapa along with Tubten Pende and Geshe Jampa Gyatso. The program began in 1998 with a surprising 35 students from 13 countries. In addition, the first correspondence course attracted more than 80 people. Towards the end of the Masters Program she began to work with Olga Planken to set up a two-and-a-half year residential and online Basic Program that was to begin in 2005, a year after the first Masters Program came to an end. Recently she has taken over the development of Discovering Buddhism as an online program in Italian and the coordination of teachers for the weekend program. Over the years she has also worked closely with Merry to develop criteria for the Masters Program certification. She also is a transcribing virtuoso, keying in Rinpoche's teachings (for hours on end) so they can be projected on to a screen for students as well as saved to serve as the basis for future education materials and books. For many onlookers at teachings, she seems to be performing a miracle, but Joan says she's able to do so due to prayer. "I soon discovered that neither my mind nor my fingers could keep up with Rinpoche unless I mentally made a strong request to Rinpoche, at the beginning of each session, to bless my mind and my fingers (I also included my computer in the blessing as it too often had difficulty keeping up!)" she explains. "That's the main 'secret.' The other one is hundreds of abbreviations, making use of auto-corrections in Microsoft Word, such as 'sbs' for 'sentient beings.'"
About working with Merry she says, "Merry has many qualities, but one of the most important ones is that once she takes on a project, she sees it through to the end, no matter how many the obstacles (and there was never a shortage of them!). And so it has been with her efforts to provide materials for the FPMT education programs and get these program established in the centers in accordance with the advice of Lama Zopa Rinpoche; get the FPMT prayer books out to the students and centers and create version after version of the Retreat Prayer Book for events with Lama Zopa Rinpoche; get the FPMT Media Center up and running by organizing a team of qualified audio and video technicians; get the study programs out to more and more people by means of the Online Learning Center; promote the translation of FPMT study and practice materials into as many languages as possible; and more recently put her time and energy into initiating FPMT Translation Services in order to begin the work of revising and publishing the translations commissioned over the years by the FPMT for use in the Basic Program and Masters Program. All this, with never enough money and never enough help. Merry can definitely be proud of her contribution to the FPMT.
"I see FPMT Education moving out of the centers (where it is already well established) and into the world," Ven. Joan continues. "As the FPMT gains more and more well-trained Buddhist teachers who have graduated from the BP and MP (as well as from Buddhist study programs in universities and geshe training programs in the Tibetan monastic universities), they will go out into the world and use their training in ever-more varied fields. As a result, the FPMT will be behind the creation of education programs that can be implemented in many different environments – schools, universities, hospitals, hospices, prisons, businesses, etc. – and also suit many different types of individuals – the young, the old, teenagers, parents, teachers, the sick, the dying, etc. I think Universal Wisdom Education will flourish, but so will Buddhism and Buddhist studies, both as onsite and online programs. I think we need to take up the challenge and be at the forefront of bringing the values of Buddhism into the world through our education programs. We also need to be involved in and to even initiate research projects involving the study of the mind and the inner qualities based on compassion and wisdom that we Buddhists are striving to develop in order to benefit others. Through scientific validation, Buddhism will continue to attract more and more people to it and thereby make an ever-more important contribution to the world."
Learn more about current Education Services' programs and the Online Learning Center by visiting their websites. Shop for Education Services' materials at the Foundation Store.
Read online Mandala's January-March 2012 article on Merry Colony's journey with FPMT.
For an in-depth look at a different aspect of FPMT education, see our July-September 2010 story on FPMT teachers, "Like Nectar on Flowers."