News/Media

*If a menu item has a submenu clicking once will expand the menu clicking twice will open the page.

Study & Practice

*If a menu item has a submenu clicking once will expand the menu clicking twice will open the page.

Projects

*If a menu item has a submenu clicking once will expand the menu clicking twice will open the page.

FPMT

If you help others with sincere motivation and sincere concern, that will bring you more fortune, more friends, more smiles, and more success. If you forget about others' rights and neglect others' welfare, ultimately you will be very lonely.

His Holiness the Dalai Lama

*If a menu item has a submenu clicking once will expand the menu clicking twice will open the page.

Shop

The Foundation Store is FPMT's online shop and features a vast selection of Buddhist study and practice materials written or recommended by our lineage gurus. These items include homestudy programs, prayers and practices in PDF or eBook format, materials for children, and other resources to support practitioners.

Items displayed in the shop are made available for Dharma practice and educational purposes, and never for the purpose of profiting from their sale. Please read FPMT Foundation Store Policy Regarding Dharma Items for more information.
Tuning the mind to make a sweet melody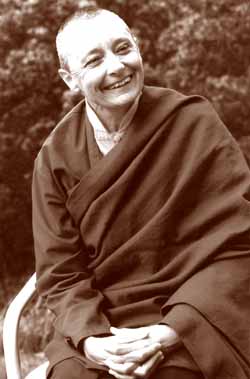 Ven. Tenzin Palmo (Jetsunma since 2008), subject of Vicki Mackenzie's book Cave in the Snow, which tells Ven. Palmo's life story and of her twelve years in solitary retreat, met with participants in Tushita Dharamsala's Lam-Rim retreat and other Dharma practitioners at Tashi Jong Monastery outside of Dharamsala, North India in 2000. An edited version of her conversation with them follows.
I hope you realize how enormously privileged you are and what incredible karma you must have made in the past to have this opportunity to receive these Lam-rim teachings in this lifetime. You have come from so far away because the causes and conditions came together, yet people who live here, for whom this is part of their culture, have never even had the aspiration to do what you are doing – to do a two-month-long Lam-rim retreat.
Some people, after taking a Lam-rim course, end up feeling like — whoa! The hell realms loom before you whatever you do! But it's not like that. You are enormously fortunate to have not just the opportunity to practice Dharma, but the aspiration to do it. If you don't have an aspiration, then even if the Dharma is right in front of you, you don't reach out for it. The Dharma itself is very vast, and when the Tibetans received it from India in its fullness, they had to make selections.
The genius of the Tibetans was how they took what they had and created this system, the Lam-rim, and made it into a viable path that makes sense. This system has now been used for thousands of years unchanged. But it's important to consider that the Lam-rim structure was originally designed for Tibetans by Tibetans, so it doesn't necessarily mean that every bit of the Lam-rim has universal application. This may sound heretical, but the important question is how to take the Dharma, the Lam-rim, home with you in a way that will be effectual, so it can transform our everyday lives.
I'm not saying this as a criticism. This system worked for the Tibetans and, like an assembly line, they've been manufacturing countless enlightened beings. It's quite astonishing that such a small civilization produced so many enlightened beings. Tibetan culture didn't have much secular literature – it had no novels, it had no Shakespeare, the poetry was not love poetry, it was about Dharma. Obviously, there was no radio, no television, no magazines, no racy novels, nothing, only Dharma.
The people's minds basically were also quite empty, like their outside environment, so they filled it up with lots of systems and levels and complicated visualizations, complicated philosophies, because they had lots of empty space inside. If you consider Tibet, which is vast, enormous and full of empty space, you can see why, when you look at their thangkas, there is no space! Every inch is covered with something. Because they were dealing with that vast space out there, when it came to their practice, they  had to fill it up as much as possible.
Another thing about Tibetans is that, considering their culture and environment, you'd have to threaten them with ghastly hell realms and ghastly punishments for the most trivial things say they would develop some conscience. But Westerners, especially Westerners who come to Dharma, their skulls are very fragile. They're often filled with self-loathing and guilt. If you hit them with a cudgel, all you get is shattered skull and bones and blood and brains all over the place. So they end up feeling, "I'm so unworthy, I'm so awful." They end up with this extremely heave sense of inability.
The point I'm trying to make is that sometimes things that are beneficial for a Tibetan psyche are not necessarily helpful for a Western person. We have to be discriminating. The Buddha always said, you should take the Dharma and you should examine it. It's true, bu you shouldn't always examine it so that you can come out agree with what the geshe says. You should examine it – just examine it. Sometimes when I used to take my doubts to my own lama, Khamtrul Rinpoche, he would just laugh and say, "You don't have to believe everything you read in books," or, "Everything you read in the sutras isn't true." This is my lama! We have to be discriminating and we have to see what is helpful for us in our lives.
Westerner's come to the Dharma with minds that are already chock-full, mostly with garbage, and when we try to plant our little seeds of the Dharma on top of that, they will have trouble surviving. It makes more sense to start by clearing it out. In other words, if you've got a house full of junk that's never been cleaned, and you bring all your fancy thangkas and Buddha images with brocades and you try to hang them over all the junk, it's only going to look like even more of a junk pile. The first thing we need is a house cleaning – we need to clean and scour, and then we can put up our thangkas and images.
It's the same with the preliminary practices, like prostrations and mandala offerings and so on – there is so much to think about and visualize with those practices, but our minds are so stuffed already! We need to open the windows and doors – we need to simplify. Otherwise we build up incredible philosophies and practices and we're so clever, but inside nothing has been addressed because we have no time to look.
People start all the extremely complicated practice, they take initiations and commitments, and then instead of the Dharma being a light in their minds, it becomes more of a burden, like you're trudging up a hill with the great big rucksack full of rocks. Look at the genuine Tibetan practitioners – they're really happy about the whole thing. It's not that they don't believe in the hell realms and things like that, but it doesn't really worry them too much. They know that if they're sincere in their practice, they have nothing to worry about and they take refuge in the Triple Gem. But for many Wester people it does become heavy and it makes us very artificial.
The important thing is to have a meaningful practice which you enjoy doing. People have two or three hours of practice everyday, and then they have their families and their jobs and their social lives, so their practice becomes this heavy burden which they have to get through. They rush through it to finish their commitment so they won't go to hell. That's not the point!
The Dharma is supposed to transform our mind and to give us joy and clarity and the ability to benefit others. So we have to see which practices we can do which are helpful for us, especially in our everyday lives. It's different if we're in retreat. For example, the preliminary practices were set our for people who had nothing else to do but preliminary practices. You can immerse yourself in the practice because that's all you have to do. But in the West where people don't have the opportunity to do extended retreats, if you're only doing 100 prostrations a day, how long are you doing to take to do 120,000?
My lama always said to me, "Look, keep your practices short, but do it. If you have long practices, then in the end they'll just become a burden and you'll just stop doing it." So better to just do something short but do it. Even now my basic practice doesn't take more than an hour. I can extend it to two or three hours, but I don't need to. I'm not breaking any vows or commitments if I don't. So even if you did 20 minutes of Chenrezig practice and you did it with sincereity, that's better than doing millions of high yidam [tantric deity] practice for hours and hoours just with the idea of trying to get through the prayer book. It's really much better do a very simple practice and do it sincerely from you heart regularly instead of having fantasies of being a great yogi or yogini of the modern age and ending up being burdened with all these commitments and terrified to breathe.
I think it's important to keep a practice that is short, not more than an hour – maybe half an hour if you can't manage an hour. Whatever amount you do, the main thing is to really have that time. It's not the duration that counts, it's not the level of tantra that counts. It's that you're completely giving yourself to your practice during that time. Nothing else in the world is as important as doing that practice. That washes the mind – I cannot tell you how much. If you do your practice with a mind that is one-pointed, a mind which is very relaxed and spacious but at the same time very concentrated and merged with the practice, then however long the practice is, at the end of it, your mind feels like it's all washed clean.
Md advice to you is to keep your Dharma practice very simple, very basic. Don't get angry and frustrated. Look at a little child who is trying to learn how to walk. It stands up and it walks a little bit and it falls down. Then it stands up and tries again and falls again. What if it said, "Oh, this walking is such a difficult thing, I'm never going to try it again."
If Dharma to you just means going for courses, going for retreats, going to Dharma centers and reading Dharma books, nothing will ever change in your life. We have to realize that every single breath we take, if we take it with awareness, is a Dharma practice. Every single person we meet, if we meet them with openness, with clarity, with the thought in our mind: "May you be well and happy," that is Dharma practice. I say again and again, Dharma is not just meditation, Dharma is not just saying mantras, Dharma is not just listening to discourses or reading the right books.
Another main practice in Buddhism is the six paramitas, the six perfections:
GENEROSITY: Giving is generosity – not just things, but your time, your attention, giving yourself. No matter how stupid we are, however deluded or angry, however we are caught up, we can still be generous. It's not just giving things we don't like anyway, but giving things we like, because we like them. Giving is very important.
ETHICS: Ethics are based on non-harming: not killing, not lying, not stealing, not taking intoxicants, which confuse the mind, and no sexual misconduct. Without this idea of not causing harm to ourselves and others we have no foundation for Dharma in our lives.
PATIENCE: When you're in solitary retreat, who's there to be patient with? People who cause us harm, who really push our buttons, they are our true Dharma friends. It's true! When people push our buttons, then we see that we have buttons. Difficult situations, difficult persons, really are the sandpaper which makes us smooth. Then we can look into our minds. The problem isn't out there. It's in here.
Those Tibetan monks and nuns who spent so many years in Chinese prisons, although some of them were traumatized, many of them came out looking like they'd been in retreat and had heart-felt gratitude to their practice and their tormentors for keeping them on the Dharma path. Their patience was no longer theoretical.
EFFORT: All of this takes effort. When we first come across the Dharma we think, "Oh, it's so obvious, why didn't I think of that before?" It's no great, secret wisdom, but we don't do it. It's one thing to think about it, to know it intellectually, and another thing to experience. To really have it as part of oneself, as natural as one's breathing, requires perseverance. Perseverance and patience are the two most important components.
MEDITATION: It's important to have time where one just can just go inward. I honestly recommend that apart from whatever practice you are doing, as part of your commitment, for those of you who have commitments, you also spend at least 20 minutes a day doing shamata, calm-abiding meditation, because it is very important to have an inner stillness. Within us we do have this center which is like a quiet pool. But usually we are unable to contact it. Meditation is a way of coming into contact with our inner center.
WISDOM: Wisdom is a mind that does not cling. Our mind clings continually, to people, to objects, to memories, to opinions, to our identity, to who we think we are. Somebody said to me that the vision he got in his mind was of being cover all over with tiny little barbs, or little hooks, and as we swirl around everything catches on the hooks, so we carry it all with us. The secret therefore is to withdraw all the hooks. We're touching all these things, but they all slide off, nothing holds on to us. You see, the problem is not the objects. This is what the Buddha said over and over again. It's not the things or the people that are the problem. It's our attachment. It's our attachment that causes fear.
Renunciation is not so much a matter of giving things up on the outside, although that can be very helpful. But the real renunciation is inner renunciation: to be naked in the moment. We clothe ourselves continually with our memories and idea of "I am female, I am male, I'm a teacher, I'm a doctor, I'm a bus driver, I'm a monk, I'm a lay person, I'm married, I'm not married, I'm a good person, I'm a bad person."
IT DOESN'T MATTER WHETHER YOU'RE A GOOD PERSON OR A BAD PERSON. The whole question is – who is this I? It's like a tree gradually losing its leaves – slowly, slowly. That's what real meditation is all about. In the Buddha Dharma, again and again they talk about seeing things as they really are. And the Buddha talked about it so much because it's almost impossible for us to see things clearly. We only see our own interpretation, our own version, our own projections.
In a way the whole of the Buddhist life is a matter of letting go, of these heavy burdens of memories, opinions, identities we carry around like heavy armor. But why carry armor around? We think it protects us but it keeps us away from other people who are also wearing armor. Can you imagine two knights in armor trying to embrace each other? This is what we're doing all the time and then we wonder why our relationships don't work. Then the Dharma becomes another form of armor. The Dharma should be a way of giving us the inner confidence to start shedding, to realize there is something else beyond this ego identity that is our true nature, and that it's okay to drop all these other identifications.
In our practice we should have periods of time and even retreats when we give ourselves the sapce to really ask the question, who am I? One of the points of deity practice, of seeing yourself as the deity, is that it helps us to deal with the question of who we are. For instance, we're sitting here thinking, "Now I am Chenrezig, I am white, glowing, I have four arms," and so on and so forth. This is so important, but we don't really beleive this. It's our fundamental delusion that we sit there thinking that really I am Mary Smith, pretending that I am Chenrezig – when of course the truth is that I am Chenrezig pretending to be Mary Smith.
I think in all our mediations, especially in visualizations, the important thing is to engage the heart, that it doesn't just become mental excercise. So it's very important if, for example, say on is doing prostrations, and one is visualizing the whole Refuge Tree with thousands and thousands of people and deitites and all these things. People go completely crazy trying to visualize all this and keek them all together. The really important thing is to get the conviction that even though you cannot see them, they are all there – absolute conviction that because of our ignorance, because of the veils of our impure perceptions, we cannot at this moment see all the Buddhas and bodhisattvas in front of us, but that they are there and they have always been there.
It's just this feeling that there really are all those being there, but it's important not to worry too much. There in the middle is Dorje Chang, and just this feeling that all the rest are there also. Do you understand? Also when you're seeing yourself as a deity, the important thing is the conviction that you are the deity, that sense of what they call divine pride, the pride of the deity, the sense that though I can't actually see it quite clearly, yet I really have that feeling, a genuine feeling. You feel your whole spine, your whole body take on the whole other thing as if you really are the deity.
That's the whole point of tantra – that we are making these false identifications the whole way through. That's our delusion. And that's why in tantra, if we're doing it properly, not while we're sitting for the short time doing our prayers, but all through the day we're seeing all beings as Chenrezig. It's not like we become megalomaniacal and say, "Oh, well, I'm Chenrezig and then there are all these poor little suckers." All being are Chenrezig. We respect their innate Buddha nature. All sounds are Om mani padme hung. All thoughts – good thoughts, bad thoughts, stupid thoughts, wise thoughts – are they play of the dharmakaya, the wisdom of the Buddhas. If we can keep that going throughout our whole day, maybe something will happen. Do you understand? We have to do it. But we don't do it rigidly, but with a mind that is very spacious and at the same time very focused and pure. And with a heart that is genuinely open. The transformation happens down in the heart, it doesn't just happen in the head. It doesn't matter how clever we are or how brilliant we are a giving Dharma talks, or how many books we've read or how much we've studied. That's up here. What's happening in our hearts? That's all that counts in the end, when we die. What's going to help us? How much we've got in our heads? That's gone.
We have to take the Dharma and so totally merge it with our everyday lives that there's no difference. We always say a prayer again and again, that my life and the Dharma may be equal, may be one. Everything we do, every action we take, every person we meet, every breath we take, if we are alert, if our minds are in that open spaciousness, that awareness, with that quality of knowing, then it would be perfect. The Buddha always talked about th Middle Way, between the extremes of making the strings of the instrument too tight so that they make a harsh sound, or making the strings too loose, so they don't make any sound at all. We need to tune it just right, so that it makes a very sweet melody. Our life can be beautiful too, a beautiful melody, if we try.