News/Media

*If a menu item has a submenu clicking once will expand the menu clicking twice will open the page.

Study & Practice

*If a menu item has a submenu clicking once will expand the menu clicking twice will open the page.

Projects

*If a menu item has a submenu clicking once will expand the menu clicking twice will open the page.

FPMT

Less desire means less pain.

Lama Zopa Rinpoche

*If a menu item has a submenu clicking once will expand the menu clicking twice will open the page.

Shop

The Foundation Store is FPMT's online shop and features a vast selection of Buddhist study and practice materials written or recommended by our lineage gurus. These items include homestudy programs, prayers and practices in PDF or eBook format, materials for children, and other resources to support practitioners.

Items displayed in the shop are made available for Dharma practice and educational purposes, and never for the purpose of profiting from their sale. Please read FPMT Foundation Store Policy Regarding Dharma Items for more information.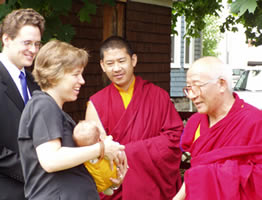 " One of the traditions that I value most is based upon our Buddhist belief that achieving a human rebirth is the most precious accomplishment of all because only humans have the power of reason and, therefore, the potential to liberate themselves from worldly suffering. So, for a Tibetan woman who chooses to become a mother, bringing a precious new human being into this world is the most wonderful and challenging responsibility of her entire life. In this respect, I also appreciate the supportive roles that the whole community plays in giving special attention to both the mother-to-be and to the child, right from conception through adulthood."
So said Rinchen Khando Choegyal, Minister of Education, Tibetan Government-in-Exile and Director, Tibetan Nuns Project, Dharamsala, India, in her introduction to Tibetan Art of Parenting (Wisdom Publications 1997).
When we have a new human life in our midst, the impulse to welcome the little one in a meaningful way is natural. But how to exchange the traditional Judeo-Christian christening ceremony for a Buddhist-appropriate one? First we asked Jamyang Buddhist Centre's resident geshe, Geshe Tashi Tsering, about the Tibetan way of marking not only the arrival of a new life, but also the other major transitions we all experience. He said:
"The three occasions in our lives – birth, marriage, and death – are very important, so it is important to mark them with blessings and prayers. As far as I know, all the major religions do this, and it is very worthwhile to do so.
"But each occasion is different – birth as a newborn child, marriage when a couple come together, and death, leaving this life. Therefore, blessings and activities for these three occasions are also different.
"First, the blessing of the newborn child. The Buddhist practice and concept of blessing a newborn child is not so that the newborn child be converted into Buddhism. As we all know, to become a Buddhist does not depend on whether you are blessed by monks or nuns when newly born; nor is it into which family you are born; it is not in which race you are born, it is not in which nation you are born. Becoming Buddhist or not comes through your understanding, by your choice – a choice based on your understanding of the nature of lives.
"If we take refuge in the Buddha, Dharma, and Sangha, that's the way to become Buddhist. Therefore, this blessing is not a means of converting the newborn child into Buddhism.
"The purpose of the blessings is twofold. First, the newborn child is born a human being. From the Buddhist point of view, life as a human being is a high rebirth. A human rebirth is capable of not just freeing oneself from delusions and unhealthy thoughts and activities, but also has the great potential to do something for others. So for that newborn child to be born a human being is a great occasion.
"The marking of that occasion by parents and relatives is very important. First to recognize that we are in a small family – parents, relatives – then also as part of the whole human family.
"In the context of sentient beings' existence, we have this child who was born in our family who has all these great potentials. The purpose of the blessing is to really recognize that fact. Not just that this one family has a new family member, but also that this newborn child has great potential to help not just himself but also wider humanity and all living beings in existence.
"The blessing itself (I'm talking from a Tibetan point of view) involves cutting hairs from the newborn child and mixing it with grains – rice, barley, or wheat. Then a monk or nun, or whoever is blessing the child, mixes the hair with the grain. The prayer is mainly involved with seeking the blessings of the Buddha, Dharma, and Sangha, reciting auspicious prayers that the child will have a long life and that his/her life will be very beneficial for all living beings."
For examples of how to conduct a baby-naming ceremony Buddhist-style read Mandala June/July 2004.