News/Media

*If a menu item has a submenu clicking once will expand the menu clicking twice will open the page.

Study & Practice

*If a menu item has a submenu clicking once will expand the menu clicking twice will open the page.

Projects

*If a menu item has a submenu clicking once will expand the menu clicking twice will open the page.

FPMT

Since the I that exists is merely imputed, there is nothing to cherish, nothing to cling to. Good-bye to depression, worries and fears.

Lama Zopa Rinpoche

*If a menu item has a submenu clicking once will expand the menu clicking twice will open the page.

Shop

The Foundation Store is FPMT's online shop and features a vast selection of Buddhist study and practice materials written or recommended by our lineage gurus. These items include homestudy programs, prayers and practices in PDF or eBook format, materials for children, and other resources to support practitioners.

Items displayed in the shop are made available for Dharma practice and educational purposes, and never for the purpose of profiting from their sale. Please read FPMT Foundation Store Policy Regarding Dharma Items for more information.
A Day in the Life of an FPMT Lama
Gelek Gyatso Rinpoche
Trisha Donnelly talked to Gelek Gyatso Rinpoche at Kopan Monastery in Nepal Rinpoche is Kopan's self-taught plumber, electrician, car mechanic, architect and builder.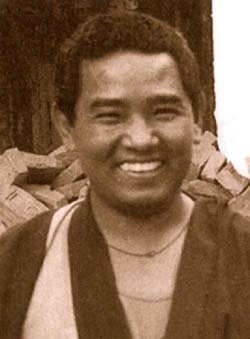 I was born in Paphlu in Solu Khumbu in 1962. I was the eldest child. I don't remember showing any but people started saying I was when I was about two years old. I don t know what signs I showed. I don't know much about the previous incarnation, except that he was a Nyingma lama in a monastery called Dakshen Do, about one day from Paphlu. His name was Lama Togden Tsultrim.
I heard that Lama Zopa Rinpoche once said he was a chd practitioner.
Yes, I think so, I don't know, I didn't enquire. He had quite a few disciples in that area and he died when he was quite old, through some sickness.
I was chosen as the reincarnation. I don't know who chose me officially. My father didn't want me to be a monk as I was the first son, he didn't want to give me to the monastery. But the people wanted to enthrone me, so they requested to take me to Dakshen Do for the enthronement and then he could have me back. They took me by horse to Dakshen Do and I stayed there for a few days and was enthroned there. I wore robes but didn't have my head shaved and was not a monk. I remember generally what happened but not many details, just some pujas and other things.
Do you have any memories at all about your previous life? You once told me that your mother said up to the age of eight you used to talk about your previous life? Isn't that right?
No, I don't remember anything. Maybe there was something like that, but I don't remember.
You do believe you are the incarnation of that lama?
Not sure.
But you do believe in previous lives?
Yes, I believe.
Why?
All Buddhists believe in previous lives. Yes, the fact that people said I am the incarnation of that lama helps to confirm my belief.
Later, my mother and father moved to Kathmandu and I stayed with my grandmother and went to school in Paphlu, until my parents later took me to Kathmandu and I continued school there, in Boudhanath. My father died when I was about seven or eight years old. He was washed away in an avalanche in Manaslu, in Eastern Nepal. He was a mountain climber and was guiding a group of Korean mountain climbers. So then my mother did a mo (divination) with some lama and the lama said that because my father had stopped me from being a monk, this had happened to him. He suggested that my mother take me to a monastery to become a monk.
Somehow my mother came to know about Kopan Monastery. That was in 1972 and at that time there were already about thirty or forty monks there, including Thubten Samphel, Thubten Dorje, Ngawang Namgyal and Tenpa Choden. Lama Yeshe was our only teacher, and sometimes Lama Zopa Rinpoche would try to teach us. Lama Lhundrup and Lama Pasang both came to Kopan about one year later.
Tsultrim Norbu, who lives in Lawudo now, was the older monk in my room. I didn't have a particular teacher at that time. I played like all the other monks and was quite naughty. I remember Lama Yeshe beating me once or twice, with his mala. I enjoyed some of the studies, and studied up to Uma (Madhyamaka). I wasn't any different from the other monks.
I heard you often used to say to the other monks, "Samsara is miserable," when you were young.
Everybody knows that.
I first started working when I was about 18-20, while we were still studying. Lama Yeshe made some of the boys do cleaning and myself and Cherak Lama, Tenzin Dorje, used to have to do the gardening, taking care of the flowers. Later I picked up how to do electrical work and driving and then I worked full time. Nobody taught me, I just learnt by experience. The first building I was responsible for was the Norbulingka monks' hostel when we rebuilt it in 1990.
Now please tell me something about your daily life. What time do you get up?
Oh, no particular time, just whenever I get up. I don't meditate, I just go for breakfast. (laughing) I have some daily commitments, which I do sometimes.
Do you meditate at all during the day?
I never meditate during the day. After breakfast I just sit around. I don't do any particular work in the day, just organising some things and looking. These days there isn't much building going on, only the large prayer wheel, a few new rooms and public toilets at Kopan and an eleven-room retreat complex at the nunnery. The nuns' retreat rooms should be finished by November and the prayer wheel in about one month. The next project? I will try to build a kitchen/dining-room.
So that's your daily work. What do you do in the evenings?
(Laughing) Evening is secret. (Again laughs).
What do you do in your spare time?
Sometimes I see some television, sometimes I read Dharma books in English. I don't have any favorites, I like most Dharma books. No preference of subjects. At the moment, I am reading Emptiness Yoga by Jeffrey Hopkins.
Have you done any retreats?
Oh, just some short ones — Yamantaka, Vajrayogini and Lama Tsong Khapa.
Do you ever have any desire to do something else with your life?
No, not now. Before, yes but not any more. I never feel bored with the work I do. I have no future plans for me personally. Sometimes I feel I would like to travel, mainly to see America. But yes, I can see myself being at Kopan for the rest of my life. I don't mind staying here until I'm an old man. Maybe I will visit other countries sometimes, maybe for a holiday, not to stay and never to teach. I don't think I will ever teach.
But you taught some years before at Himalayan Yogic Institute in Kathmandu?
That wasn't teaching. No, I didn't like it.
Sometimes Lama Lhundrup says maybe Gelek Gyatso should give initiations. Would you accept if people requested?
No, no, he wouldn't say that. No, I don't want to.
I think sometime you have to teach somebody, something?
What?
Well, Dharma
There are so many Dharma teachers, and many English-speaking ones coming up. I don't need to teach.
How do you see the monks are affected by so many visitors coming to Kopan to do courses and stay?
I don't think it has affected them very much. I think having courses for foreigners at the monastery while the monks are studying is a good idea. Of course, the monks have to do extra work and they get distracted, but I think it's good to do. I think the people who come here mostly do very good Dharma practice — better than us! Even though some Western monks and nuns disrobe, that is not unusual. It happens amongst Tibetans also, but because there are fewer Western monks we notice everyone.
I see Kopan as having some function in the FPMT and I recognize that we are a part of it, that the rest of the FPMT grew from Kopan, but it's nothing to do with me personally. I don't know much about it, really.
Thank you very much, Rinpoche