News/Media

*If a menu item has a submenu clicking once will expand the menu clicking twice will open the page.

Study & Practice

*If a menu item has a submenu clicking once will expand the menu clicking twice will open the page.

Projects

*If a menu item has a submenu clicking once will expand the menu clicking twice will open the page.

FPMT

Death could come any minute so transform your life into Dharma.

Lama Zopa Rinpoche

*If a menu item has a submenu clicking once will expand the menu clicking twice will open the page.

Shop

The Foundation Store is FPMT's online shop and features a vast selection of Buddhist study and practice materials written or recommended by our lineage gurus. These items include homestudy programs, prayers and practices in PDF or eBook format, materials for children, and other resources to support practitioners.

Items displayed in the shop are made available for Dharma practice and educational purposes, and never for the purpose of profiting from their sale. Please read FPMT Foundation Store Policy Regarding Dharma Items for more information.
Compassionate Action for Dogs and Donkeys in Dharamsala
January / March 2010
By Ven. Tenzin Chogkyi
Arvind Sharma couldn't believe his eyes. All around him, dogs were dying in horrible agony, poisoned by the government in an effort to control rabies. A life-long animal lover, he was horrified, and decided to take action.
In Dharamsala, overpopulation of street dogs has been an ongoing issue. There are thousands of homeless dogs living on the streets of Dharamsala, many of them sick, injured or starving. Dogs in India are rarely spayed or neutered, and in order to control the population, a mass killing was implemented by the government in July 2006 in McLeod Ganj (upper Dharamsala and home to the Dalai Lama) to control the population of stray dogs in the area, by poisoning, a method that is clearly inhumane.
If a dog is hit by a car, it is left there to suffer and die. Dogs of all ages are seen starving to death on the streets. Unfortunately, throughout the entire state of Himachal Pradesh, there are no veterinarian services.
Rabies is not uncommon, and if there is a known outbreak in the community, people will stone street dogs to death to prevent getting infected themselves. Indeed, if a human gets bit by a rabid dog, the chances of survival are not very good. The local hospital does not carry the serum needed for treatment. In fact, one needs to drive for 24 hours and then pay $200 a shot for the injections needed to save one's life. Even people who know what to do if they get bitten often cannot afford to be treated. By official estimates, 20,000 people in India die of rabies each year.
Clearly, these dogs need decent health care and accessible spay/neuter surgery. The most important thing of all, though, is public education, to shift the way Indians perceive and deal with dogs.
Arvind Sharma, a local man, is dedicating his life to exactly this cause. With the help of a friend, Arvind, founder of the Himalayan Nature Society (HNS), an organization with a mission to protect the environment and animal welfare, rented a storefront in McLeod Ganj and started Dharamsala Dog Rescue with a program for spaying and neutering the stray dogs and vaccinating them for rabies. Arvind was able to convince the local officials of the Indian government that if the stray dogs were neutered and vaccinated and then released, it would solve the problem. If the dogs were killed, it would just mean that new stray dogs would move into their former territory.
Over the past two years, Arvind has invited volunteer vets to organize and run animal birth control camps along with a rabies vaccination and identification program. This year, with the help of Deb Jarrett, an American woman who had come to McLeod Ganj to volunteer at a local school, and with the donation of a small piece of land in lower Dharamsala from the Indian government, Arvind was able to move Dharamsala Dog Rescue to the new land where a shelter has been constructed to house sick and injured animals needing care. Here, the animals are housed in kennels until they are healed, sterilized and vaccinated – and, if they are lucky, adopted. Recently, Deb raised money for an ambulance so that Arvind and his team can rescue injured animals. Arvind met three out-of-work laborers and sent them to a program in Rajasthan for training as veterinary nurses. These men, along with a dog catcher, form the staff of Dharamsala Dog Rescue.
I met Arvind this spring in Dharamsala when our mutual friend, Geshe Graham Woodhouse, took me down to see Arvind's rescue operation. There, a heart-breaking sight awaited us: Arvind had just rescued a female dog that had been hit by a car, and had her back broken. She had been lying in a ditch for several days, and was paralyzed. He said that he didn't know if he had the means to take care of her in the condition she was in.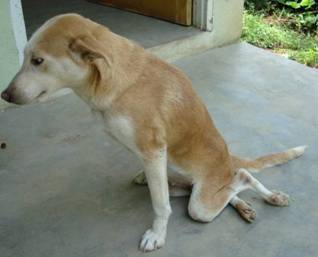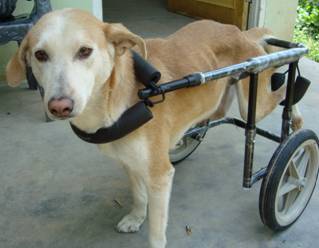 A friend in Delhi, Jagmohan Bagai, found someone who could build a "dog wheelchair" so this beautiful dog could be mobile again. We also found a home for her, a school for children from Spiti in nearby Sidbari with a large courtyard that would suit the dog and her wheelchair. Sadly, just before she was to be transferred to her new home, the dog died of complications from her accident. The day she died, Geshe Graham went down to recite Medicine Buddha puja and the five great mantras for her beneficial rebirth. Arvind mentioned that he would like to have more of these practices done for the animals in his care.
In partnership with Piyara Kutta ("Beloved Dog" in Hindi), a US.nonprofit organization founded by Deb Jarrett to support Arvind's work, Arvind is working to change the way the community sees, feels and acts towards these animals. He has been going into local schools, trying to change the attitudes of young children towards dogs and other animals by teaching them to be more compassionate.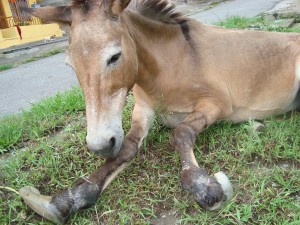 Arvind's latest project is a refuge for donkeys and other disabled farm animals. In India, donkeys and horses are put to work at a young age, before their bones are fully formed. As a result, they often develop severe and crippling knee problems and are no longer able to work. Because the farmers can't afford to keep more than one animal, these donkeys and horses are turned out to fend for themselves, along with older animals that can no longer work. Timid by nature, they are not able to compete with the more aggressive dogs and cows for food, and often starve to death. Arvind's plan is to get a several-acre property where these animals can be given adequate fodder and care for the remainder of their lives.
Dharamsala Dog Rescue and Piyara Kutta are always looking for volunteers. Developers, equine veterinarians, landscapers and project managers are urgently n eeded. Consider participating in Piyara Kutta's first volunteer trip with Inside/Out in fall 2010. See for yourself how Dharamsala Dog Rescue and Piyara Kutta are improving the lot of homeless dogs in Dharamsala.