News/Media

*If a menu item has a submenu clicking once will expand the menu clicking twice will open the page.

Study & Practice

*If a menu item has a submenu clicking once will expand the menu clicking twice will open the page.

Projects

*If a menu item has a submenu clicking once will expand the menu clicking twice will open the page.

FPMT

Tibetan Buddhism teaches you to overcome your dissatisfied mind, but to do that you have to make an effort. To put our techniques into your own experience, you have to go slowly, gradually. You can't just jump right in the deep end. It takes time and we expect you to have trouble at first. But if you take it easy it gets less and less difficult as time goes by.

Lama Zopa Rinpoche

*If a menu item has a submenu clicking once will expand the menu clicking twice will open the page.

Shop

The Foundation Store is FPMT's online shop and features a vast selection of Buddhist study and practice materials written or recommended by our lineage gurus. These items include homestudy programs, prayers and practices in PDF or eBook format, materials for children, and other resources to support practitioners.

Items displayed in the shop are made available for Dharma practice and educational purposes, and never for the purpose of profiting from their sale. Please read FPMT Foundation Store Policy Regarding Dharma Items for more information.
December 2006 / January 2007 Issue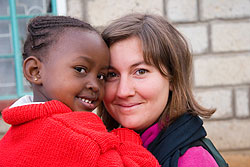 Former Mandala assistant editor Julia Hengst was twenty-one years old when she interviewed twenty-five young Buddhists for her feature "A New Generation of Buddhists" in the July/August 1998 issue.
Mandala invited the youths featured in that article to reflect upon their lives over the last eight years and asked Julia to do the same. She chose to focus upon a recent service trip to Kenya that distilled for her not only the efficacy but the necessity of the teachings when dealing with cramped quarters, water shortages, and clashing personalities.
. I learned about a program called Operation Crossroads Africa – a non-profit organization started in 1960 with the intention of bringing together black and white Americans and sending them to various countries in Africa to work with Africans on community development projects.
Because I'm almost thirty, I applied to go as a team leader. "I'm not afraid of intensity," my application stated confidently. After working with teenagers in a group home, bumping my way along dirt roads in India, and sitting through ten-hour teachings with Lama Zopa Rinpoche, I figured leading a team of five to Kenya for two months to do a construction project at an orphanage wouldn't be a big deal. Oh, the sweet bliss of the nave.
Fast forward to the end of week one in Nkubu, Kenya – a town of 5,000 on the northeastern side of Mount Kenya: I am exhausted with jet-lag, feverish, on the verge of tears all day, and aching with the pain of unmet expectations of harmony in our group. Had I known any TV producers, I would've invited them into our cramped living quarters to experience what real reality TV is – pure drama and group tensions thick as syrup. My respect for our lamas increased a thousand-fold: they often travel around the world with thousands of students on their minds. I traveled to one country and felt exhausted being responsible for just five other people!
. I understood, albeit in a very different context, why Lama Atisha took his most annoying attendant from India when he was invited to teach in Tibet. I struggled when one of my group members informed me that they didn't like me and that nothing could change that fact. In fact, I could tell when I first met this person they didn't like me right on sight. Although it hurt on one level and challenged the depth of my integrity, I tried to remember the eight worldly concerns (especially the praise and blame ones).
Venerable Robina once told me that if you don't like someone on sight, it's because you hurt them in some other lifetime; it's counterintuitive – it would make more sense if they had hurt you, but that's not the case. So, instead of giving in to this person's dislike of me and hating them in return, I was able to maintain compassion the majority of the time, and even practice tonglen on them. Later, I was amused to find that while this one group member couldn't stand me, another group member was convinced I was the most compassionate person they'd ever met. I learned to see both views as two sides of the same coin..
This article is an excerpt of the full article printed in Mandala