News/Media

*If a menu item has a submenu clicking once will expand the menu clicking twice will open the page.

Study & Practice

*If a menu item has a submenu clicking once will expand the menu clicking twice will open the page.

Projects

*If a menu item has a submenu clicking once will expand the menu clicking twice will open the page.

FPMT

Anybody who dedicates their life to achieving lam rim realizations with the goal to liberate numberless beings from the oceans of samsaric suffering and to bring to enlightenment, this is what I regard as the most important thing in the world.

Lama Zopa Rinpoche

*If a menu item has a submenu clicking once will expand the menu clicking twice will open the page.

Shop

The Foundation Store is FPMT's online shop and features a vast selection of Buddhist study and practice materials written or recommended by our lineage gurus. These items include homestudy programs, prayers and practices in PDF or eBook format, materials for children, and other resources to support practitioners.

Items displayed in the shop are made available for Dharma practice and educational purposes, and never for the purpose of profiting from their sale. Please read FPMT Foundation Store Policy Regarding Dharma Items for more information.
Preserving the Foundations: Merry Colony and FPMT Education
January-March 2012
EDUCATION
In December 2011, FPMT International Office said goodbye to Director of Education Services, Merry Colony, who served in this capacity for nearly 12 years. We would like to take this opportunity to reflect on Merry's journey with FPMT up until now and rejoice in some of the accomplishments she has helped make manifest for FPMT Education and the entire organization. When Merry found out that we were publishing a story about her, she protested, saying, "There are so many people who've done so much more, and for so much longer! There is really no need to mention me at all!" We disagree. Merry's story, like those of many others who serve FPMT, is one of tremendous perseverance, unwavering dedication, and a truly admirable work ethic and resolve. It is to these qualities that we pay homage and from which we draw inspiration.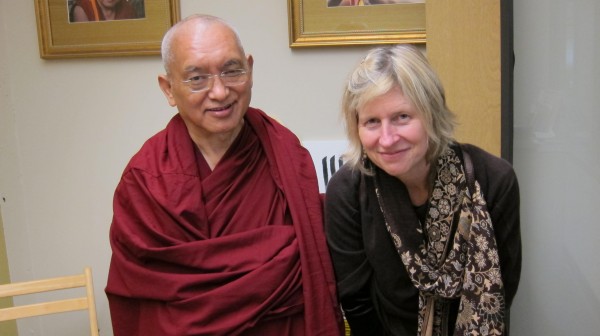 Life in an FPMT Dream
In 1979, a free-spirited 22-year-old American girl from eastern Massachusetts named Merry Colony received an undergraduate degree in Environmental Science from the University of California, Santa Cruz. She had already decided that she had to leave friends, family and country for a spiritual path following her graduation. She spent the following summer in Alaska and took a Trans Canadian train back to the East Coast to swap tearful goodbyes with family before traveling to Santa Cruz to prepare for her next journey. While settling her affairs in California, she did a lam-rim retreat with Zazep Tulku and some students fromVajrapani Institute. During that retreat she saw a poster of Lama Zopa Rinpoche. The poster was an advertisement for a nyung nä retreat in Lawudo, Nepal. She recalls, "I knew that was it. That this was where I had to be and who I had to be with." She left for Lawudo in January 1980, attending the March meditation course at Kopan Monastery on her way. Both retreats solidified her initial feeling that she was exactly where she needed to be. She was home. Shortly after, she was ordained at Kopan as a Buddhist nun by Lama Zopa Rinpoche with Lama Yeshe, Geshe Jampa Gyatso, Geshe Doga and Lama Lhundrup. Lama Yeshe insisted that she keep her refuge name given by him, Yeshe Dechen.
In 1981 she was asked to serve as Lama Zopa Rinpoche's attendant on a teaching tour in the United States. At the end of that trip, Lama Yeshe asked her to be his secretary. She worked under Jacie Keeley for the next seven months. In 1982 she attended the first Enlightened Experience Celebration (EEC) in India. The gathering sparked energy and enthusiasm to start a community of FPMT nuns, as each year more female students were taking robes. Following the celebration, 12 Western nuns made a home for themselves in a barn at Institut Vajra Yogini, near Toulouse in France, six miles [10 kilometers] from Nalanda Monastery, the community of Western monks. One year later the nuns voted her as director of the nunnery and she served in this role until 1984, at which time she disrobed. Shortly after, Lama Zopa Rinpoche asked her to start a center in Taiwan. She moved there in 1985 with her husband at the time, Jean Marie, accompanied by Rinpoche. She remembers, "The timing was absolutely not right and after a very tumultuous week in Taiwan, Rinpoche decided it was time to go and told me and Jean Marie we could follow him to Kopan."
After attending the second Enlightened Experience Celebration in Nepal in 1986, she and Jean Marie went up to Lawudo, the birthplace of Lama Zopa Rinpoche's previous incarnation, looking for a suitable place to do long retreat. In years prior, Merry had visited Cherok, a small homestead very close to Lawudo in the Khumbu valley, so she suggested they also check out a cave located there which had previously belonged to Ngawang Samden, a Sherpa whose incarnation is now the ex-Kopan monk Tenzin Dorje (also known to some as "Cherok Lama" because of time spent on the land in his previous life). In July 1986 they asked Cherok Lama Kushog Mangden, a great Nyingma yogi and terton who was head of the Cherok family, permission to use the cave and he happily agreed. He told Merry, "Many people love this place and say they would like to do retreat here. But they never return. But you will. You have made prayers for many lifetimes to do retreat here." Merry explained to Cherok Lama that she had to go to France to see her father, go to United States to see her mother, pack up things for a three-year retreat and get back. Cherok Lama told her, "No problem. You'll be back in five weeks." That sounded totally impossible to Merry since they had to walk to and from Kathmandu to Cherok, approximately eight days each way. However, they completed their around-the-world trip, got back to Kathmandu, packed up all of their supplies for three years, hired six porters, and walked back to Cherok, arriving exactly five weeks later! In September 1986, they began to rebuild the cave.
In 1987, Merry had a house built for Osel Hita, the recognized incarnation of Lama Yeshe. When Merry and Lama Yeshe were in Lawudo together in 1981, he showed her the spot on which to build a place for him. The building is called Osel's House and serves as the main retreat house at Lawudo.
Cherok was Merry's base until 1992, when Lama Zopa Rinpoche called her down and gave her the job of "helping in Bodhgaya." She flew out of Lukla on New Year's Day, 1992. Three weeks later her precious spiritual friend, Cherok Lama, passed away. When Merry first arrived at Cherok, Cherok Lama had promised her that he would live as long as she was at Cherok. One friend of Merry's believes that Rinpoche called her down from Cherok because it was Cherok Lama's time to pass, and he couldn't pass while she was still in residence, as he had to keep his promise. According to Tsultrim Norbu of Lawudo, Cherok Lama's last words were Merry's name.
She started working for Root Institute in Bodhgaya in 1992, and after a year Rinpoche made her co-director of the newly developing project to build a 100-foot [30-meter] statue of the future Buddha, Maitreya. She became sole director a year later. Her main job was to secure 12 acres of land in Bodhgaya for the project. Because it was going to be a lease from the Indian government, she spent her time going between Bodhgaya, Patna and Delhi dealing with government officials. A variety of outer and inner obstacles ensued until Merry resigned from this position in 1995. However, her work obtaining permits and dealing with government officials proved incredibly useful for future developments of the project. (The Maitreya Project is now a plan to build a 500-foot [152-meter] statue, still in Bodhgaya, but on different land than the spot Merry tried to procure.)
Merry spent the next three years recovering from her Bodhgaya experience. During a particularly depressing period of six months in San Francisco, Merry received a letter from Lama Zopa Rinpoche's sister, Ngawang Samden, saying she had found Cherok Lama's reincarnation and Merry should come right away to meet him. She immediately made the trip to meet the young Cherok Lama in 1995. He was three years old. As she climbed over the Lawudo wall, the young tulku exclaimed, "Merry!" when he saw her. Reunited again, Cherok Lama quickly got to work arranging his future, with Merry as his ambassador. A few weeks after arriving, she left the mountain bearing letters for Lama Lhundrup, Sangay Sherpa and Lama Zopa Rinpoche, all dictated by the young Cherok Lama saying he "was Cherok Lama, wanted to go to Kopan, get a good education and then teach Westerners," and they "had to help" him. A year later, Merry brought Cherok Lama down to Kopan for his enthronement.
In 1997, Merry installed an solar-energy system at Lawudo that provided electric light there for the first time ever. She sold jewelry from Nepal to finance the project, then bought the system in Khatmandu, portered it all up along with a solar installer and gave Lawudo 12 panels so every room could have a light bulb.
After two trips to Tibet and having reunited with Cherok Lama, Merry's life turned a corner and she regained the strength she had lost during her time in Bodhgaya. She was ready for the next challenge.
In 1998, Rinpoche assigned her to take over directorship of the Lotsawa Rinchen Zangpo Translator Programme (LRZTP) in Dharamsala from Claire Isitt. She served in this post until 2000 and was responsible for hiring a second teacher for the program, enabling all levels of students to receive a solid foundation in the training which had been difficult with only one teacher. She also had a new classroom built for the next LRZTP program. Her familiarity with LRZTP graduates also proved incredibly useful in her later work with FPMT Education.
Before she left LRZTP, Rinpoche asked her to take over from Tubten Pende as the director of FPMT Education. Rinpoche told her it was, "just one more ngöndro." She had only a few weeks between jobs, just enough time to run up to Cherok to say goodbye to her precious cave and the life she had lived there, attend that year's CPMT meeting in Australia, and start her job at International Office in June 2000, then located at Land of Medicine Buddha in Soquel, California. A month later the office moved to Taos, New Mexico.
This was the first time she settled in the United States since she had originally left in January 1980. Merry recalls, "I spent the first three years of my new role shaking, feeling totally out of my depth." She managed her feeling of being overwhelmed by doing what Merry does best: putting one foot in front of the other, showing up every day, getting her hands dirty and persevering.
In January 2006, the International Office moved to Portland, Oregon with Merry in tow. While the rain and sometimes dreary weather of Portland didn't correspond with Merry's love of sunlight and open spaces, she persevered in Portland for almost six years. Merry's work ethic is legendary. Over the course of the last 30 years, Merry has completed 100 nyung näs, all nine of the Gelug preliminary practices – two of them twice, many approximation retreats and four FPMT directorships.
FPMT Education: How Far We've Come
The preservation and dissemination of Tibetan Buddhist lineage teachings is an essential part of FPMT. Education Services plays a key role in supporting this. Several dedicated people – including Tubten Pende, Ven. Connie Miller and others, whose reflections on Education Services Mandala has collected and published – helped lay the foundation for what was to come, but by all accounts, Merry's tenacity over the last 12 years has been the driving force behind FPMT Education's shower of productivity. In 2000, when Merry took the job of directing FPMT Education Services, the organization had two study programs – the Masters Program and the Basic Program – and one translator program, Lotsawa Rinchen Zangpo Translator Programme (LRZTP).
FPMT Education has supported the following:
Programs and Program Materials: the development of the programs and materials for Masters Program, Basic Program, Discovering Buddhism, Meditation 101, Buddhism in a Nutshell, Heart Advice for Death and Dying, Living in the Path. Most of the programs include center-taught modules, at-home modules (available via the FPMT Foundation Store), and online versions (available on the FPMT Online Learning Center). Each program includes certificate criteria. Thousands of students have been educated through these programs.
Ed Gibson, Merry Colony, Eamon Walsh, Kendall Magnussen, Ven. Losang Drimay worked together during the 2010 Light of the Path retreat to turn Lama Zopa Rinpoche's teachings into modules for the online Living in the Path (LP) study program
Also, FPMT Education actively supported the development of Foundation for Buddhist Thought in London, England, and Maitripa College in Portland, Oregon, USA.
Translations: the translations of four important Mahayana sutras (in as many as 13 languages), 32 translations for programs (including all the root and supplementary texts for Masters Program and Basic Program), and approximately 10 special request translations for Lama Zopa Rinpoche.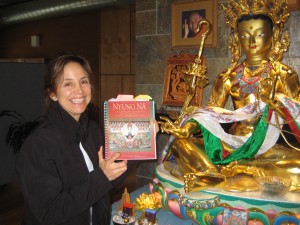 Other FPMT Education Materials: the development and publication of FPMT Essential Prayer Book Volumes 1, 2 and 3; the FPMT Retreat Prayer Book; 172 glossy color and simple practice booklets, 42 CDs/MP3s/DVDs; 8 materials for children; and 39 cards and protections. In addition, the Foundation Store was created to function as a distribution arm for FPMT Education materials and study programs. Before 2000, FPMT Education did not publish or distribute its own materials. (You may download an entire list of FPMT Education materials from the Foundation Store.)
Training: the organization of 15 major training events for Foundation Training in Compassionate Service, Spiritual Program Coordinator Training, and Rituals Trainings (all of which were accompanied by manuals and supporting publications).
FPMT Online Learning Center: the creation of 34 English-language, 2 Spanish-language and 4 French-language courses (all online adaptations of FPMT's various education programs). Approximately 6,700 students have registered for at least one of these courses. New courses are added regularly.
FPMT Media Center: for the first time ever, FPMT's was able to live web-cast and archive Lama Zopa Rinpoche's teachings from the Light of the Path retreat in 2009 and 2010.
Transitions
In September 2011, Merry announced her plans to embark on a new chapter. After years of serving FPMT Education in the International Office, she plans to pick up where she started: retreat. She reflects on this decision in the following way: "I came into Dharma with a strong wish to have actualizations in meditation retreat. Then I found out that this was harder than I thought! I have now done service retreat for a long time. It is time I learn how to integrate the two, to serve the inner and outer needs."
About her work in FPMT Education, Merry says, "I have loved being a conduit for people to connect with the vast vision and wisdom of the lamas, particularly when bringing some history and stories alive for people in Foundation Training, or making FPMT heart practices like Lama Chöpa Jorchö, available just as Rinpoche advises it be done. I'm also now pretty excited about the Living in the Path program, the real-deal-change-your-mind-change-your-perception program. We all need that! Also, the Discovering Buddhism forum on the Online Learning Center! For years I have gotten so much pleasure reading first-hand accounts of how this program is changing people's lives. It is very cool! And of course … most of all, trying to follow the advice of Lama Zopa Rinpoche, without whom my life would be utterly empty and meaningless."
In November 2011, Tom Truty stepped into the position of Education Services Coordinator, where he oversees all Education projects and services. Tom had already been working in the department as an administrator for six months before taking on his new role. In addition, Education Services currently has a skilled team of collaborators involved in preserving the lineage teachings and making them available to all. Olga Planken continues her work coordinating the Masters Program and Basic Program. Kendall Magnussen prepares Living in the Path modules for the Online Learning Center (OLC) as well as other practice materials. Eamon Walsh administers the growing number of OLC courses and content. Sarah Shifferd edits materials. Plus the people who work as teachers, trainers, translators and on the Media Team, and the many dedicated volunteers all contribute to the work of Education Services. And of course, there are the countless shoulders of all the people who have contributed to the development of FPMT Education upon which the current and future Education teams stand.
Regarding what Merry has "learned" by doing this work, she had the following to say: "Consistency. Twelve years isn't really that long but it has been long enough to teach me some discipline. Being inherently very lazy an office job has helped me develop the discipline of consistency: showing up every day regardless of how I feel. Hopefully an imprint has been made so I can take some of that into retreat one day."
Read more about the development of FPMT Education Services in our exclusive online story: "Collaborators in Preservation: Key Education Services Contributors Reflect on the Future of FPMT Education and Their Work with Merry Colony."
For an in-depth look at a different aspect of FPMT education, see our July-September 2010 story on FPMT teachers, "Like Nectar on Flowers."