News/Media

*If a menu item has a submenu clicking once will expand the menu clicking twice will open the page.

Study & Practice

*If a menu item has a submenu clicking once will expand the menu clicking twice will open the page.

Projects

*If a menu item has a submenu clicking once will expand the menu clicking twice will open the page.

FPMT

Proper guru devotion – correct devotion to your virtuous friends – allows you to actualize successfully all the steps of the path to enlightenment, from the perfect human rebirth up to buddhahood itself.

Lama Zopa Rinpoche

*If a menu item has a submenu clicking once will expand the menu clicking twice will open the page.

Shop

The Foundation Store is FPMT's online shop and features a vast selection of Buddhist study and practice materials written or recommended by our lineage gurus. These items include homestudy programs, prayers and practices in PDF or eBook format, materials for children, and other resources to support practitioners.

Items displayed in the shop are made available for Dharma practice and educational purposes, and never for the purpose of profiting from their sale. Please read FPMT Foundation Store Policy Regarding Dharma Items for more information.
How to Educate Our Youth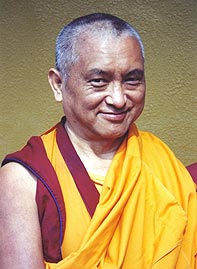 Lama Zopa Rinpoche reflects on the particular problem of violence among today's youth and the need for schools and centers to educate students' hearts as well as their minds, emphasizing the power of one person to affect the world for better or for worse.
Even if people have learned many subjects at university, college, schools, starting from kindergarten, even though they have so much education, receive so many higher degrees, what makes their life full of problems to themselves? They become so destructive to the world.. For example, in the United States a few years ago, a couple of schoolboys killed many other people with guns – such things happen all the time. So many young people become violent, very unhappy with their lives, dissatisfied and opposed to their families. Life has become so uncontrolled, bringing so much dissatisfaction, unhappiness, and harm to others; harm to the world.
If there is compassion in the hearts of the people, no matter how many guns there are in the world, how many atomic bombs there are in the world, they cannot harm. If people's minds have generated compassion – a good heart – then weapons don't become dangerous, harmful..
As you well know, terrible things happen in the world because of the powerful speech of one influential person who lacks Dharma wisdom or compassion – understanding what is right to practice, what is wrong; what brings problems and suffering in one's own and others' lives now and in the future; and the right thing that brings only peace and happiness to oneself and others, from life to life. With this lack of wisdom and compassion toward others, the person brainwashes or teaches the wrong way of thinking to many millions of people and, instead of making life easy, that wrong philosophy brings so many problems into their lives and causes so much harm to others.
So you see, even if you don't have any weapons, with a lack of compassion and wisdom you harm the world with your mind . Even though there are many things to teach – the whole path to enlightenment – the essence is to educate students in compassion and wisdom, and even of these two, the main thing is compassion.
In many countries young people have become very uncontrolled and violent. The government and the parents just cannot control them; the government doesn't know what to do and the parents don't know what to do. It is because of a lack of education in the schools about a good heart, loving kindness and compassion. With this education naturally comes respect for others and an ethical life of abandoning things which harm you and others – killing, stealing, all that harmful negative karma. If the education of a good heart is given in school and put into practice, then one will live an ethical, disciplined life, protecting one's life from those negative actions which are harmful to one's self and others.
When I was listening to the radio in Australia some years ago, there was a discussion about how there is something missing in school education . The discussion was shown on TV for a few nights but during the times I was watching I didn't hear one person mention the method to bring peace – the need to change the attitude of the young people. Rather than changing outside; changing the attitude into compassion, transforming the thought of harming others, anger and so forth, into a good heart, compassion – you never heard that word from all those who spoke, never heard the word "compassion."
Meditation centers, which offer complete teachings on how to develop the mind, play a most important role in world peace; not only peace in this world but peace for numberless sentient beings, even those in other universes..
An edited version of a teaching given by Lama Zopa Rinpoche on May 25, 2003 at the FPMT center Nagarjuna C.E.T. in Valencia, Spain. For the full version entitled The Role of the Center and Study Group go to www.lamayeshe.com