News/Media

*If a menu item has a submenu clicking once will expand the menu clicking twice will open the page.

Study & Practice

*If a menu item has a submenu clicking once will expand the menu clicking twice will open the page.

Projects

*If a menu item has a submenu clicking once will expand the menu clicking twice will open the page.

FPMT

According to the Buddhist view, there is no human problem that cannot be solved by human beings.

Lama Thubten Yeshe

*If a menu item has a submenu clicking once will expand the menu clicking twice will open the page.

Shop

The Foundation Store is FPMT's online shop and features a vast selection of Buddhist study and practice materials written or recommended by our lineage gurus. These items include homestudy programs, prayers and practices in PDF or eBook format, materials for children, and other resources to support practitioners.

Items displayed in the shop are made available for Dharma practice and educational purposes, and never for the purpose of profiting from their sale. Please read FPMT Foundation Store Policy Regarding Dharma Items for more information.
Editor's Choice – Media Reviews
FEATURED MEDIA
October-December 2012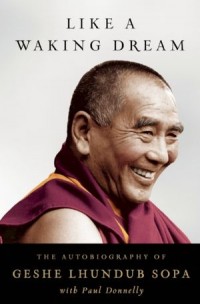 Like a Waking Dream
By Geshe Lhundrub Sopa
Reviewed by Laura Miller 
Geshe Lhundrub Sopa, who was born in Tibet in 1923, was one of the first Tibetan geshes to come to the United States. He escaped Tibet in 1959 and arrived in the United States in 1962, just after being awarded the Geshe Lharampa degree. A highly regarded scholar, he joined the faculty of the University of Wisconsin – Madison in 1967, teaching Buddhist language and philosophy to many of the first generation of Western Tibetan Buddhist scholars, including Jeffrey Hopkins, José Cabezón and John Makransky. In 1975, he established Deer Park Buddhist Center in Wisconsin, where His Holiness the Dalai Lama gave the first Kalachakra initiation in the West in 1981. In 1997, Geshe Sopa retired, becoming an emeritus professor. He continues to live at Deer Park.
Like a Waking Dream is Geshe Sopa's autobiography as told to Paul Donnelly, a student of Geshe Sopa's for 20 years. Over the course of several summers, Geshe-la recounted to Donnelly memories from his youth and from going into exile and coming to the United States. Geshe-la also describes significant events coming later in his life such as his 1987 trip to Tibet where he was able to visit his childhood monastery, Ganden Chonkhor in Tsang. Geshe-la worked closely on the editing of the oral histories with Donnelly and the result is a profoundly touching and detailed account of the life of a young boy who becomes an outstanding scholar in the Tibetan monastic system as it existed up until 1959. As Donnelly says in his preface, this historic knowledge could be lost as the last generation to live in Tibet before Chinese occupation passes away.
Few recent Tibetan Buddhist masters have shared their story as Geshe Sopa has in Like a Waking Dream. The book is significant not only to Geshe-la's students, but to all interested in Tibetan Buddhism. And the book is a delight to read! Geshe-la's storytelling is warm and compelling. He shares memories and anecdotes of many high lamas and geshes familiar to FPMT students, including His Holiness the Dalai Lama, Trijang Rinpoche, Zong Ripoche, Lama Zopa Rinpoche, Lama Yeshe, Geshe Rabten, Yangsi Rinpoche and many others. In Like a Waking Dream, Geshe Sopa's kindness and generosity shine through this precious account of his life; it is truly a gift to read.
Published by Wisdom Publications
Hardback US$24.95
www.wisdompubs.org
(Get this book and support the FPMT through The Foundation Store!)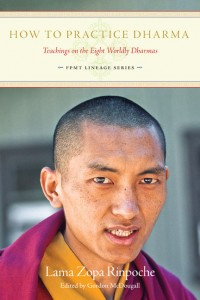 How to Practice Dharma: Teachings on the Eight Worldly Dharmas
By Lama Zopa Rinpoche
Reviewed by Michael Jolliffe
The second in Lama Yeshe Wisdom Archive's FPMT Lineage Series (the first was Heart of the Path: Seeing the Guru as Buddha) focuses of the eight worldly dharmas, eight broad categories of attachment and desire that shape – detrimentally – the course of our lives. At first glance, the topic of the eight worldly dharmas is an uncomfortable one; it challenges our very notion of "happiness," and that can feel, as Lama Zopa Rinpoche writes, "as if we're being asked to sacrifice our happiness, that without desire there's no possibility of happiness and we're left with nothing, just ourselves, completely empty, like a deflated balloon." However, Rinpoche's ultimate conclusion is that contrary to our firm beliefs that a satisfying life begins and ends with the pursuit of the objects of craving, "the moment real happiness begins" is when that thought is abandoned.
So how do we exactly go about letting go of the harmful desire that Rinpoche describes? Rinpoche offers lots of instruction throughout the book, but eventually concludes with his commentary and translation of Shabkar Tsogdruk Rangdrol's "The Ten Innermost Jewels of the Kadampa Geshes," pithy and cryptic verses on how to renounce the eight worldly dharmas. These verses encapsulate the opposite of our habitual ways of thinking and "can make a big difference to how we perceive what we encounter in life."
How to Practice Dharma is divided into nine parts covering the definitions and illustrations of the eight worldly dharmas, samsara, and the Dharma; the pitfalls of craving, neurotic desire; and strategies and meditation instructions for integrating Rinpoche's teachings into one's life. And like its predecessor in the series, How to Practice Dharma features photos of Rinpoche from the publisher's image archive and a helpful glossary of the Buddhist terms used throughout the book.
Most of the printing costs of the publisher's titles are sponsored by devoted students, this newest book's being generously offered by some of Rinpoche's Singaporean disciples. Their generosity coupled with Lama Yeshe Wisdom Archive's tenacious dedication to making Rinpoche's teaching widely available culminate in an ultra-low price for a beautiful 261-page volume worth getting into your hands.  
Published by Lama Yeshe Wisdom Archive
Paperback US$10.00
Kindle US$5.00
www.lamayeshe.org
(Get this book and support the FPMT through The Foundation Store!)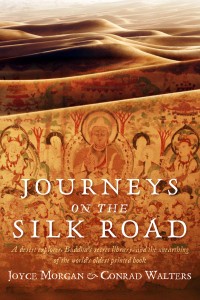 Journeys on the Silk Road: A Desert Explorer, Buddha's Secret Library, and the Unearthing of the World's Oldest Printed Book
By Joyce Morgan and Conrad Walters
Reviewed by Laura Miller 
As Western Buddhists, the multi-faceted relationship between the British Raj and the development of modern Buddhism deserves our study and attention. Scratch the surface of what we take for granted as Buddhist history and you will quickly run into signs of British imperialism. From the restoration of the Mahabodhi Temple in Bodhgaya to the Tibetan government-in-exile's seat in McLeod Ganj to the popularity of the so-called Tibetan Book of the Dead, there are history lessons waiting to be explored. Joyce Morgan and Conrad Walters' book Journeys on the Silk Road: A Desert Explorer, Buddha's Secret Library, and the Unearthing of the World's Oldest Printed Book shares the high-stakes story of some of the British Library's ancient Buddhist texts and demonstrates that these lessons can be entertaining as well as informative.
Journeys on the Silk Road recounts in particular how the world's oldest dated printed book made its way from a hidden cave on the edge of the Gobi Desert to the British Library. The ancient book happens to be a copy of the Diamond Sutra, also known as the Vajra Cutter Sutra, printed in 868 C.E. The man responsible for its journey is Aurel Stein, a Hungarian-born British explorer and archeologist, who made several expeditions through Central Asia in search of ancient manuscripts and other historic relics.
Morgan and Walters' book becomes a page-turner as the journalist-authors' unfold the story of Aurel Stein as a real-life Indiana Jones. Stein, who took detailed notes on his expeditions, provides the book's colorful and fascinating details of his months-long and often grueling travels along ancient trade routes. Stein's 1906-1908 expedition through Turkestan is the focus of Journeys on the Silk Road.  On it, Stein traveled to Dunhuang, China, and visited the Caves of the Thousand Buddhas where he had heard that a huge cache of old scrolls had recently been discovered. This cache turned out to be a remarkable collection of more than 40,000 ancient texts – a major archeological find that is actively being studied by scholars today. Stein removed several thousand scrolls from the cave as well as collected many other relics from the historic site and others, which were then caravanned back to India and eventually shipped to England.
The excitement of Stein's expedition, however, needs to be tempered by a critical acknowledgement of its imperialist motivations. In due time, Journeys on the Silk Road does create space for this. The authors recognize that Stein's actions could be perceived as problematic. "From today's perspective, the removal of manuscripts and murals is deeply alarming, his treatment of [the scroll's Chinese guardian] Abbot Wang seems calculating and manipulative," they write. "But these were not the standards of his era, and it is facile to judge one era by the values of another."
Whether or not one finds the authors' assessment adequate, the result of Stein's actions provides a fascinating example of the interconnectedness of Western culture and modern Buddhism. Had the scrolls stayed in their cave, the knowledge offered by them might not be as widely available as it is now. These texts, known as the Dunhuang manuscripts, offer unique insights into the Buddhism of the Silk Road era and the history of the region. Their value to both academics and Dharma students illustrates some of the more compelling complexities in the development of contemporary Buddhist scholarship and practice.
Read an expert from Journeys on the Silk Road as part of Mandala's online offerings.
Learn more about the Dunhuang manuscripts through the International Dunhuang Project.
To learn more about the book, you can visit the website for Journeys on the Silk Road
Published by Lyons Press
Hardback US$24.95
www.lyonspress.com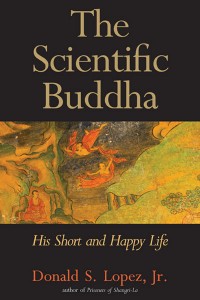 The Scientific Buddha: His Short and Happy Life
By Donald S. Lopez, Jr.
Reviewed by Laura Miller 
A lot has happened to the public's perception of the Buddha over the years, especially in recent times as Buddhism has become known in the West. Donald Lopez has done much to examine and document the history of Buddhism's interaction with Western cultures, tracing it as far back as the third century C.E. In his latest book, The Scientific Buddha: His Short and Happy Life, Lopez describes what he calls the "Scientific Buddha," a popular and relatively recent understanding of the Buddha that emerged about 150 years ago. Lopez proposes that since showing up on the scene, the Scientific Buddha is commonly being mistaken for the historic Buddha Shakyamuni who appeared in India 2,500 years ago. "My claim is that they are different," Lopez writes in the book's preface, "and that this case of mistaken identity has particular consequences." Lopez proceeds to describe the misperception and how, in the end, these mistaken ideas undermine the authentic teachings of the historic Buddha.
The Scientific Buddha is based on a series of lectures that Lopez gave as part of the Dwight Harrington Terry Foundation Lectures on Religion in the Light of Science and Philosophy presented at Yale University in October 2008. The lecture coincided with the publication of Lopez's book Buddhism and Science: A Guide for the Perplexed, which Lopez describes as primarily concerned with "tracing the origins of the assertions for the compatibility of Buddhism and science, as well as with seeking to account for the uncanny persistence for those claims into the present." Lopez's historic research for Buddhism and Science creates the foundation for his exploration of the consequences of our modern culture's fascination with the Scientific Buddha. Over the course of 150 pages, Lopez focuses in particular on the idea of karma and the practice of meditation to tease out the ways in which a traditional understanding of the Buddha's teachings stands at odds with modern science.
This book's value lies in its analysis and deconstruction of contemporary representations of and references to Buddhism, especially in the area of self-help and popular science. When presented with the wealth of references to Buddhism and science in today's media, a student of Buddhism could quite easily become confused about what is authentic Dharma and what is a well intended (most often) but incorrect interpretation of the Buddha's teachings. While Lopez can sometimes come across as a bit cranky in regards to Westerners' interest in Buddhism, he is a highly respected scholar and very well versed in Buddhist philosophy and historic texts. His assistance in navigating the portrayals and ideas involving the Buddha is genuine. Armed with his analysis, students can evaluate for themselves the images of the Scientific Buddha that they encounter. And if they find the dissonance between the Scientific Buddha and the historic Buddha as deafening as Lopez, they can assist him in his call to let the Scientific Buddha pass away, "like a flame going out."
Published by Yale University Press
Hardback US$25.00
http://yalepress.yale.edu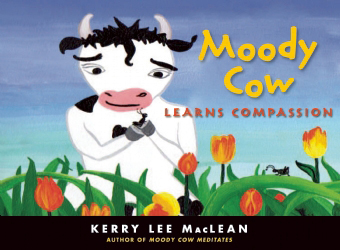 Moody Cow Learns Compassion
By Kerry Lee MacLean
Reviewed by Laura Miller 
Author Kerry Lee MacLean follows up her clever children's book Moody Cow Meditates, which offered an engaging and gentle introduction to mindfulness, with a new book: Moody Cow Learns Compassion. The book features the same charming characters, including the young protagonist Peter. As readers, we tag along as Peter, who also goes by Moody Cow, encounters a challenge or two in his daily life.
In Moody Cow Learns Compassion, Peter and his friend Bully find a snake and feed it a cricket, which makes Peter sad. Bully mocks Peter, calling him "Coward Cow." Peter's wise grandfather helps Peter understand that his concern for the well being of a cricket is a good thing. Grandfather also offers Peter and Bully a longer lesson in compassion that ends with the liberation of many cricket bought from a pet store. The young cows find a good spot for the crickets and let them go, saying "May you be happy!"
Like Moody Cow Meditates, the book has activities to help children practice what they've read about. Moody Cow Learns Compassion gives instructions on how to do a simple cricket release and also an earthworm release.
Both Moody Cow books have brightly colored, whimsical illustrations. It's a book that both an adult would enjoy reading with a child and that a child could enjoy flipping through on her own.
Published by Wisdom Publications
Hardback US$13.56
www.wisdompubs.org
(Get this book and support the FPMT through The Foundation Store!)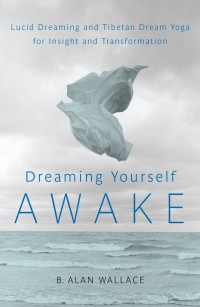 Dreaming Yourself Awake
By B. Alan Wallace
Reviewed by Michael Jolliffe
Is it possible to be both asleep and awake at once? Author B. Alan Wallace says "yes" in his latest book, Dreaming Yourself Awake, in which he explores the life-changing potential of the mind and the power of lucid dreaming. From the very beginning, Wallace makes it clear that this latest work "is directed as much to our awakening from life-as-a-dream as it is to our becoming lucidly aware as we dream at night."
The meat of Wallace's work is divided into an exploration of lucid dreaming ("simply being conscious that you are dreaming") and dream yoga ("part of a spiritual tradition whose goal is the complete awakening called 'enlightenment'").  The section on lucid dreaming beings with a description of and instructions for developing shamata, meditative quiescence, an extremely refined concentration that Wallace feels is indispensible for beginning to work with subtle dream states. Next he moves on to techniques for lucid dreaming (how to improve the quality of sleep, keeping a dream journal, daytime state checks, etc.) and then eventually to practices for dream yoga drawn from the Tibetan Buddhist tradition. One thing that becomes clear from the amount and quality of the advice Wallace that offers: he really wants the reader to be able to achieve these unusual (for most of us!) mental states.
In Dreaming Yourself Awake's tenth chapter, entitled "A Wider Perspective," Wallace details a critique of a strictly materialist view of the mind. Providing the theoretical foundations for the first two-thirds of the book, this chapter essentially defends Buddhist notions of the mind not out of pettiness or chauvinism, but as a call to arms for those interested in exploring subjective experience. "Is it possible to awaken from this dream of samsara by experientially knowing the nature of consciousness and it role in the universe?" Wallace asks. "Only if we take this possibility as our working hypothesis and apply ourselves wholeheartedly to testing it in the most rigorous ways we can."
Published by Shambhala Publications
Paperback US$17.95
www.shambhala.com