News/Media

*If a menu item has a submenu clicking once will expand the menu clicking twice will open the page.

Study & Practice

*If a menu item has a submenu clicking once will expand the menu clicking twice will open the page.

Projects

*If a menu item has a submenu clicking once will expand the menu clicking twice will open the page.

FPMT

Every second of this human life gives us the freedom to choose between hell and enlightenment, samsara and liberation.

Lama Zopa Rinpoche

*If a menu item has a submenu clicking once will expand the menu clicking twice will open the page.

Shop

The Foundation Store is FPMT's online shop and features a vast selection of Buddhist study and practice materials written or recommended by our lineage gurus. These items include homestudy programs, prayers and practices in PDF or eBook format, materials for children, and other resources to support practitioners.

Items displayed in the shop are made available for Dharma practice and educational purposes, and never for the purpose of profiting from their sale. Please read FPMT Foundation Store Policy Regarding Dharma Items for more information.
Lama Zopa's Story of Meeting Lama Yeshe
In a talk to Western monks and nuns in Dharamsala, May 1982, Lama Zopa spoke about his first meeting with Lama.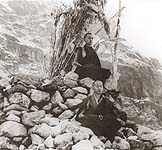 Maybe I will tell you the story of how I met Lama Yeshe. It's a very funny story. After my two alphabet teachers I was taught by the abbot who granted me getsul ordination. He passed away at the same time as the Chinese invaded Tibet. Following him, I was taught by Geshe Rabten Rinpoche, whose kindness is responsible for whatever interest in meditation practice I now have.
At Buxa, Geshe Rabten taught on shunyata and samatha meditation, and even though I was very small I was interested. I tried to do samatha meditation on my bed after the mosquito net was put on it. I used to meditate on the silver cover of my Tibetan tea bowl, even though I didn't know how. When they brought me from Tibet to India I tried to meditate one-pointedly. I fell down! I don't know what happened; my whole body fell completely. It happened several times and eventually I gave up. Anyway, in that house there might have been a small impression from a past life. So that is how I have some interest in lam rim, more than in meditation practice.
Originally by the kindness of Geshe Rabten, I recognized my root guru. Anyway, after this Geshe Rabten was very busy and sent me to another teacher from Kham whose name was also Yeshe. From this teacher I received the meditation and visualization on Ganden Lha Gyama, the kindness of mother sentient beings from the part of the Prajnaparamita scriptures dealing with that subject. There was no text so my teacher Yeshe had to say it by heart. I hadn't learned Tibetan writing in Tibet, just studied it myself so that I could read, and so I copied everything down. Then this teacher Yeshe wanted to lead a different life, so he left Buxa to wander around and stay in different places in India.
Then Geshe Rabten had me taught by another geshe who is not here now, and teachings from a Tibetan monk, Geshe Thubten. I was happy to have teachings from the geshe, but somehow I was reluctant to go and receive teachings from Lama Yeshe.
There was a monk in my class who most people know as Chomphel — he was Kopan's cook for many years. Along with Lama Pasang and other Tibetan monks, he was taking teachings from Lama Yeshe. At that stage I was only receiving teachings from Geshe Rabten and then only when he wasn't busy, as he had many disciples and had to teach many different texts to different classes.
At that time Chomphel used to be the leader of my class and he kept pushing me to go and take teachings from Lama Yeshe. He used to go outside for a walk, for relaxation, and one day we started to walk outside the camp, but I didn't take anything; I had no offering. When we came to the mango tree where there used to be seats, I said "I want to go back," but he pushed, so I went a little bit further.