News/Media

*If a menu item has a submenu clicking once will expand the menu clicking twice will open the page.

Study & Practice

*If a menu item has a submenu clicking once will expand the menu clicking twice will open the page.

Projects

*If a menu item has a submenu clicking once will expand the menu clicking twice will open the page.

FPMT

Our problem is that inside us there's a mind going, 'Impossible, impossible, impossible. I can't, I can't, I can't.' We have to banish that mind from this solar system. Anything is possible; everything is possible. Sometimes you feel that your dreams are impossible, but they're not. Human beings have great potential; they can do anything. The power of the mind is incredible, limitless.

Manjushri Institute, 1977, Currently unpublished
Lama Yeshe Wisdom Archive

Lama Thubten Yeshe

*If a menu item has a submenu clicking once will expand the menu clicking twice will open the page.

Shop

The Foundation Store is FPMT's online shop and features a vast selection of Buddhist study and practice materials written or recommended by our lineage gurus. These items include homestudy programs, prayers and practices in PDF or eBook format, materials for children, and other resources to support practitioners.

Items displayed in the shop are made available for Dharma practice and educational purposes, and never for the purpose of profiting from their sale. Please read FPMT Foundation Store Policy Regarding Dharma Items for more information.
Beginnings
This abridged excerpt is taken from a forthcoming book on the life of Lama Yeshe – 11 years in the making – by Australian writer Adele Hulse. It describes the very early beginnings of our late founder who began life with the birth name of Dondrub Dorje.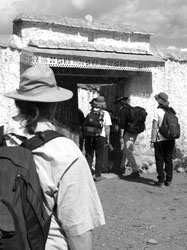 The hamlet of Shing kar-la lies close by the village of Tolung Dechen in the long, wide Phenpo Valley, three hours drive northwest from Lhasa. The house known as Shing kar chang-mar faces away from the Chinese-built road, where timber lorries roar alongside a wall of steel pylons carrying electricity to the city.
The village of Tolung Dechen consists of three large families. The family occupying the Shing kar chang mar house bears the same name as the house, and no one can recall a time when they and the house were not there. A friendly black dog, adorned with a thick ruff of red-dyed bristles, is chained to a Chinese tractor at the sun-bleached wooden door. Tin cans planted with marigolds, forget-me-nots, and wallflowers stand against a smooth mud wall. Colored cotton ruffles hang above each doorway.
The family wear traditional clothing – a thick chuba, the wraparound dress of Tibet, boots, and for the women, colored striped aprons. Washing is not a feature at this altitude. They grow their own food: crumbly pale salty cheese piled into wooden bowls, dark air-dried yak meat, cauliflower, spinach, and a little chili eaten with freshly made noodles or tsampa – roasted barley ground into flour, a beloved staple of Tibet. They drink salted butter tea or chhang, a homemade beer. Children abound, the toddlers in woolen trousers strategically open underneath from front to back. There is a family resemblance – a good high round forehead and a soft mouth. Everyone is born and dies at home, spending their entire life working and praying. They also take great delight in endless jokes and games.
Apart from the road, electricity, the tractor, plastic trinkets, the women's polyester shirts, and of course the government, nothing much has changed at Tolung Dechen since a baby boy named Dondrub Dorje was born there in May 1935, the same year as the new Dalai Lama. It was an easy birth and the child was born with a caul, considered auspicious in Tibet as elsewhere. His mother, Jhako, already had three children from an earlier marriage – two girls, Dorje and Tsering Dolma, and a boy, Phuntsog Thinley, born in September 1929 …
About an hour's walk across the fields from Shing kar-la is a small nunnery, Rakor Gompa, near Chimelung, a popular pilgrimage spot.
When Dondrub Dorje was born, Rakor housed about sixty nuns. Their abbess, a fine big woman known as Ache Jampa, had only recently died. During her long life she had inspired many people and was remembered for her favorite prayer, the popular: "May I be able to bring the Dharma to those who have never met it and who live in suffering, blinded by the darkness in their wisdom eye …"
Not long after the death of Ache Jampa, an important Kagyu lama, the Eleventh Nerving Pawo Tulku, visited the area. The Rakor nuns were eager to know if he could tell them where the reincarnation of their beloved abbess had been born. After some deliberation he directed them to the Shing kar chang mar house saying, "A small boy there is the reincarnation of your abbess."
The discovery filled the nuns with joy, and Dondrub Dorje was not yet walking when they came to claim him. They visited him often, bearing gifts and lavishing on him the combined love of sixty maiden aunts. "They talked to me about my history," he later recalled. "They would show me things and say, 'This is your thing from the previous life.' I was not much interested. I was so young and just wanted to play. The nuns loved me so much. 'You are a good reincarnation,' they told me…"
(Dondrub Dorje, later to be known as Lama Thubten Yeshe, studied at the great Sera Monastic University until 1959 when the Chinese invasion of Tibet forced him into exile in India. Lama Yeshe continued to study and meditate in India until 1967, when, with his chief disciple, Lama Thubten Zopa Rinpoche, he went to Nepal. Two years later he established Kopan Monastery, near Kathmandu, in order to teach Buddhism to Westerners.)

This article can be read in its entirety in Mandala