News/Media

*If a menu item has a submenu clicking once will expand the menu clicking twice will open the page.

Study & Practice

*If a menu item has a submenu clicking once will expand the menu clicking twice will open the page.

Projects

*If a menu item has a submenu clicking once will expand the menu clicking twice will open the page.

FPMT

Every second of this human life gives us the freedom to choose between hell and enlightenment, samsara and liberation.

Lama Zopa Rinpoche

*If a menu item has a submenu clicking once will expand the menu clicking twice will open the page.

Shop

The Foundation Store is FPMT's online shop and features a vast selection of Buddhist study and practice materials written or recommended by our lineage gurus. These items include homestudy programs, prayers and practices in PDF or eBook format, materials for children, and other resources to support practitioners.

Items displayed in the shop are made available for Dharma practice and educational purposes, and never for the purpose of profiting from their sale. Please read FPMT Foundation Store Policy Regarding Dharma Items for more information.
Holy Objects Resource Guide
HOLY OBJECTS
Holy objects, because of their ability to awaken the positive potential in everyone, are certainly precious and wish-fulfilling. This page, a supplement to the April-June 2010 issue of Mandala, is designed to point you in the direction of more extensive information about holy objects.
Books

FPMT Education Services has compiled a vast collection of teachings and advice relating to holy objects, particularly statues and stupas. Benefits and Practices Related to Statues and Stupas Part 1, Part 2 and Part 3 includes extensive information about the symbolism and benefits of stupas, as well as detailed advice on how to fill them with mantras and other substances. The first volume is suitable for anyone

interested in learning about the basics of stupas. The second two volumes provide much of the technical information necessary for constructing stupas, particularly large ones
Lama Zopa Rinpoche has created a practice that can be used in conjunction with holy objects to help lead our animal friends to a happier future.

Lama Yeshe gave a series of talks about Maitreya Buddha and instructions on the yoga method of Maitreya in 1981 at Maitreya Instituut in the Netherlands. Universal love is a beautiful collection of these teachings dedicated to cultivating loving kindness and tender heart. The Lama Yeshe Wisdom Archive, the publisher of the book, offers a discount for direct orders and has generously provided the first three chapters for free in PDF format.

The Preliminary Practice of Tsa-Tsas contains the meditation practices associated with tsa-tsa casting and even includes practical advice about how to choose materials and where to acquire high-quality molds.
Sutras
Sutras are considered utterances of the Buddha are highly venerated in the Buddhist tradition. Lama Zopa Rinpoche, FPMT's spiritual director, recommends in particular that students engage with the Sutra of Golden Light, the Sanghata Sutra and the Vajra Cutter Sutra.
The Sutra of Golden Light is recommended by Lama Zopa Rinpoche particularly for world peace and for protection. Filled with amazing encounters between the Buddha and other powerful non-human beings, this sutra is particularly known for the inclusion of moving stories about the Buddha as a bodhisattva and the sacrifices he made to help living beings.
The Sanghata Sutra, re-discovered in the 1930s in the northernmost reaches of Pakistan, was first brought to Lama Zopa Rinpoche's attention in 2002. Upon reading it, Rinpoche immediately committed to write the entire sutra by hand in gold on rainbow-colored paper to place in the 500-foot Maitreya statue being built in India, and to have it translated into many languages.
The Vajra Cutter Sutra, a well-known sutra throughout East Asia, is a fascinating discussion between the Buddha and his disciple, Subhuti. The sutra is principally about the nature of phenomena and is famous as the source for the four-line verse: "As a star, a visual aberration, a lamp, an illusion, dew, a bubble, a dream, lightning, and a cloud – view all the compounded like that." Lama Zopa Rinpoche has said that "reading the Vajra Cutter Sutra is an incredible source of unbelievably powerful purification of all previous negative karmas collected since beginningless rebirths – all those unbelievable heavy ones. This is in addition to the unbelievable, incredible merit you collect by reading it, or just by keeping it."
These sutras can all be downloaded freely on FPMT's website. 
Back Issues of Mandala
Over the years, Mandala has published numerous stories about holy objects and one issue in particular, November-December 2000, focused almost exclusively on the Maitreya Project, an FPMT initiative to build a 500-foot (152-meter) statue of the future Buddha, Maitreya. Visit the Mandala Archives to search for stories related to holy objects, view available articles online or purchase back issues with stories that interest you.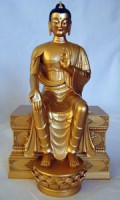 Maitreya Project
By helping the Maitreya Project accomplish its goal to build the largest statue in the world for the benefit of all, you can receive a replica of the Maitreya statue (a holy object itself) as a gift. These beautiful statue are made from white resin and professionally finished in a gold-colored coating. The statues are already filled with mantras and come in a red presentation box that is securely padded.
FPMT's Holy Object Funds
FPMT's dedication to holy objects is reflected in the creation of four separate funds managed by FPMT's International Office: the Nagarjuna Statue Fund supports the construction of a marble Nagarjuna statue dedicated to the long life and health of Lama Zopa Rinpoche; the Stupa Fund, which supports the construction of stupas world-wide, such as the Kalachakra stupa being built at Kurukulla Center in Medford, Massachusetts, USA; the Prayer Wheel Fund, which has contributed to the large prayer wheels at Root Institute in India and Land of Medicine Buddha in California, USA.; the Padmasambhava Project for Peace, a project to install statues of Padmasambhava around the world; and the Writing the Prajñaparamita and Sanghata Sutra Fund which supports the copying of these texts in pure gold ink for inclusion in the heart of the Maitreya Project.
Websites and Online Teachings of Interest
Jade Buddha for Universal Peace
Tsa Tsa Studio/Center for Tibetan Sacred Art
Buddhist Image Art Gallery by Liberation Prison Project Students
Benefits of Having Many Holy Objects By Lama Zopa Rinpoche
Various Advice About Prayer Wheels By Lama Zopa Rinpoche
Various Advice About Statues and Tsa-tsas By Lama Zopa Rinpoche
Various Advice About Stupas By Lama Zopa Rinpoche
Advice about Prayer Flags and Banners By Lama Zopa Rinpoche
Various Advice About Relics By Lama Zopa Rinpoche
Essential Mantras for Holy Objects By Lama Zopa Rinpoche
Practices for Benefiting Animals By Lama Zopa Rinpoche