News/Media

*If a menu item has a submenu clicking once will expand the menu clicking twice will open the page.

Study & Practice

*If a menu item has a submenu clicking once will expand the menu clicking twice will open the page.

Projects

*If a menu item has a submenu clicking once will expand the menu clicking twice will open the page.

FPMT

Right understanding is the only solution to both physical and mental problems. You should always check very carefully how you're expending your energy: will it make you happy or not? That's a big responsibility, don't you think? It's your choice: the path of wisdom or the path of ignorance.

Lama Thubten Yeshe

*If a menu item has a submenu clicking once will expand the menu clicking twice will open the page.

Shop

The Foundation Store is FPMT's online shop and features a vast selection of Buddhist study and practice materials written or recommended by our lineage gurus. These items include homestudy programs, prayers and practices in PDF or eBook format, materials for children, and other resources to support practitioners.

Items displayed in the shop are made available for Dharma practice and educational purposes, and never for the purpose of profiting from their sale. Please read FPMT Foundation Store Policy Regarding Dharma Items for more information.
Fund-Raising Event in Singapore Attended by 5,500
by Ven. Sangye Khadro and T.S. Wong
Amitabha Buddhist Centre in Singapore held its grandest, most glamorous and well-publicized fundraising event ever–a dinner and auction attended by 5,500 people–on October 26 at an exhibition hall of the World Trade Centre.
Guests of honor at the event, to raise money towards the S$5.5 million needed to construct our new center, were Lama Zopa Rinpoche, Lama Osel Rinpoche and Ribur Rinpoche. Ticket sales increased dramatically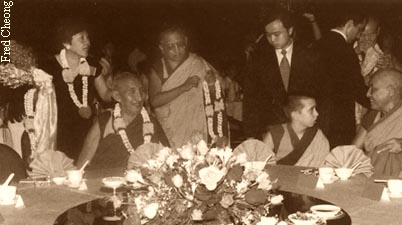 after stories about Lama Osel appeared in the local papers, and center telephones were ringing almost constantly with people enquiring about his schedule and whereabouts. Several thousand people came to receive his blessing in the afternoon before the dinner.
The hall was magnificently decorated with Tibetan-style arches, banners and two enormous tangkas: a three-story-high Shakyamuni Buddha painting on loan from the Maitreya Project and Kopan Monastery's Thirty-five Buddhas. Six 100-square-foot video screens were positioned around the hall to enable those sitting far from the central stage to view the activities.
The dinner opened with an inspiring procession of red-robed monks and nuns carrying victory banners, flowers and incense and playing Tibetan horns, cymbals and conches, leading in the three lamas. The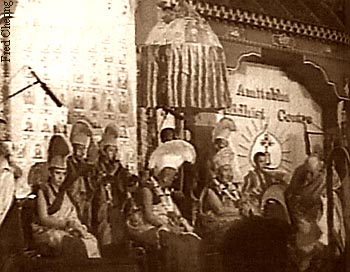 procession passed slowly through the hall, then mounted the central stage, where the lamas recited prayers to bless the event and everyone present. Then the center president, Mr. Tsultrim Lam, welcomed everyone and explained the purpose of the event.
As the food was served, the audience was treated to a traditional Chinese lion dance, a dragon dance–a flourescent dragon danced under ultraviolet lights–and a song-and-dance routine by a group of 2-5-year- olds from ABC's childcare center dressed as fireflies.
Then came the auction. The items included a gold-plated watch given by His Holiness the Dalai Lama to Ribur Rinpoche, malas used by Lama Zopa Rinpoche and Lama Osel Rinpoche and Chinese calligraphy hand-painted by a famous Buddhist abbot. Lama Zopa's mala went for $45,000! A total of $313,455 was collected from the auction. Collections from sponsorship of building materials and general donations were expected to exceed $200,000 while net proceeds from sales of dinner tickets were estimated to be $150,000.
The dinner was scheduled to conclude at 10 p.m. but Lama Zopa Rinpoche and Lama Osel Rinpoche stayed on until nearly midnight, giving individual blessings.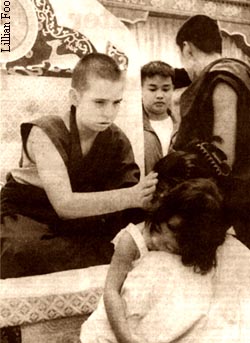 During their stay in Singapore, the lamas also performed a number of pujas on our roof-top–Palden Lhamo, Hayagnva and Namgyalma, together with 1,000 offerings–the merits of which were dedicated to various causes, such as the long lives of our precious spiritual masters and the removal of obstacles to the center's projects.
Lama Osel was popular: he was interviewed by several newspaper journalists and TCS, the main TV station in Singapore.
Amitabha Buddhist Centre, the Building Fund Committee and the Executive Committee would like to thank their gurus for their gifts, pujas and prayers. We wish to acknowledge the sound guidance given to us by our advisors, Mr. Lau Kong Hui and Mr. Lee Bok Guan, and we particularly wish to thank Mr. Seah Koon Tay, Mr. Fred Cheong and their men for organizing the logistics, serving as ushers and putting up the decorations. We appreciate the effort of Kathrine Carlisle for arranging for the banners and tangkas to be brought from India, and we would like to thank all the people who have supported us in many ways that help make this event a memorable one for ABC.