News/Media

*If a menu item has a submenu clicking once will expand the menu clicking twice will open the page.

Study & Practice

*If a menu item has a submenu clicking once will expand the menu clicking twice will open the page.

Projects

*If a menu item has a submenu clicking once will expand the menu clicking twice will open the page.

FPMT

We should train ourselves not to become engrossed in any of the thoughts continuously arising in our mind. Our consciousness is like a vast ocean with plenty of space for thoughts and emotions to swim about and we should not allow our attention to be distracted by any of them.

Lama Thubten Yeshe

*If a menu item has a submenu clicking once will expand the menu clicking twice will open the page.

Shop

The Foundation Store is FPMT's online shop and features a vast selection of Buddhist study and practice materials written or recommended by our lineage gurus. These items include homestudy programs, prayers and practices in PDF or eBook format, materials for children, and other resources to support practitioners.

Items displayed in the shop are made available for Dharma practice and educational purposes, and never for the purpose of profiting from their sale. Please read FPMT Foundation Store Policy Regarding Dharma Items for more information.
By Lama Thubten Yeshe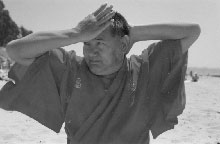 We can see from biographies [of mahasiddhas such as Naropa and Lama Je Tsongkhapa] that intellectual knowledge of Dharma alone is not enough – we have to practice. There are many stories of learned Dharma scholars having to ask for guidance from people who have not studied any of the vast treatises but who have really tasted the few teachings they have received. I remember Kyabje Trijang Rinpoche, the Junior Tutor to His Holiness the Dalai Lama, saying in his teachings that when it comes to practice, many intellectuals have to go to beggars on the street to ask for advice. Even though these scholars may have intellectually learned the entire sutra and tantra teachings and may even teach them to many students, they are still empty when it comes to practice.
The Six Yogas of Naropa are not something philosophical. You have to act, so that some inner transformation takes place. The teachings must become real for you. Take karma, for instance. When we talk about karma, we intellectualize so much. We need to come down to earth. Karma is not something complicated or philosophical. Karma means watching your body, watching your mouth, and watching your mind. Trying to keep these three doors as pure as possible is the practice of karma.
There are many monks leading ascetic lives in Dharamsala in India, where His Holiness the Dalai Lama lives. Even though they are perhaps not very learned, they spend many years meditating and doing retreat in small huts on the mountainsides. On the other hand, there are other very learned monks who do not want to live ascetic lives. Those living in retreat on the mountain really try to taste the Dharma, and I think they succeed. They taste the chocolate, while the famous scholars miss out. In the end, it doesn't matter who you are; if you want to taste something, you have to go to the taste-place.
It is exactly the same in the West. Many people easily gain an incredible intellectual understanding of Buddhism, but it is a dry understanding that does not fertilize the heart. There are some Western professors, for example, who have studied Buddhism for years. They have high degrees in Buddhist studies and have published books on the sutras and tantras. Yet many of them admit that they are not even Buddhists, which means they haven't actualized what they write about. They can read Lama Je Tsongkhapa's texts and translate them using incredible words, but for them it remains mere theory. I find this shocking.
On the other hand, some people have heard just a few lam-rim teachings, such as the workings of the negative mind, but they begin to look inside themselves and to meditate. The teachings gradually become part of them….
© Excerpted from The Bliss of Inner Fire (1998) by Lama Thubten Yeshe, edited by Ven. Robina Courtin and Ven. Ailsa Cameron, with permission of Wisdom Publications, 199 Elm St., Somerville MA 02144 U.S.A, www.wisdompubs.org
This article can be read in its entirety in Mandala