News/Media

*If a menu item has a submenu clicking once will expand the menu clicking twice will open the page.

Study & Practice

*If a menu item has a submenu clicking once will expand the menu clicking twice will open the page.

Projects

*If a menu item has a submenu clicking once will expand the menu clicking twice will open the page.

FPMT

Be as careful as you can. Our minds are funny. Sometimes we are skeptical of things that are really worthwhile and completely accepting of things that we should avoid. Try to avoid extremes and follow the middle way, checking with wisdom wherever you go.

Lama Zopa Rinpoche

*If a menu item has a submenu clicking once will expand the menu clicking twice will open the page.

Shop

The Foundation Store is FPMT's online shop and features a vast selection of Buddhist study and practice materials written or recommended by our lineage gurus. These items include homestudy programs, prayers and practices in PDF or eBook format, materials for children, and other resources to support practitioners.

Items displayed in the shop are made available for Dharma practice and educational purposes, and never for the purpose of profiting from their sale. Please read FPMT Foundation Store Policy Regarding Dharma Items for more information.
The case for not eating our friends
February / March 2007
Vegetarianism
Long ago, Buddha Shakyamuni expressed the view that all beings deserved our compassion, and he could see no value in ritual animal sacrifice. His teachings clearly show that animals have the same right to life which humans claim for themselves. Yet daily many of us are implicitly calling for the sacrifice of an animal in order to put food on the table. A special Mandala report …
The question is often asked: Why aren't all Buddhists vegetarian? Although His Holiness the Dalai Lama has strongly advocated vegetarianism for decades, there have been times in the past when his doctors insisted he eat meat for the sake of his health. The story goes that at one stage he ate meat every second day – therefore he was a vegetarian for half of the year.
His Holiness is also an animal activist. In 2004, he publicly urged the Kentucky Fried Chicken (KFC) fast-food chain not to open outlets in Tibet. In his letter, he said: "I have been particularly concerned with the sufferings of chickens for many years. It was the death of a chicken that finally strengthened my resolve to become vegetarian. These days, when I see a row of plucked chickens hanging in a meat shop, it hurts." The parent company, Yum Brands, called off its plans.
The Tibetans have always been meat eaters, mainly yak meat. The argument is put forth that a meat diet was necessary in Tibet because the high, cold mountain region makes it impractical to grow sufficient plant food. Tibetans basically lived on tsampa (roasted barley flour) and animal products. However, many Tibetan people are now living in countries well supplied with vegetables and fruits, and yet they still maintain a diet relying on meat, mainly, it seems, because of physiological and cultural factors.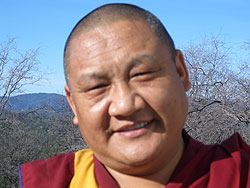 Geshe Thupten Phelgye is a Tibetan vegetarian hero. He has been working with PETA (People for the Ethical Treatment of Animals), and helped in the forming of PETA India in Mumbay. He has demonstrated at KFC in Springfield, Massachusetts, and at the Mercedes Benz premises in Santa Barbara, California, against its use of leather interiors.
Geshe Phelgye became a vegetarian in 1984 when he saw a slaughter house in Mysore, not far from his Monastery, Sera Jey. In 1989, he encouraged the Sera Jey abbot, Khen Rinpoche Lobsang Tsering, to ban the offering of meat in its temple premises. In 1997, he had a private audience with the Dalai Lama regarding his vegetarian campaign.
His Holiness' blessing and appreciation gave him the confidence to become the voice of the Universal Compassion Movement (www.universalcompassion.org), the mission of which is to "bring people together to engage in compassionate practice on behalf of unfortunate sentient beings who cannot speak of their wish and their rights to live in peace. Our main focus is to ease the suffering of those helpless animals who are slaughtered for meat, ritual sacrifice, the cruel sport of hunting, abuse in farms and industries, and wherever they may suffer." Another organization, Animal SOS, was later formed to actively campaign for vegetarianism among Tibetan communities.
This article is an excerpt of the full article printed in Mandala