News/Media

*If a menu item has a submenu clicking once will expand the menu clicking twice will open the page.

Study & Practice

*If a menu item has a submenu clicking once will expand the menu clicking twice will open the page.

Projects

*If a menu item has a submenu clicking once will expand the menu clicking twice will open the page.

FPMT

The greatest problems of humanity are psychological, not material. From birth to death, people are continually under the control of their mental sufferings.

Lama Zopa Rinpoche

*If a menu item has a submenu clicking once will expand the menu clicking twice will open the page.

Shop

The Foundation Store is FPMT's online shop and features a vast selection of Buddhist study and practice materials written or recommended by our lineage gurus. These items include homestudy programs, prayers and practices in PDF or eBook format, materials for children, and other resources to support practitioners.

Items displayed in the shop are made available for Dharma practice and educational purposes, and never for the purpose of profiting from their sale. Please read FPMT Foundation Store Policy Regarding Dharma Items for more information.
Radical Solutions for Transforming Problems into Happiness.
April / May 2007
"Dear Lama Zopa"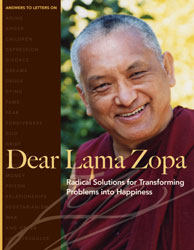 This is an absolute jewel of a book! To be published this year by Wisdom Publications, it is packed with unbelievably precious advice from a master of the techniques that enable us to achieve what Buddha asserts is our innate potential for perfection, enlightenment.
No problem is ever too big or too small for Lama Zopa Rinpoche to answer. "Dear Lama Zopa" is redolent with kindness, as the revered spiritual director of the Foundation for the Preservation of the Mahayana Tradition addresses over one hundred questions from students, on topics ranging from addictions to war, from distrust to disasters, from lam-rim to losing your job.
The story behind this book is fascinating in itself.  Rinpoche receives about three thousand letters a year at his office in Aptos, California.  About two-thirds of those are personal, from students seeking his advice on everything from their spiritual practice to their health and their families.
Rinpoche often doesn't start dictating until after midnight, according to Ven. Holly Ansett who is one of his secretaries. (Remarkably, Rinpoche does not seem to need sleep. When he is not traveling or teaching or dealing with his students and centers, he is meditating.)  Ven Holly reveals that Rinpoche takes a folder of correspondence, which contains at least two hundred letters at any one time, and chooses the letters to reply to that evening. The letters that are urgent, such as those about the person's health, always go to the top of the pile.
Like many great masters, Rinpoche is skilled at recommending the appropriate Tibetan herbal medicine. He often illustrates his letters with smiling faces or animals or sayings, some of which have been reproduced [in the book]. Or he may spend a long time writing out mantras in immaculate calligraphy. Along with the appropriate practices and advice, Rinpoche often sends a book, blessed pills, a calendar, a Buddhist image, or other gifts as well….
Read on for some excerpts:
It's in My Mind All the Time
Dear Lama Zopa,
Someone I know recently hurt me deeply on purpose. I feel bitter about this and I want to get back at this person. I want revenge. I know this is a bad reaction, but it's in my mind all the time, it's so hard to stop the feelings. How can I deal with these feelings?
Much love,
Laura, Madrid
Dear Laura,
It would not be a wise decision to react with revenge. Anyway, what they did will harm them. There will be definite consequences from their actions, and soon they will have to suffer and experience unfavorable conditions thousands of times more than what they have done, and for many lifetimes.
What they did is totally ignorant and stupid; there is nothing more foolish than that. They are throwing themselves into hell or on the sword.
• If you harm them back with anger then it will be the same for you,
and it will put you in danger for an unbelievably long time, experiencing harm for thousands of lifetimes.
• But if you respond by using peaceful means, in order to change them, they will realize their mistake.
By not harming them back, you don't put yourself in a worse situation than now. If you harm them, then their family and friends will become your enemy and harm you again, and there will be no end. That is the consequence of hurt and anger.
Love and prayers,
Zopa
This article is an excerpt of the full article printed in Mandala