News/Media

*If a menu item has a submenu clicking once will expand the menu clicking twice will open the page.

Study & Practice

*If a menu item has a submenu clicking once will expand the menu clicking twice will open the page.

Projects

*If a menu item has a submenu clicking once will expand the menu clicking twice will open the page.

FPMT

You must recognize that your real enemy, the thief who steals your happiness, is the inner thief, the one inside your mind – the one you have cherished since beginningless time. Therefore, make the strong determination to throw him out and never to let him back in.

Ego, Attachmnet and Liberation

Lama Thubten Yeshe

*If a menu item has a submenu clicking once will expand the menu clicking twice will open the page.

Shop

The Foundation Store is FPMT's online shop and features a vast selection of Buddhist study and practice materials written or recommended by our lineage gurus. These items include homestudy programs, prayers and practices in PDF or eBook format, materials for children, and other resources to support practitioners.

Items displayed in the shop are made available for Dharma practice and educational purposes, and never for the purpose of profiting from their sale. Please read FPMT Foundation Store Policy Regarding Dharma Items for more information.
Conversations with a Nun: Opening the Prison Door
September-November 2003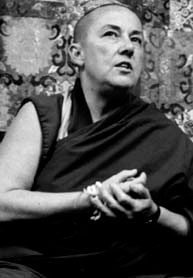 In this fifth incarnation of
Mandala
, we wanted to feature Ven. Robina Courtin, its editor for six years (1994-2000). She's hard to pin down, always traveling the world, teaching, overseeing the activities of Liberation Prison Project in the USA and Australia, visiting and writing to prisoners, and editing teachings. Then Lyn Siegel, freelance writer from North Carolina, sent us an interview she and psychiatrist Dr. Norma Safransky did with Ven. Robina last year, and voila! We have a conversation with the Australianborn nun who is still subject, reluctantly, to international fame since the release in 2000 of the documentary movie about her life,
Chasing Buddha
.
Q: In Chasing Buddha you said, "I found what I lost" when you found Buddhism. Do you feel that we are born inherently knowing what we want in this life, and that it's a matter of getting through the experiences and obstacles of life to realize one's path, or is it more a case of needing those experiences and obstacles to tap into that energy, the talent, the passion that brings us to where we are now?
A: Yes, when I met Buddhism I felt like I had found something I had lost, because, from a karmic point of view, it was something I'd had before, in previous lives. When I heard it again, it was like coming home. You could have a familiarity with anything, whether it is called killing or stealing or being a footballer. Whatever you have familiarity with is what you're strongly attracted to again.
I'm not sure that it's a question of "needing" our experiences; rather, it's that we simply have them as a result of our past actions, karma. Based on Buddha's view that we all possess the potential for perfection, it's our job to work through our experiences, based on the laws of morality: cleaning up the negative and growing the positive.
Q: Do you believe in reincarnation in a literal sense, in the sense that you are preserved as a soul and continue to develop as a sort of separate entity? Or are you speaking more generally as a pool of consciousness splits off and evolves and then goes back into a vast pool and then reemerges with some change?
A: None of that is a Buddhist way to express things. Firstly, it's not a question of belief. The Buddhist path is very much a way of discovering for oneself the truth of the teachings, or indeed not the truth. The Dalai Lama says that if we discover that what Buddha says is wrong, we should reject Buddha. Buddha himself said, "Don't believe a single word I am telling you." We need to check it carefully, making sense of it, and finally testing it by practicing. We'll then discover that it's either true or it's not.
Second, according to Buddha, the being that is inside the womb is not a soul. Buddha would use the words "mind" or "consciousness," which refer to the entire spectrum of our inner experiences. There is the grosser level – the conceptual, the sensory, and the emotions – but Buddhism would also assert that we have much subtler levels of conscious awareness. And so at the time of conception, what goes into the egg and sperm of the parents and what causes the beginning of Robina, basically, is a previous moment of this very mind that we call "Robina" now, which is necessarily very subtle, and which manifests at the grosser level as the person develops. Each living being has its own personal river of mental moments, if you like. At the first moment of conception we are not a blank slate that our parents and society begin to fill up. We bring with us all our own tendencies and imprints, interests and characteristics, things that we have thought and said and done before.
What causes Robina to be the kind of person she becomes is her past karma – not God or Buddha or parents. Karma is a Sanskrit word that means "action". Whatever we say or whatever we do or think leaves an imprint or impression or a seed in our mind that ripens in the future as our experiences. We are the fruit of what we have done before. You could say that karma is the "creative principle" in Buddhism. So, yes, reincarnation is a literal thing …