News/Media

*If a menu item has a submenu clicking once will expand the menu clicking twice will open the page.

Study & Practice

*If a menu item has a submenu clicking once will expand the menu clicking twice will open the page.

Projects

*If a menu item has a submenu clicking once will expand the menu clicking twice will open the page.

FPMT

FPMT is unbelievably fortunate that we have many qualified teachers who are not only scholars but are living in practice. If you look, then you can understand how fortunate we are having the opportunity to study. With our Dharma knowledge and practice we can give the light of Dharma to others, in their heart. I think that's the best service to sentient beings, the best service to the world.

Lama Zopa Rinpoche

, (read the

full advice

from Rinpoche)

*If a menu item has a submenu clicking once will expand the menu clicking twice will open the page.

Shop

The Foundation Store is FPMT's online shop and features a vast selection of Buddhist study and practice materials written or recommended by our lineage gurus. These items include homestudy programs, prayers and practices in PDF or eBook format, materials for children, and other resources to support practitioners.

Items displayed in the shop are made available for Dharma practice and educational purposes, and never for the purpose of profiting from their sale. Please read FPMT Foundation Store Policy Regarding Dharma Items for more information.
by Thubten Chopel
I teach Primary school. I do my best to teach kids how to spell and read and write and so on. I learn much in the process, but not about spelling, reading or writing. Working in a classroom full of such overtly berserk minds each day, I learn quite a bit about delusion, samsara — and myself.
Initially having the Dharma in my life made teaching easier just as it seemed to improve everything else. Finding the Dharma is much like falling in love; everything has a special glow about it and nothing appears as a problem — for a while. In my case, however, it wasn't too long before all those teachings about life being suffering began to prove themselves true once again. It's a puzzling situation; one finds the teachings and they fill one's life with joy even as they're telling you that you're suffering terribly.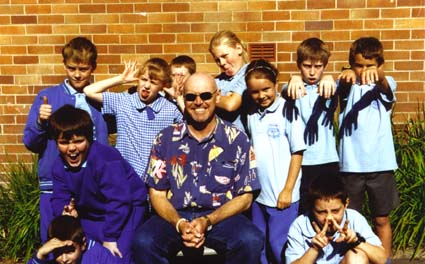 In any case, even after the initial glow faded I still had a whole new attitude with which to approach my work and, more significantly, the sentient beings with whom I do that work. I've often heard people during discussion groups talking about the difficulties they have to endure with their workmates and I've thought it interesting that I've never had such problems. I've always gotten on well with my colleagues. It was some time before it dawned on me that the kids in my class are the ones I work with. Those of us in relationships know the significance of "Two berserk minds instead of one." Well you should try twenty-four instead of one, especially when twenty-three of them are as spectacularly berserk, with all due respect, as the average child's.
This is the first year I have gone into my teaching situation with the very specific intention of planting positive karmic seeds in my own mind stream, by diligently keeping my Bodhisattva vows. I've begun keeping a vow book as taught by Geshe Michael Roach so there's no escape now, other than spineless retreat. This year I not only have twenty-three young minds in my hands, to improve and help grow, I also have my own. I find most of my dealings with my peers to be simple and uncomplicated these days. There are many reasons for this; the superficial nature and brevity of these dealings are just two. But my dealings with kids! They become so complex so quickly that I couldn't wish for a better arena in which to practice Dharma.
The story continues with the tale of Randle, a youngster with a truly berserk mind which would try the patience of a saint. You can read how Thubten Chopel and Randle learnt to cope with each other in the September issue of Mandala.