News/Media

*If a menu item has a submenu clicking once will expand the menu clicking twice will open the page.

Study & Practice

*If a menu item has a submenu clicking once will expand the menu clicking twice will open the page.

Projects

*If a menu item has a submenu clicking once will expand the menu clicking twice will open the page.

FPMT

Each one of us is responsible for all other living beings' happiness besides our own. As a result, your loving kindness is the most wish fulfilling thing in life, more precious than anything else in the world. That makes for a most satisfying, fulfilling life.

Lama Zopa Rinpoche

*If a menu item has a submenu clicking once will expand the menu clicking twice will open the page.

Shop

The Foundation Store is FPMT's online shop and features a vast selection of Buddhist study and practice materials written or recommended by our lineage gurus. These items include homestudy programs, prayers and practices in PDF or eBook format, materials for children, and other resources to support practitioners.

Items displayed in the shop are made available for Dharma practice and educational purposes, and never for the purpose of profiting from their sale. Please read FPMT Foundation Store Policy Regarding Dharma Items for more information.
YOUR WORDS
Your Words is Mandala's section devoted to the writers among us. Send us poetry, creative writing, short essays or letters that are inspired by your Buddhist practice and under 1200 words.
Please send your submissions to: michael@fpmt.org
By Joseph Sestito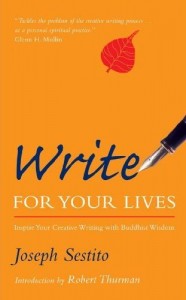 Writing, like any form of art before it materializes, begins as a psychology. Unfortunately (or perhaps fortunately!) for the artist, the writer is limited to what she knows, a unique blend of thoughts and feelings that have the power to do amazing things – to liberate and sanctify, to bind and damn. All too often, however, the writer is so overwhelmed by an outlook fixated on a finished product that she forgets or ignores that writing is a process, and thus loses any of the potential benefits from engaging in expression and creativity. This excerpt from Joseph Sestito's book, Write for Your Lives, seeks to introduce one technique that would-be writers can use to shift to a "process-orientation," a perspective that acknowledges outcomes but focuses on the actual process of working to achieve them. Here we feature Sestito's third (of five) technique for "Switching to a Process-Orientation."
3. Mark your time
Remember from previous chapters that you are writing or revising for a maximum of two hours on any given day. In accord with this, put your time-keeping device in a place where you can view it at all times during your session. Then, make a real effort to keep yourself "in" this two-hour block of time as much as possible, during your session. Only think about what you're writing about – not the outcome – either of the session or your long-term objective, such as your published book or its level of success in the marketplace, or your article or assignment. Whenever your thinking does go to something else, simply bring it back to the two hour block of time in which you are currently working. As far as your time-keeping device itself, a clock with a second hand and minute hand can be very effective for most writers. For those who are a bit less conventional, something like an egg timer can be very effective. You can set a typical egg timer for a maximum of 60 minutes. But if you are someone who has trouble focusing, you can set it 3 times for 40 minutes each, and take a brief break after the first two times that the timer goes off. Then, you only have to be "in" the process for a relatively short period of time, with each setting. And when the egg timer goes off the third time, your 120 minutes of writing or revising is completed for the day. The effect of these simple strategies can seem almost miraculous in terms of how much they can reduce your stress, and increase your focus and productivity….