News/Media

*If a menu item has a submenu clicking once will expand the menu clicking twice will open the page.

Study & Practice

*If a menu item has a submenu clicking once will expand the menu clicking twice will open the page.

Projects

*If a menu item has a submenu clicking once will expand the menu clicking twice will open the page.

FPMT

Faith alone never stops problems; understanding knowledge-wisdom always does. Lord Buddha himself said that belief in Buddha was dangerous; that instead of just believing in something, people should use their minds to try to discover their own true nature.

Lama Zopa Rinpoche

*If a menu item has a submenu clicking once will expand the menu clicking twice will open the page.

Shop

The Foundation Store is FPMT's online shop and features a vast selection of Buddhist study and practice materials written or recommended by our lineage gurus. These items include homestudy programs, prayers and practices in PDF or eBook format, materials for children, and other resources to support practitioners.

Items displayed in the shop are made available for Dharma practice and educational purposes, and never for the purpose of profiting from their sale. Please read FPMT Foundation Store Policy Regarding Dharma Items for more information.
Countering Violence in Colombia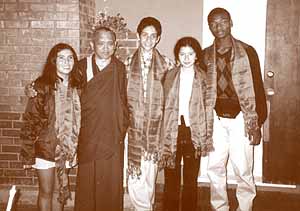 September-October 2000
Niños por la Paz – Children's Movement for Peace – began in Colombia in May, 1996, when different national and international organizations (Redepaz, UNICEF-Colombia, Office of the High Comissioner for Peace, and more than twenty other allies, including Red Cross, World Vision, Scouts), united with the purpose of elevating the rights of the children. The organization, comprised mainly of children and young people, began working with kids through schools, churches, districts and local community gathering halls. All the leaders are teenagers from some of the poorest, most dangerous parts of the country.
In October that year, the Children's Movement for Peace staged a special election known as the Children's Mandate for Peace and Rights. On the day of the election, an astonishing 2.7 million children voted for the rights they considered most important, the main votes going to the right to life, the right to peace, the right to love in the family, and the right to good treatment. And more than 4 million adults also voted for peace.
Children's Movement for Peace was nominated in both 1998 and 1999 for a Nobel Peace Prize. Now several of the children travel throughout their country and the world speaking out against the violence, despite the fact that some of the youth leaders have received death threats because of their work.
In Colombia, 10 people die on average every day from violence spawned by drug trafficking and guerilla warfare. Only 30 percent of the children complete ninth grade, and kids as young as 9 years old participate in the country's warfare. In an effort to redirect the youth to something more positive, the Children's Movement for Peace actively promotes peace by leading conflict resolution seminars, peer counseling, tree planting, and "anything that boosts self-esteem and creativity."
Lama Zopa Rinpoche and Ven. Roger Kunsang met the five teenagers chosen to represent the movement in their Nobel nomination last year in Los Angeles, where they visited local high schools and were being interviewed for a CNN documentary. "They stood up at quite a young age to go against this outrageously violent situation in Colombia," Ven. Roger said. "Their parents were shot in front of them, things like that. They stood up together and said, 'The parents of Colombia can't do anything about it, but can we still do something about it!' They made their own decision and came up with the idea about doing a demonstration on the right to live, and 2.7 million children came to vote for the right for peace. It was quite mind-blowing results.
"These teenagers from Colombia said no to revenge, no to anger, no to being forced to act just like these guerrillas and gangs. For some reason they chose to act differently. Some of them say their immediate reaction was anger, but they dealt with that quite quickly. If they reacted that way they'd be doing exactly the same as those who killed their relatives."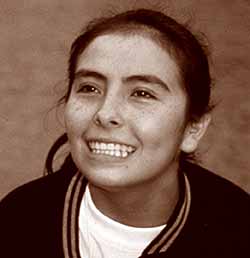 Mayerly Sanchez I was born in Bogotá and grew up in a small town with my family, and then we went back to the city. I'm now 16 years old.
Bogotá is generally thought of as a place where you can find a job, create a business, and pick up your life again after escaping the war in the country. But so many people are either escaping the war or the guerilla groups themselves that new gangs have started here in the city. People have so few resources and the parents work all day, so kids who are alone meet up with bad people and form these gangs.
I started working for peace around eight years ago when I saw other kids of 7 and 8 years old smoking cigarettes and joining gangs. I couldn't believe they were doing this. I visited an institution called World Vision that was helping poor children to explore possible solutions. I was 7 years old when I started this work.
So many young people were affected by gangs and violence, but our parents were busy with work and didn't have time to explore our problems or support us. The fact that we were seeing children of 7, 8 years old, smoking in the streets and trying to be part of gangs – this made us think about it. We didn't want to encourage the slogan that if you're part of a gang then you've got heart. We thought it was much better if you're doing something to help other people. We started to do it and now there are more possibilities.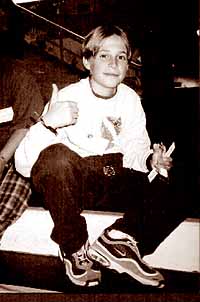 Nicholas Puerta I'm 16 years old. I am lucky because there has always been peace in my family. I started to notice that a lot of people in Colombia didn't have a peaceful life, mainly from watching TV. Most of the people in our country are poor and treat each other badly – gangs, family violence, even kids killing their parents. For example, a case came up today or yesterday of a boy who wanted to enter a Satanic cult in his neighborhood. They told him they had to kill his mother otherwise he's out of the group. So he took out his mother's eyes.
Generally education in Colombia is very bad because there is no money, so I go to Abraham Lincoln School, which is an American school with lots of foreign students. In it we've started a school for peace for the young people, in which we campaign against drugs, gangs and violence. We also promote conflict resolution as another method besides violence. When we do conflict resolution we try to show reasons why people want to fight, we try to promote understanding of people's motivations; we also discuss solutions.
Mayerly: Around four years ago the violence was very strong, really unbelievable. There was a fight between the gangs, and while one of my friends was watching this fight, he was killed. He was part of our peaceful movement and we were very shocked. It was especially hard for me and for some of our close friends.
At that time, UNICEF sent a letter asking for a representative from World Vision who could be part of a new organization, the Children's Movement for Peace. Perhaps they chose me because I was the youngest but very involved. In any case I felt very strongly about it because of my friend's death. Today it was him; tomorrow it could be me or any other person – my sister, my mother. We wanted this to stop soon. The Children's Movement for Peace was a great opportunity because it opened a door for our community, which is very poor. It gave us the chance for new options, new perspectives to find solutions and change the situation.
Nicholas: There is a lot of conflict in the countryside between the guerrilla groups, paramilitary groups and the government. The government has asked the U.S. government for help, to help with a war on drugs. Eighty percent of the world's cocaine supply comes from Colombia, and Colombia's murder rate is said to be the highest in the world. Sometimes, if you go out into the countryside, you can be kidnapped for a month, six months, a year, and held for ransom. If they don't get the money they may kill you or torture you. In the United States people are robbed at stores, and sometimes kids kill each other at school, but here we deal more with bombs, guerrillas and kidnapping.
Mayerly: In 1996, before the general political elections, we decided to hold a national election not only for the peace of Colombia but also for the rights of the children. We started to think about the rights that were being violated, especially 12 of them that were being violated constantly. On October 25 we held a vote for the peace of Colombia, as well as the rights of children. We had ballots all over the country. The registers from the different institutions counted 2,700,000 children that voted.
We were very surprised! We didn't expect such a number because we didn't have advertisements and we couldn't reach every corner of the country. Many people didn't really know that this election was going on and we never had the chance to explain, but anyway all these people voted.
As a result of this election, the Children's Movement for Peace was nominated for the Nobel Peace Prize and I was one of the group of five Colombian kids asked to represent us. In reality, though, this nomination was not really for myself – it was for all the children in Colombia. Maybe it was luck, maybe due thanks to God, but for some reason I was part of the group that went for the nomination of the Nobel Prize.
It is very difficult to express in words what we felt when we were nominated. First of all, we had been completely anonymous and then suddenly we were recognized on a national and international scale. Secondly, it meant a lot because Colombia is known in the world as a very violent place, and now it is becoming known as the place where a movement for peace of such magnitude was taking place. Never before was there a group so big nominated for a Nobel Peace Prize, and all of them children.
Nicholas: Empowering young people is important – the kids now are the people who will be in control when they're adults. If will be their country, so if we empower the youth now for peace, we can build a peaceful world. Peace is more powerful than fighting. You produce more through talking than through fighting.
Mayerly: People say Colombia is so violent, but at the same time there are children that really want peace. It was a very rich situation because many people here in Colombia could see us all of a sudden. They looked at what we were doing and they talked about the Nobel Prize nomination.
In reality the Children's Movement for Peace is made of all Colombian children, and there are active participants and passive participants. Active participants are 2,700,000. These are the children that voted for the mandate in 1996. The most important thing is for children to be able to express the happiness of being able to learn everyday, of being able to write and to make sure we can have these rights.
When I go to schools where the children are very poor and have almost nothing, and I am able to give just one pen to one child, I see how happy the child becomes. I see them smile because they have something to work with. I don't do this work myself – it is many children in Colombia who do this work.
Nicholas: This year we made contact with the Swedish foundation Life-Link. They monitor more than 300 schools in fifty countries all over the world, and thanks to the work done by the Schools of Peace, we were chosen to attend the annual convention promoted by Life-Link in Sweden. I also went to Holland in May of 1999, to the Hague Appeal for Peace Conference, where I gave a presentation.
We meet with UNICEF and the Children's Movement for Peace almost once a week to discuss potential programs both in school and out. We also discuss movements like the Manifesto 2000. It was written by the Nobel Peace prize laureates to start responsibility on a personal level. People can contribute to it by promoting non-violence, tolerance, dialogue, and reconciliation in their family, town, countries. They are collecting signatures, so if Colombia has the highest number of signatures, for example, the United Nations will give us extra help. All the children are working on that one.
Mayerly: When we work for peace, first of all we have to follow the example of God. When God was on the earth he always manifests as an example of peace. Secondly, it's illogical that we as brothers are killing each other. Third is that you have to live your life: first you have to be a child, then you have to be a young person, then you have to be an adult, then you have to be an old person. But when there is violence you have to grow up so fast and this is not good.
For example, when you want to go to the park you cannot go because you are afraid that there is a grenade or a mine and you are afraid that you cannot breathe the fresh air, you cannot go with your friends outside, which is how it should be. And finally, we have to explore the happiness and the love that everyone of us has in our hearts.
In the future I would like to finish my school, go to university and become a professional. I'd like to work and have a house for my family, because until the end of my life, until my last breath, I will continue to work for the peace of my country.