News/Media

*If a menu item has a submenu clicking once will expand the menu clicking twice will open the page.

Study & Practice

*If a menu item has a submenu clicking once will expand the menu clicking twice will open the page.

Projects

*If a menu item has a submenu clicking once will expand the menu clicking twice will open the page.

FPMT

May there be no war, disease or natural disaster such as fire, flood, earthquake and so forth. May everybody realize bodhichitta, the good heart, enjoy peace and happiness and as quickly as possible realize the wisdom directly perceiving emptiness, cease all their defilements and achieve enlightenment.

Lama Zopa Rinpoche

*If a menu item has a submenu clicking once will expand the menu clicking twice will open the page.

Shop

The Foundation Store is FPMT's online shop and features a vast selection of Buddhist study and practice materials written or recommended by our lineage gurus. These items include homestudy programs, prayers and practices in PDF or eBook format, materials for children, and other resources to support practitioners.

Items displayed in the shop are made available for Dharma practice and educational purposes, and never for the purpose of profiting from their sale. Please read FPMT Foundation Store Policy Regarding Dharma Items for more information.
Pilgrimage: The Power of Place
"'Meditating together at the Mahabodhi Stupa in Bodhgaya was like being part of a living prayer in honor of the Buddha's enlightenment.' This is how Barbara Donne, one of my fellow pilgrims, explains her experience," says Linda Gatter.
In March this year, our group of thirty traveled from England to northern India to visit the places where the Buddha actually walked – the holy sites that commemorate his life, enlightenment, and teaching. Jamyang Buddhist Centre, in London, organized the '12 Deeds Pilgrimage Tour,' and the best part – what made the pilgrimage a proper pilgrimage – was traveling with Geshe Tashi Tsering, Jamyang Centre's resident teacher par excellence. Geshe Tashi is wonderfully knowledgeable and compassionate as well as being accessible and fun to be with. Not only did he offer relevant, experiential teachings at every pilgrimage site, he demonstrated by his own actions – his kindness, patience, and focus of practice, day by day – the way to go about pilgrimage.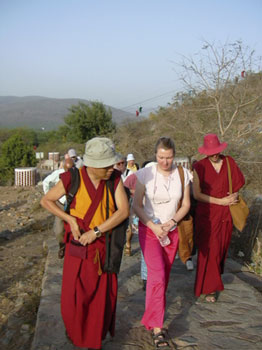 The Buddha advised his followers to visit the sites where the main 'deeds' in his life took place so that they could find inspiration for their own journeys to enlightenment. I went to India with the hope of finding the "Buddha" in Buddhism. I had already connected with the Buddha's teachings, but I had never felt personally connected with the Buddha himself – Shakyamuni, who more than 2,600 years ago lived a very human life in places that still exist today in India and Nepal. I wanted to sit on the ground, breathe the air, and feel the heat of the day in these places so that I could, hopefully, find the man who had demonstrated the path to ultimate compassion, wisdom, and freedom.
I also wanted to travel to the place of the Buddha's enlightenment, Bodhgaya in Bihar State, and the place where he passed away, Kushinagar in Uttar Pradesh State, because these are the locations of the Maitreya Project. I wanted to find out, on the ground and in person, what Maitreya Project is doing in India and why it matters.
India is, famously, a place of extremes. As Jane Sill put it, "India is a country of contrasts; of breathtaking beauty and unbearable poverty and degradation; of the very ancient jostling side by side with the vibrantly new. It's called life, and India is awash with it. Sacred cows stroll calmly across the fast lanes of motorways, a very large young bull rummages in the waste bin at the station while we wait for our train, monkeys play their part in the vast recycling, and little hairy pigs and scabby, gentle, brown-eyed dogs vie for their next meal along the pavements, gutters, and streets full of men, women, and children of all ages and from all backgrounds and religions. Bicycles crowded with passengers, both vertically and horizontally; brightly painted lorries bedecked with Christmas-style glitter and complete with their own shrines and images from the scriptures; fast Japanese cars and softly rolling bullock carts – all compete for space along the byways of India. There is room for all…."
https://fpmt.org/projects/fpmt/holy-objects-fund/maitreya/
This is an excerpt of a longer article published in Mandala.