News/Media

*If a menu item has a submenu clicking once will expand the menu clicking twice will open the page.

Study & Practice

*If a menu item has a submenu clicking once will expand the menu clicking twice will open the page.

Projects

*If a menu item has a submenu clicking once will expand the menu clicking twice will open the page.

FPMT

If you want to be loved, love others first.

Lama Zopa Rinpoche

*If a menu item has a submenu clicking once will expand the menu clicking twice will open the page.

Shop

The Foundation Store is FPMT's online shop and features a vast selection of Buddhist study and practice materials written or recommended by our lineage gurus. These items include homestudy programs, prayers and practices in PDF or eBook format, materials for children, and other resources to support practitioners.

Items displayed in the shop are made available for Dharma practice and educational purposes, and never for the purpose of profiting from their sale. Please read FPMT Foundation Store Policy Regarding Dharma Items for more information.
Extensive Offerings Around the World
Lama Zopa Rinpoche is known for making extensive offerings:
 "We are not aware of the limitless skies of benefits we achieve from the practice of offering, what we can achieve and enjoy from life to life. Even while you are in samsara, you enjoy good rebirths, wealth, and every happiness. Even just the samsaric perfections are amazing, without adding all those incredible realizations that allow us to offer deep benefit to sentient beings, liberating them from oceans of samsaric suffering and its cause, delusion and karma."
Find the most updated version of the Extensive Offering Practice published by FPMT Education Services.
Rinpoche often advises students whenever making offerings ourselves to visualise specific centers and homes around the world at which students make extensive daily offerings, in order to greatly increase our own offerings.  To support this practice we have collected photos from some of these centers and homes. Their offerings are a great service to us all, as by visualising these extensive offerings and then mentally offering them, we gain the merit of making extensive generosity – without needing the time and space required to set out hundreds of water bowls, lights, and so on!  So have a look at these photos in order to help with your visualisation as you offer light. 
As Amitabha Buddhist Center said in their July/August 2010 newsletter:
"Every day, whenever you perform the practice of offering, visualise all these offerings at ABC as clearly as you can, and include them in your offering cloud to Buddha, Dharma and Sangha and all your Gurus."
---
Extensive Offerings at Rinpoche's houses: 
Buddha Amitabha Pure Land, Washington, USA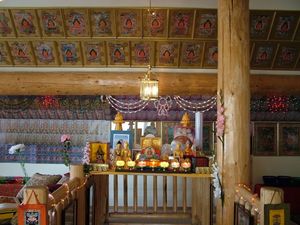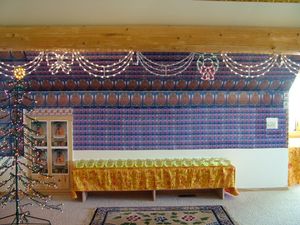 ---
Kachoe Dechen Ling, California, USA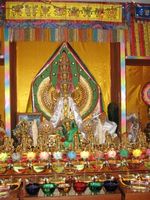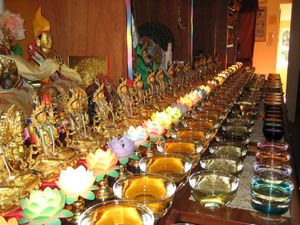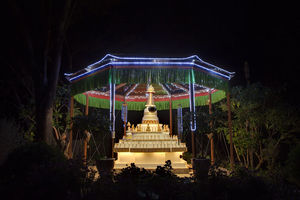 ---
Extensive Offerings at FPMT Centers: 
Amitabha Buddhist Center, Singapore.
From Sin Wee, Centre Manager:
"When Rinpoche was in India, he called Fred Cheong and talk about having many permanent light offerings in ABC. We have finished installing the lights and have informed our members about these light offerings and other offerings that we have in the centre for them to use in their own practices. At the same time, during the Most Secret Hayagriva retreat in Tushita, Rinpoche mentioned a few times about using these 100,000 light offerings and telling the retreatants to use them."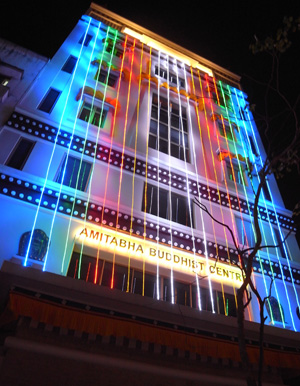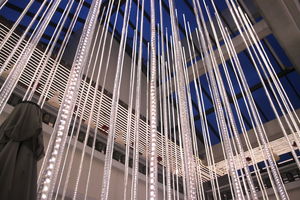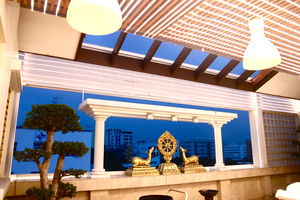 ---
Chokyi Gyaltsen Center, Malaysia
"We offer 40,000 lights every night in the Center from May 2010 until now. Rinpoche advised the Center to offer 100,000 lights, and as of March 2014 Chokyi Gyaltsen has completed the 100,000 lights (probably around 110,000)."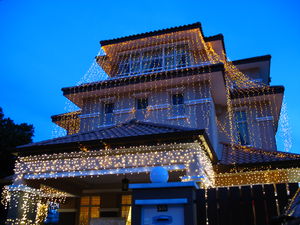 You can see more photos of these light offerings at the Center's blog
When doing your offering visualisation, also include in your offering all the other FPMT centers, projects and services which have offerings on their altars (Rinpoche says this in His prayers)
Students' homes:
Lillian Too, Malaysia.  
"Here are a few pictures of the different offerings at my various altars. Rinpoche always stresses how important it is to keep altars clean and filled with offerings. In my home I have perhaps nine main altars but the three most important are my protector altars in my protector room, my meditation altar for daily practices and my gompa altar which is public and where we hold pujas monthly."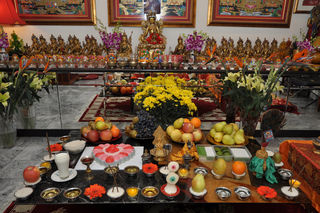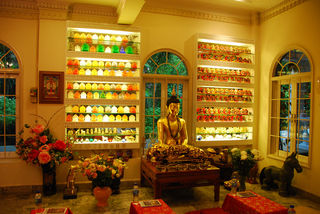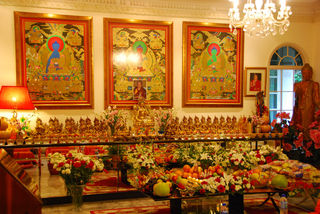 ---
Tara Melwani, Singapore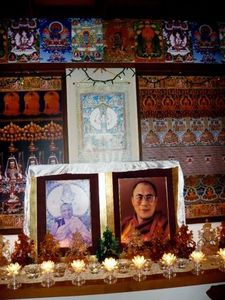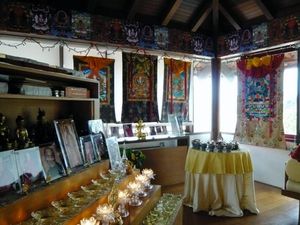 ---
Offering Practices from FPMT Education Services 
Extensive Offering Practice A4 Booklet 
The Extensive Offering Practice to accumulate the most extensive merit with lights and other offerings was composed by Lama Zopa Rinpoche. Also contained in this short booklet is the Light Offering Prayer that can be done when making an individual light offering and the benefits of making light offerings.
More elaborated Extensive Offering Practices which includes:
Offering Even One Flower to the Buddha
Extensive Offering Practice: A Practice to Accumulate the Most Extensive Merit with Lights and Other Offerings
Light Offering Prayer by Lama Atisha
The Benefits of Making Light Offerings
The Yoga of Offering Food: How to Make Eating the Cause of Enlightenment for Oneself and All Other Sentient Beings
Offering Food in Emptiness
How to Generate Merit by Offering Music
Appendix: Mantra for Making Offerings
Helpful Resources
One must practice with the bodhisattva attitude every day. People can't see your mind, what people see is a manifestation of your attitude in your actions of body and speech. Pay attention to your attitude all the time, guard it as if you are the police, or like a maid cares for a child, like a bodyguard, or like you are the guru and your mind is your disciple.
Lama Zopa Rinpoche