News/Media

*If a menu item has a submenu clicking once will expand the menu clicking twice will open the page.

Study & Practice

*If a menu item has a submenu clicking once will expand the menu clicking twice will open the page.

Projects

*If a menu item has a submenu clicking once will expand the menu clicking twice will open the page.

FPMT

Our grabbing ego made this body manifest, come out. However, instead of looking at it negatively, we should regard it as precious. We know that our body is complicated, but from the Dharma point of view, instead of putting ourselves down with self-pity, we should appreciate and take advantage of it. We should use it in a good way.

Lama Thubten Yeshe

*If a menu item has a submenu clicking once will expand the menu clicking twice will open the page.

Shop

The Foundation Store is FPMT's online shop and features a vast selection of Buddhist study and practice materials written or recommended by our lineage gurus. These items include homestudy programs, prayers and practices in PDF or eBook format, materials for children, and other resources to support practitioners.

Items displayed in the shop are made available for Dharma practice and educational purposes, and never for the purpose of profiting from their sale. Please read FPMT Foundation Store Policy Regarding Dharma Items for more information.
FPMT Centers, Projects and Services in the United States
Telephone Code for International Calls: 1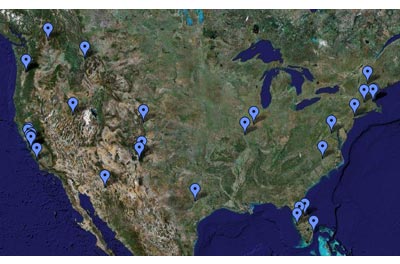 Corrections to your center listing can be made by contacting Center Services.
California | Colorado | Florida | Massachusetts | Missouri | Montana | Nevada | Nevada | New Mexico
New York | North Carolina | Oregon | Texas | Vermont | Virginia | Washington
California

---

Gyalwa Gyatso (Ocean of Compassion) Buddhist Center
1550 La Pradera Dr
Campbell, CA 95008-1547
Tel: (408) 866 5056
info@oceanofcompassion.org
Director Kim Nguyen

Gonpo Ludup Study Group
Orange County & Long Beach, CA
Tel: (714) 306 5987
gonpo.ludup@gmail.com
Coordinator Vanessa Nguyen

Land of Calm Abiding
PO Box 1778
Cambria, CA 93428
Tel: (805) 395 4145
director@landofcalmabiding.org
Director Ven Namgyal

Land of Medicine Buddha
5800 Prescott Road
Soquel CA 95073
Tel: (831) 462 8383
lmb@medicinebuddha.org

Tara Home
5800 Prescott Road
Soquel, CA 95073
Tel: (831) 588 5850
info@tarahome.org
Coordinator Alicia Kennedy

Tara Redwood School
5810 Prescott Rd
Soquel, CA 95073
Tel/Fax: (831) 462 9632
office@tararedwoodschool.org
President Pam Cayton

Tse Chen Ling
300 – 302 Jules Avenue
San Francisco
CA 94112
Tel: (415) 686 8776
office@tsechenling.org
Director Ven. Carol Corradi

Vajrapani Institute
PO Box 2130
Boulder Creek CA 95006
Tel: (800) 531 4001
vajrapani@vajrapani.org
Director Joe Monahan

Colorado

---

Lama Yeshe House
PO Box 221605
2080 S Holly Street
Denver, CO 80222
Tel: (720) 551 7647
info@lamayeshehouse.org
Acting Director Heather Fox

Florida

---

Thubten Kunga Center
201 SE 15th Terrace, Suite 206
Deerfield Beach, FL 33441
Tel: (954) 421 6224
info@thubtenkungaling.org
Director Nicole Zito

Massachusetts

---

Kurukulla Center
68 Magoun Ave
Medford, MA 02155
Tel: (617) 624 0177
info@kurukulla.org
Director Sean Gonzalez

Lama Yeshe Wisdom Archive
PO Box 636
Lincoln, MA 01773
Tel: (781) 259 4466
nick@LamaYeshe.com
Director Nicholas Ribush

Wisdom Publications Inc
199 Elm Street
Somerville MA 02144-3129
Tel: (617) 776 7416
Sales USA Tel: (800) 272 4050
info@wisdompubs.org
Director Daniel Aitken

Montana

---

Osel Shen Phen Ling
PO Box 5776
Missoula MT 59806
Tel: (406) 543-2207
oselshenphenling@gmail.com
Director Bill Pfeiffer

Nevada

---

Dharmakaya Center
6165 Ridgeview Court #G
Reno, NV 89519
Tel: (775) 232 8067
trey@dharmakayacenter.com
Director Trey Ligon

New Mexico

---

Thubten Norbu Ling
Tibetan Buddhist Center
1807 Second Street, #35
Santa Fe, NM 87505
Tel: (505) 660 7056
info@tnlsf.org
Director Steve Kopelman

Ksitigarbha Tibetan Buddhist Center
525B Salazar Road
Taos
Tel: (575) 779 0139
ktbc@taosnet.com
Director Paymaneh Ghaffari

Mailing Address:
PO Box 1434
Taos, NM 87571

New York

---

Shantideva Center
432 6th Avenue
Brooklyn, NY 11215
Tel: (917) 909 0410
info@shantidevanyc.org
Director Jennifer Kim

North Carolina

---

Kadampa Center
5412 Etta Burke Court
Raleigh, NC 27606
Tel: (919) 859 3433
info@kadampa-center.org
Director Robbie Watkins

Oregon

---

Maitripa College
1119 SE Market St.
Portland, OR 97214
Tel: (503) 235 2477
info@maitripa.org
Director Yangsi Rinpoche

Texas

---

Land of Compassion and Wisdom Study Group
mailing address:
PO Box 9262,
Austin, TX 78766
Tel: (512) 921 6902
austin.fpmt@gmail.com
Coordinator Robert Baptist

Vermont

---

Machig Labdron Study Group
Mailing address:
416 Higbee Road,
Charlotte, Vermont 05445
Tel: (802) 730 5010
Coord@machiglabdron.org
Coordinator David Hill

Milarepa Center
1344 US Route 5 South
PO Box 51
Barnet, Vermont 05821
Tel: (802) 633 4136
milarepa@milarepacenter.org
Director Dawn Holtz

Virginia

---

Guhyasamaja Center
Mailing address:
PO Box 1511
Centreville, VA 20122
Tel: (703) 774 9692
director@guhyasamaja.org
Director Lorne Ladner

Washington

---

Pamtingpa Center
P.O. Box 182, 411 Western Ave,
Tonasket, WA 98855.
Tel: (509) 486 1021
pamtingpa@gmail.com
Director Kim Jacobs
Look at modern society. Many people put themselves down; that's their worst problem. You can see this everywhere in the world; people put limitations on themselves, on their own reality.
Lama Thubten Yeshe