News / Media

*If a menu item has a submenu clicking once will expand the menu clicking twice will open the page.

Education

*If a menu item has a submenu clicking once will expand the menu clicking twice will open the page.

Projects

*If a menu item has a submenu clicking once will expand the menu clicking twice will open the page.

FPMT

No matter whether you are a believer or a non-believer, religious or not religious, a Christian, Hindu, or a scientist, black or white, an Easterner or a Westerner, the most important thing to know is your own mind and how it works.

Lama Thubten Yeshe

*If a menu item has a submenu clicking once will expand the menu clicking twice will open the page.

Shop

The Foundation Store is FPMT's online shop and features a vast selection of Buddhist study and practice materials written or recommended by our lineage gurus. These items include homestudy programs, prayers and practices in PDF or eBook format, materials for children, and other resources to support practitioners.

Items displayed in the shop are made available for Dharma practice and educational purposes, and never for the purpose of profiting from their sale. Please read FPMT Foundation Store Policy Regarding Dharma Items for more information.
International Office News
August 2018
Lama Zopa Rinpoche, Washington State, USA, June 2018. Photo by Ven. Lobsang Sherab
Have this translated into your native language by using our convenient translation facility located on the right-hand side of the page. French and Spanish speakers will find the FPMT International Office News translated each month in the "Bienvenue" and "Bienvenidos" tabs on the FPMT homepage!
---
Lama Zopa Rinpoche News:
Schedule
Lama Zopa Rinpoche is teaching at Kurukulla Center, USA: watch live! See Lama Zopa Rinpoche's schedule.
Enjoy livestreams of Rinpoche's current teachings and recordings of recent teachings via Rinpoche Available Now!
Lama Zopa Rinpoche in front of the Amitabha Buddha statue, Washington State, USA, July 2018. Photo by Ven. Lobsang Sherab.
Advice
Lama Zopa Rinpoche recently advised us all to have this image of Lama Atisha's stupa in our home (and in every FPMT center, project and service). Rinpoche said: "This image is so important to protect from mental pollution." Download it free from the FPMT Foundation Store.
Find this advice (under Holy Objects), together with a wide range of advice from Lama Zopa Rinpoche on Rinpoche's Advice page.
New Book by Lama Zopa Rinpoche: The Four Noble Truths
The Buddha's teachings on the four noble truths are essential to our understanding and practice of Buddhism. Lama Zopa Rinpoche provides clear instruction on this fundamental teaching in his new book The Four Noble Truths: A Guide to Everyday Life, just published by Wisdom Publications. Read an excerpt. The Four Noble Truths is available for purchase from the FPMT Foundation Store.
The Benefits of Reciting Amitabha's Name Every Day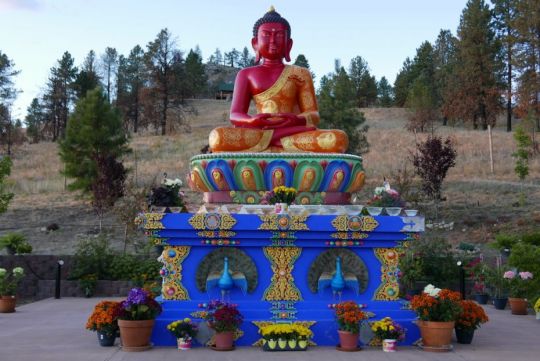 The Amitabha statue and flower offerings at Buddha Amitabha Pure Land, Washington, US, September 2016. Photo by Ven. Roger Kunsang.
Lama Zopa Rinpoche had a sign placed in front of the large Amitabha statue at Buddha Amitabha Pure Land in Washington State, US. The sign read:
If you recite Amitabha's name every day, when you die you will go to the blissful realm of Amitabha like a rocket, without any obstacle. Read in full….
Subscribe to our FPMT news blog to get updates as soon as they are announced.
---
International Office News
108 Nyung Nä Retreats Completed for the Seventh Year
Participants in the 108 nyung nä retreat this year.
Please join us in joyfully acknowledging the completion of seven rounds of 108 nyung nä retreats at Institut Vajra Yogini (IVY), France. Lama Zopa Rinpoche sponsors ten people with food and accommodation for each round of this 108 nyung nä retreat at IVY. Support is also provided by IVY and kind private donors.
From mid November 2017 to the end of June 2018, 119 different participants completed 1,098 individual nyung näs. Ven. Charles Trebaol has kindly guided all seven rounds of retreats completed at IVY. We invite you to take a moment to rejoice in this dedication and leadership. Supporting others to complete 1,000 nyung näs retreats is one of Lama Zopa Rinpoche's Vast Visions for the FPMT organization.
Friends of FPMT
Join our international community of Friends, working to help us increase access to Dharma study and practice resources. All the while, you'll enjoy your own complimentary access to online courses, instant downloads, Mandala magazines, and ebooks. The Friends of FPMT program also sustains our ability to serve local FPMT communities, charitable projects, and more.
Foundation Store News
The FPMT Foundation Store e-News "How to Help Others at the Time of Death" is now available online. By providing the right support and the correct environment, it is possible to help others die peacefully and thus obtain a good rebirth. The Foundation Store e-News comes out every month, and is a good way to find out about new or essential materials.
New from Education Services
---
For Center, Project and Service Directors, SPCs, Board Members, Registered Teachers and Coordinators:
(This advice is specifically for those offering service in these roles.)
Recent Requests from Lama Zopa Rinpoche
Reminders of two requests which went out recently to you via the CPMT e-group:
Display Lama Atisha's Stupa:
Lama Zopa Rinpoche is requesting that every FPMT center, service and project must, must have this image of the Atisha stupa (this link is to the relevant page in the Affiliates Area, please log in before clicking on it). "This is so important – every FPMT center, project or service should have this in every Gompa [teaching hall]. It can be in the gompa, office, and in any rooms where the public come in. If the center has more than one level, there should be one copy on every level." (See image above.)
Practices For Elea Redel:
For August and September please arrange at the centers Medicine Buddha pujas and Vajrasattva practice, dedicated for Elea Redel, a long-time student who is in a lot of pain, to immediately recover and to have a most meaningful life and to achieve enlightenment quickly for sentient beings.
The UECW Pillar of Service: 16G Study Kit
Victoria Ewart, director of the international FPMT project, FDCW, says:
"I hope each director and SPC saw my email sent to the CPMT e-group last month, introducing the new 16G Study Kit. If you didn't get my email, or have questions, please don't hesitate to get in touch! I am keen to make it as easy as possible for you to connect with the 16 Guidelines as you work to fulfill the UECW Pillar of Service. FDCW's brand new website gives clear information about hosting our secular courses in your center. I will email you in more detail soon about how simple it is to do so."
---
FPMT World:
Rejoice!
Millions of Mani Mantras Recited
Ven Sonam, director of Rinchen Jangsem Ling, Malaysia, shares:
"We have just held our annual Mani Retreat – this year we had 318 participants and a total of 38,711,201 mantras recited."
Fruitful Foundation Service Seminar in the USA
Participants and facilitators, July 2018.
Milarepa Center in beautiful Vermont, USA, hosted a Foundation Service Seminar Retreat last month. Twelve participants from eight centers across the United States and Canada participated for five full days of sessions on skillfully offering service within the FPMT mandala. Graduates went back to their centers inspired! Congratulations and thanks to facilitators Drolkar McCallum and Sarah Brooks!
Feedback included:
It was "so helpful in seeing the big picture – it's really, really big!"
"I loved FSS and the mix of practice, lecture, and exercises with partners. What a joy it was to have skillful teachers and inspiring Dharma friends all working to implement Lama Zopa's vision for the FPMT mandala."
Opportunities to Offer Service in the FPMT Organization
Would you like to spend your days in a very meaningful way? Have a look at the regularly updated meritorious opportunities to offer service as a volunteer or as paid staff in FPMT centers, projects, and services around the world. Newly added: Kopan Monastery, Nepal needs administrative volunteers at their outreach group in Pokhara.
Impermanence at Work
Contact information for FPMT centers, projects, and services can be found in the FPMT Directory.
Chandrakirti Center, New Zealand
We welcome new spiritual program coordinator (SPC) – Jennifer Coyne
With grateful thanks to outgoing SPC – Amy Rayner
Khamlungpa Center, Mexico
We welcome new director – Santiago Solbes
With grateful thanks to outgoing director – Jessica Honegger
We welcome new spiritual program coordinator (SPC) – Ven. Norbu
With grateful thanks to outgoing SPC – Dimitri Limberopulos
Kunsang Yeshe Retreat Center, Australia
We welcome new spiritual program coordinator – Gill Mulholland
Tong-Nyi Nyingje Ling, Denmark
We welcome new director – Mikkel Bjelke Kristiansen
With grateful thanks to outgoing co-director – Martin Lyngby-Nielsen
---
If you received this from someone else, or unformatted, visit our subscribe page to receive this newsletter directly.
Whatever problem one experiences if one thinks about the benefits of problems and how they are beneficial for ones own life, to develop ones mind in compassion, to develop loving kindness, patience, wisdom, and all the positive qualities for the path to liberation. By thinking of the benefits one develops this precious quality, this most healthy positive way of thinking that brings happiness and that stops you from harming yourself and stops you from harming others.
Lama Zopa Rinpoche