International Office News
December 2019
Warm season's greetings to you, and our best wishes for peace, happiness, and joyous compassion through 2020 and beyond.

May all the holy wishes of His Holiness the Dalai Lama, Lama Thubten Yeshe, and Lama Zopa Rinpoche be fulfilled perfectly without delay.

We send our heartfelt thanks to each of you supporting the FPMT mission as students, staff, benefactors, and friends. We rejoice in the great beneficial efforts of the entire FPMT family.
Lama Zopa Rinpoche, Bangalore, India, December 2019. Photo by Ven Roger Kunsang.
"In the morning, do your practice. If possible your morning motivation should be: "I am working, sitting, sleeping, eating, doing my job, everything, to become Dharma." From that motivation, everything becomes Dharma. Everything should be done with Dharma, especially with bodhichitta. With bodhichitta then all your work becomes Dharma, the cause for enlightenment. Even if there's no actual bodhichitta, with the meditation on bodhichitta your life becomes oneness with Dharma. So no matter how difficult life is, you enjoy."
Lama Zopa Rinpoche
European Regional Meeting, November 2018
---
Lama Zopa Rinpoche and Rangjung Neljorma Khadro Namsel Drönme (Khadro-la), Kopan Monastery, Nepal, December 2019. Photo by Ven. Roger Kunsang.
Lama Zopa Rinpoche News:
We are working on scheduling the official long life puja offered to Lama Zopa Rinpoche on behalf of the entire FPMT organization will update everyone as soon as the date is clear. It will be within this Tibetan year.
The next scheduled teaching event with Rinpoche will be in March, in Australia. Find newly added teaching dates.
Recordings of Rinpoche's recent teachings are always available at Rinpoche Available Now.
Advice
Devotion and Compassion are the Best Puja
Lama Zopa Rinpoche and Khadro-la offering a khata at Boudha Stupa, Nepal, November 2019. Photo by Harald Weichhart.
Lama Zopa Rinpoche gave the following advice to those managing FPMT Dharma centers on what to do when experiencing difficulties.
"When your luck/controlling power is down, then obstacles come. (You are blamed for things even if you haven't done them.) To make life easy, it is very important to have pujas for protection performed. Otherwise, problems come one after another. For the center to receive help means that it needs the karma to receive help." Read in full …
Watch Kopan Monastery Celebrate Lama Zopa Rinpoche's Birthday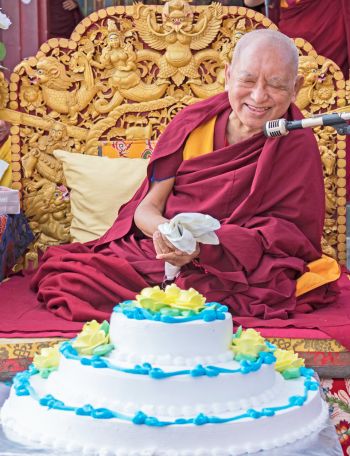 Lama Zopa Rinpoche during the birthday celebration, Kopan Monastery, December 2019. Photo by Ven. Lobsang Sherab.
Kopan Monastery, in Nepal, honored Lama Zopa Rinpoche by offering Rinpoche a birthday celebration on December 3. Read in full, and watch the video!
New Photos in Rinpoche's Album
Wonderful photos of Rinpoche's time in Russia are now up for you to enjoy!
Subscribe to our FPMT news blog to get regular news.
---
International Office News
Giving Where It's Most Needed
We need to make one more invite for generosity this year! A "Give Where Most Needed" contribution can help any FPMT project or activity in need of resources in the future. We're seeking help to strengthen this fund as we go into 2020. For those inspired and able to give, please make an offering here, before the year ends. The tremendous generosity we see each year truly makes it possible for our Dharma resources and compassionate projects and services to benefit beings around the world. Thank you!
Rejoicing in the Nepal Earthquake Support Fund
Amazingly, US$2,140,930.73 has been disbursed directly to those most in need from the Nepal Earthquake Support Fund! This fund was initiated following the 2015 earthquake. Grants were sent for basic necessities needed for survival and medical aid to many who lost everything in remote regions. Later on, grants were given to rebuild a number of monasteries and nunneries, as well as providing support to other groups offering aid. This fund is now closed. Tremendous thanks to each of you who made this substantial amount of critical aid possible—please rejoice with us! You can read more about the specific grants offered.
Complimentary Living in the Path Module
Lama Zopa Rinpoche blessing food, Elista, Kalmykia, Russia, May 2017. Photo by Ven. Lobsang Sherab.
In the complimentary Living in the Path module "Offering Food and Drink," Lama Zopa Rinpoche gives teachings on taking the essence of a perfect human life by making offerings of whatever food and drink we consume. Read more …
2020 Calendar Available Now
The Foundation Store is excited to announce that the Liberation Prison Project's 2020 digital calendar has just arrived and is available to order today! This is in PDF format, and includes lunar dates and information about practice days and auspicious and inauspicious days. The calendar was prepared by astrologer Ngawang Thartho based on the Tibetan Medical and Astrological Institute's calendar, with additional advice from Lama Zopa Rinpoche and Geshe Ngawang Dakpa. By purchasing this calendar, you are directly supporting the Liberation Prison Project, an FPMT project that works with Dharma students in prison.
Also, please check out our remainder inventory of meditation supplies and practices.
---
FPMT World:
Rejoice:
Opportunities to Offer Service in the FPMT Organization
Would you like to spend your days in a very meaningful way? Take a look at the regularly updated meritorious opportunities to offer service as a volunteer or as paid staff in FPMT centers, projects, and services around the world. Newly added: Shantideva Center, NY, USA needs a new director; Root Institute, Bodhgaya, India needs a new spiritual program coordinator; Jamyang Buddhist Center Leeds is still looking for a House Manager; and Potential Project is looking for a Sales Operations Specialist and a Client Services Manager.
Impermanence at Work
Contact information for the following, and all, FPMT centers, projects, and services can be found in the FPMT Directory.
Chagtong Chentong, Australia
We welcome new spiritual program coordinator (SPC) – Jennifer Kyne
With grateful thanks to outgoing SPC – Alison Fugslang
Choe Khor Sum Ling, India
We welcome new spiritual program coordinator (SPC) – Aban Madan
With grateful thanks to outgoing SPC – Malika Suri
Kadampa Center, USA
We welcome new resident geshe – Geshe Palden Sangpo
Lama Yeshe House, USA
We welcome new spiritual program coordinator (SPC) – Nerea Keesee Romano
With grateful thanks to outgoing SPC – Justin Jenkins
---
If you received this from someone else, or unformatted, visit our subscribe page to receive this newsletter directly.