News/Media

*If a menu item has a submenu clicking once will expand the menu clicking twice will open the page.

Study & Practice

*If a menu item has a submenu clicking once will expand the menu clicking twice will open the page.

Projects

*If a menu item has a submenu clicking once will expand the menu clicking twice will open the page.

FPMT

Happiness and suffering come from your own mind, not from outside. Your own mind is the cause of happiness; your own mind is the cause of suffering. To obtain happiness and pacify suffering, you have to work within your own mind.

Lama Zopa Rinpoche

*If a menu item has a submenu clicking once will expand the menu clicking twice will open the page.

Shop

The Foundation Store is FPMT's online shop and features a vast selection of Buddhist study and practice materials written or recommended by our lineage gurus. These items include homestudy programs, prayers and practices in PDF or eBook format, materials for children, and other resources to support practitioners.

Items displayed in the shop are made available for Dharma practice and educational purposes, and never for the purpose of profiting from their sale. Please read FPMT Foundation Store Policy Regarding Dharma Items for more information.
International Office News
February 2014
You can have this translated into your preferred language by using our
convenient translation facility located on the right-hand side of the page.
Lama Zopa Rinpoche at Nalanda, India giving the oral transmission for Lama Tsongkhapa's
Praise to Dependent Arising
, February 2014.
Photo by Ven. Roger Kunsang.
---
Lama Zopa Rinpoche's News:
Lama Zopa Rinpoche teaching on the
Heart Sutra
at Vulture's Peak, India as the sun sets, February 2014.
Photo by Ven. Roger Kunsang.
Enjoy daily news about Lama Zopa Rinpoche on the Foundation for the Preservation of Mahayana Tradition
New Advice:
Essence of Education Is Subduing Your Mind
Last month, Lama Zopa Rinpoche commented:
"The whole point of our FPMT education programs is not to produce 'sharp minds' but to 'subdue the mind.' Between an intelligent, sharp mind and a good heart, a good heart is the most important. Without a good heart it is only possible to become an arhat. Good heart means subduing the mind. Subduing the mind is the whole essence, as then enlightenment is possible. The ultimate purpose of life, the reason for living, why we eat and drink, sleep, work, and do listening, reflecting, and meditating is to free the numberless suffering sentient beings from each suffering realm and bring them not only to ultimate happiness, liberation, but to full enlightenment."
Find a full range of advice from Lama Zopa Rinpoche on Rinpoche's Advice page. Go to the Lama Yeshe Wisdom Archive.
His Holiness the Karmapa and Lama Zopa Rinpoche walking together from the Maitreya School to Root Institute, India, February 2014.
Photo by Ven. Roger Kunsang.
Rinpoche's Schedule
Please contact the hosts directly with any questions regarding the event. Subscribe to our RSS feed on Rinpoche's Schedule to receive updates automatically as soon as they are available.
April 19 – Vajrasattva initiation, Maitripa College, USA

May 3 – Teaching on 8 Verses of Mind Training, Kadampa Center, USA
May 4 – 18 Light of the Path retreat, Kadampa Center, USA
September 13 – 19 CPMT meeting, Bendigo, Australia
September 25 – October 23 Bodhicaryavatara and Rinjung Gyatsa retreat, The Great Stupa of Universal Compassion, Bendigo, Australia
---
International Office News:
Please Rejoice with Us: FPMT Annual Review 2013 Out Now!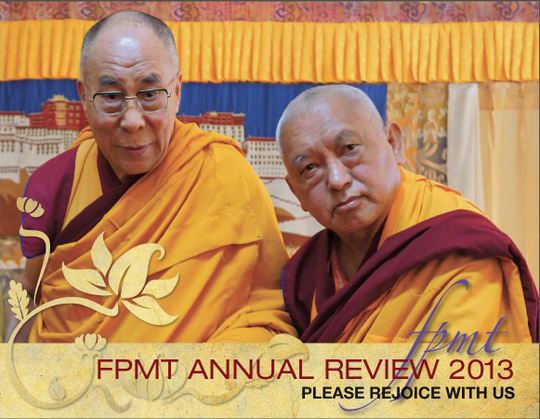 We are so happy to bring you your FPMT Annual Review 2013, entitled Please Rejoice with Us.
In this review you will find Lama Zopa Rinpoche's letter about the benefits of the work of the FPMT and offering service to the guru; the handing over of the land in Kushinagar, India to Maitreya Project; and many, many other achievements!
The digital version (as a PDF and an ezine) is available for you to read and download now!
We will mail copies to FPMT centers, projects, services and study groups as soon as it comes back from the printer.
News from Education Services
Benefits of Medicine Buddha Mantra
Compiled from various teachings by Lama Zopa Rinpoche, Benefits of Medicine Buddha Mantra and Practice details the many blessings associated with engaging in Medicine Buddha practice. FPMT Education Services is happy to offer this compilation for free.
New Basic Program Online Subject
A new Basic Program Online subject, Grounds and Paths of Secret Mantra, is available on the Online Learning Center. The course is based on the video recordings of the exceptionally precious teachings by Kirti Tsenshab Rinpoche on the subject. Instructions for the nyung nä practice are included as one of the subject completion retreat options.
Pujas to Be Offered on Losar for All Serving FPMT!
Offering gold to the Jowo Buddha in Tibet is just part of the Losar activites sponsored by the Puja Fund.
Photo courtesy of FPMT Charitable Projects.
Every year during Losar (Tibetan New Year and the 15 Days of Miracles) the Puja Fund sponsors an incredible array of pujas and offerings all over the world on the advice of Lama Zopa Rinpoche. This year these pujas will be offered from March 2-16. This is something amazing to rejoice in, to mentally offer and dedicate towards, and is also something you can participate in by donating any amount.
An example of the pujas performed by Sangha at monasteries include: recitation of the Prajñaparamita (three versions), Druk Chu Ma and Medicine Buddha puja. These pujas are offered by over 9,000 Sangha. Many more activities and offerings are sponsored over Losar, such as offering gold to the Jowo Buddha in Tibet, robes to the Buddha in Bodhgaya and offering saffron and new paint to the Boudhanath and Swayambhunath stupas in Nepal. Please rejoice!
When the pujas are performed, Sangha read extensive dedications prepared by Lama Zopa Rinpoche, and offer the merit to the long life of His Holiness the Dalai Lama, and to the removal of obstacles to FPMT's Dharma activities. Merit is also dedicated to FPMT students, benefactors of centers, projects and their families, to all who have passed away, and to the benefactors of the Puja Fund.
Merit Box Project
We have less than two months left to collect Merit Box donations for the 2014 Merit Box Project grants. Please make your donation now and help support this year's grants, which will give much-needed aid to centers, projects, services, study groups and initiatives that fulfill the mission of FPMT all over the world. Find out how to send in your donations.
News from Mandala Publications
You can receive Mandala blog posts daily, delivered directly to your email address or receive our content using an RSS reader or web-feed aggregator. Enjoy "FPMT News Around the World", "Lama Zopa Rinpoche News" or "Advice from Spiritual Friends," to receive the most up-to-date news from Lama Zopa Rinpoche and the entire FPMT community, as well as inspirational photographs and quotes from our teachers and guides.
Friends of FPMT
Sign up now to Friends of FPMT. Get connected with the international community, support the organization, and get lots of resources for your Dharma path. Learn more!
Ven. Roger Kunsang, Lama Zopa Rinpoche, Ven. Tendar and Bodhichitta the elephant at Root Institute, India, February 2014.
Photo by Ven. Trisha Labdron.
---
For Center, Project and Service Directors,
SPCs, Board Members, Registered Teachers
and Coordinators:
(This advice is specifically for those offering service in the roles listed above.)
Foundation Store – New Malas
We recently got a beautiful collection of malas. If your center has a wholesale account, you can enjoy them with a 15% discount. Check them out here!
---
FPMT World:
Rejoice!
Rinpoche's Advice to International Mahayana Institute Sangha
Ven. Chantal Carrerot, director of IMI, shares this from Lama Zopa Rinpoche:
"Even living in a monastery or nunnery where you do very extensive study, it is most important to learn about the four noble truths, the basis of Buddhism, both sutra and tantra. You can see that if your mind becomes more satisfied, more peaceful, if more happiness is growing, then this means you are practicing Dharma. But if your life becomes more unhappy, if there is more following delusions, not much renunciation, more following attachment, dissatisfaction is growing, less and less peace, then that is so much to do with the first principle of the path, renunciation. Whether someone is practicing Dharma or not you can understand from that: how much inner peace, happiness and renunciation. More renunciation, renouncing the eight worldly dharmas, more inner peace, happiness, means more Dharma practice, real Dharma practice."
Lama Zopa Rinpoche taught in IMI House in Sera Je Monastery, India to over 60 IMI monks and nuns who were attending the Jangchup Lamrim teachings with His Holiness the Dalai Lama, January 2014.
Photo by Ven. Thubten Kunsang.
Animal Liberation Sanctuary's New Home
From coordinators Phil Hunt and Tania Duratovic:
"The year began with the four-legged residents of the Animal Liberation Sanctuary of Kopan Monastery, Kathmandu, Nepal moving to their new living quarters on land nearby. The move took place over a couple of days with 48 goats and 2 sheep being led (or often the other way around!) by several workers from Kopan. The track is very steep and narrow in places, so we were quite anxious that the more compromised animals, like Dawa the three-legged sheep and Norbu with his partially amputated leg, may not make it. But they all arrived safely, although very exhausted, and set straight into munching on the grass and leaves. We look forward to them all having a long and healthy peaceful life there …" Read more.
Opportunities to Offer Service in FPMT
Please check out the regularly updated exciting opportunities to offer service as a volunteer or as paid staff in FPMT centers, projects and services around the world!
Tong-nyi Nying-je Ling, Denmark would like to appoint an In-Depth Buddhism registered resident teacher; Milarepa Center, USA has new work-study positions available.
Impermanence at Work
Closed Project and Study Group – with rejoicing and thanks for their great efforts
Tsa Tsa Studio, USA
Casa del Buddha della Medicina (probationary hospice service), Italy
Bengungyal Center, Mexico
We welcome new director – Martha Portillo
With grateful thanks to outgoing director – Victor Medina
FPMT Australia National Office
We welcome new (first!) education coordinator – Lyndy Abram
Gendun Drupa Centre, Switzerland
Route de Finettes 59
1920 Martigny
Tel: +41 79 550 8990
Ksitigarbha Tibetan Buddhist Center, USA
We welcome new co-directors – Susanne Pinkham and Paymaneh Ghaffari
With grateful thanks to outgoing director – Alex Sullivan
Nalanda Monastery, France
We welcome new spiritual program coordinator – Ven. Tendar
With grateful thanks to outgoing SPC – Ven. Yeshe Namdak
---
With love,
FPMT International Office
If you received this from someone else, or unformatted,
visit our subscribe page to receive this newsletter directly.
[It will be best] to include meditation practice and retreat requirements with the study of the subjects, so as to ensure students are given help integrating the three aspects of hearing, contemplation, and meditation.
Lama Zopa Rinpoche