FPMT International Office News
January 2012
If you received this from someone else, or unformatted, visit our subscribe page to receive this newsletter directly. You can have this translated into your preferred language by using our convenient translation facility located on the right-hand side of the page.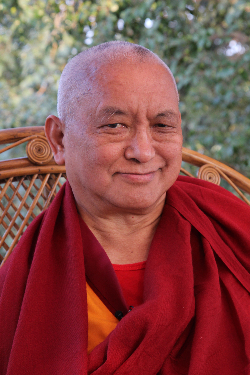 Lama Zopa Rinpoche, January 2012.
Photo by Ven. Roger Kunsang.
---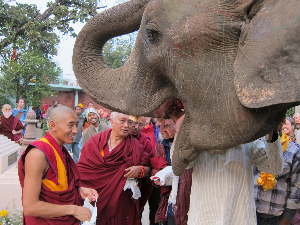 Lama Zopa Rinpoche blessing an elephant brought to meet Rinpoche at Root Institute, Bodhgaya, India, January 2012.
Photo by Ven. Roger Kunsang.
Lama Zopa Rinpoche's News:
Latest on Rinpoche's Health
Lama Zopa Rinpoche's recovery from the stroke is progressing slowly. Rinpoche is continuing with his therapy although it has been disrupted by the Kalachakra event and the busyness around that. Rinpoche is now trying to resume therapy but Rinpoche has the flu and so we may see some further delay.
Go to Rinpoche's Health – Updates and Practices for photos, more information and to subscribe to our RSS feed for updates.
Update on Rinpoche's Schedule
As Rinpoche needs to be able to continue focusing on continuing physical therapy, Rinpoche's program for this year has been postponed until 2013. This means that the Mani retreat in Mongolia, the Light of the Path retreat in the USA and the CPMT meeting in India have all been postponed till 2013. The Light of the Path retreat is now scheduled for September 2013.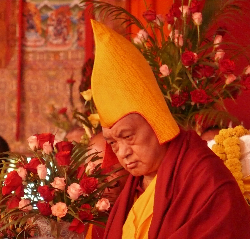 Lama Zopa Rinpoche receives a long life puja offered by Sera Je Monastery, January 2012.
Photo by Kalleen Mortenson.
Long Life Puja Offered
by Sera Je Monastery
Although Sera Je has requested for many years to offer a long life puja to Rinpoche, Rinpoche has not accepted until now. One reason they wanted to offer the puja was in appreciation for the incredible support Rinpoche has shown to Sera Je over the last 20 years.
Over 3,000 Sera Je monks attended the puja in Bodhgaya, India, preparing for three days before the actual puja. Over 4,000 people attended on the actual day.
The Jangtse Chöje (next in line to become the Gaden Tripa) attended, as well as the abbott of Sera Je, Khadro-la and many other lamas.
Lama Zopa Rinpoche and Ven. Roger Kunsang, Root Institute, Bodhgaya, India, January 2012.
Photo by Kalleen Mortenson.
During the puja some of the amazing ways that Rinpoche has supported Sera Je over the last 20 years were read aloud so that the monks could rejoice in and appreciate the activity. For example, over USD$3 million has been offered for the food for all the monks. (Read more about FPMT's charitable projects, which include the Sera Je Food Fund on fpmt.org.)
Rinpoche also asked Ven. Roger Kunsang to read out a condensed list of all the pujas that had been done for Rinpoche when he was sick, also so that the monks could rejoice.

"The puja was amazing, very moving," one attendee commented. "It really felt like the whole of Sera Je was appreciating Rinpoche."
New Advice from Lama Zopa Rinpoche
Benefits of Regular Sur Offering Practice
Sur offering is a practice which Lama Zopa Rinpoche advised FPMT centers, projects, services and study groups to do regularly. In December 2010, Rinpoche mentioned just a few of the benefits of doing Sur practice:
"[You will have] success to be born in a pure land. Also whatever work one is doing will be successful, will not have obstacles.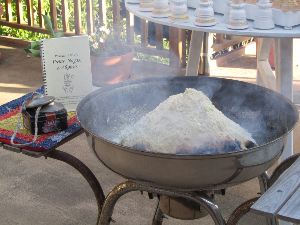 Lama Zopa Rinpoche uses about 2 kilograms [4.5 pounds] of flour each night for Sur offering.


So for centers this is exactly what they need, to have all success and not have obstacles.
Then, if possible, the offering can be big*.
Trijang Rinpoche once mentioned that someone who did Sur practice and didn't recite the mantra to actually make the offering to the pretas saw the pretas very close by, smelling the offering, but not able to eat it. So it is very important to recite the offering mantra, so that pretas are able to receive the offering."
*The Sur offering which is made for Rinpoche to offer is huge. Rinpoche uses about 2 kilograms [4.5 pounds] of flour each night; it may be one of the biggest Sur offerings in the world!
Rinpoche's commentary on Sur practice and the actual practice text itself is available on Lama Zopa Rinpoche's Advice page.
Go to Rinpoche's Advice page and to the Lama Yeshe Wisdom Archive for lots more advice from Lama Zopa Rinpoche.
Life on the Road with Lama Zopa Rinpoche – A Sea of Red
Read Ven. Roger Kunsang's latest post from his very insightful blog, Life on the Road with Lama Zopa Rinpoche, and subscribe to its RSS feed to receive updates as they're sent. The below is excerpted from Ven. Roger's blog sent from Bodhgaya, India on January 8, 2012:
"They are saying that 400,000 or more people are at the Kalachakra initiation, among them thousands of monks and nuns. It's a spectacular sea of red when you look out over the crowd.
When the teaching is over, the crowd surge is massive. The likes of a tsunami! We try to form a circle around Rinpoche so he is not knocked over or swept away! It is a real struggle and reminds me of a rough game of rugby.
Lama Zopa Rinpoche with Richard Gere and Ven. Sangpo in Bodhgaya, India, January 2012.
Photo by Ven. Roger Kunsang.
Richard Gere is staying with us and comes with us in the car. The police are more than happy to provide an escort for him, so we are escorted back and forth to the teachings. Richard is really enjoying his stay at Root Institute – 'an island of peace' he calls it, at this time in Bodhgaya."
We rejoice that FPMT was able to be one of the sponsors of the Kalachakra initiation and the long life puja offered to His Holiness the Dalai Lama following the initiation.
---
International Office News:
Education Services
The first French Basic Program Final Exam, at Centre Kalachakra in Paris.
Program News:
Discovering Buddhism: We have appointed our first Discovering Buddhism assessor for French-speaking students, In-Depth Buddhism FPMT registered teacher, Sixte Vinçotte.
Basic Program: After three months of intensive (and challenging and enjoyable) review, our first French Basic Program Final Exam was a success for all candidates: all passed, eight at Centre Kalachakra in Paris and seven at Institut Vajra Yogini. Some of them will complete their three-month lam-rim retreat requirement soon, and we look forward to the first graduation hopefully later this year! We are grateful to these students, their teachers and the tutors, who all worked very hard to make this happen.
Materials News:
NEW! Ten Non-virtues & Their Results in short outline form and longer form with teachings from Lama Zopa Rinpoche.
News from Mandala Publications
Mandala's January-March 2012 is now available! This issue's online content is live on the Mandala website and features many offerings including a teaching by Lama Zopa Rinpoche on the benefits of a good heart; an interview with Compassion in Education author Pam Cayton; and a photo gallery of new pictures from FPMT centers around the world. The Mandala website also now features a short list of recent articles and blogs posted to the site. Please visit often to see what is new! In the print magazine, feature stories include a look at Universal Wisdom Education's Gathering 2011; a tribute to Merry Colony and FPMT Education Services; and first-hand accounts of Khensur Rinpoche Lama Lhundrup Rigsel's last days and hours.
Friends of FPMT
Become a Friend of FPMT and stay connected to all the FPMT has to offer including the FPMT Online Learning Center, Mandala Publications and many complimentary resources offered at the free FPMT Membership level.
The Foundation Store
Read the latest Foundation Store newsletter for new product arrivals and monthly specials.
For Center, Project and Service Directors,
SPCs, Teachers and Board Members
(This advice is specifically for those offering service in the roles listed above.)
Plan Ahead NOW For Your Interpreter Needs
LRZTP 6 begins in September 2012, so graduates from the two-year classroom part of the program will be ready to serve as trainee interpreters in YOUR center from October 2014.
Directors and SPCs, please think ahead: Will your center need a new interpreter in two years' time? For example, do you plan to request a resident geshe? If so, you will need an interpreter! Or if you have an interpreter already, will they need a break, causing your center to need a new interpreter by then?
If so, please plan either to select a suitable student to study in LRZTP 6; or contact LRZTP 6's director to offer to sponsor a candidate.
---
FPMT World:
News from Lotsawa Rinchen Zangpo Translator Programme
Application forms for LZRTP 6 will be available soon!
NB: LRZTP 6 will have a few places available for students wishing to follow the two-year classroom program only, without committing to becoming an FPMT interpreter.
LRZTP teacher Teresa Bianca will offer a short intensive Tibetan language course in Dharamsala, India from 16 April to 15 June 2012.
New Video about Lama Lhundrup
Khensur Rinpoche Lama Lhundrup Rigsel: A Hidden Yogi
, a short video biography for
Bodhi Television
, is now available freely online. Of particular note is the rare footage from the cremation itself, a precious opportunity for students who were unable to attend the ceremonies to witness the final tributes to a beloved teacher and contemporary master.
Opportunities to Offer Service in FPMT
Please check out these and other exciting opportunities to offer service in FPMT centers, projects and services around the world!
Milarepa Center, USA is looking for a facilities manager (and has volunteer positions available also); O.Sel.Ling Retreat Centre, Spain is looking for a spiritual program coordinator; and many centers offer excellent volunteer work-study positions.
Impermanence at Work
Centro Nagarjuna de Granada, Spain
We welcome new director – Lola Parra
With grateful thanks to outgoing director – Ven. Gloria Mallol
Ganden Buddhist Meditation Centre, Latvia
We welcome new director – Agnese Bisofa
With grateful thanks to outgoing director – Zaiga Kazaka
Golden Light Sutra Center, Mongolia
We welcome new director – Gordon Parlin
With grateful thanks to outgoing director – Roy Fraser
Khedrub Je Study Group, UK
KhedrubJeStudyGroup@hotmail.co.uk
Coordinator Mary Currell
Land of Calm Abiding, USA
We welcome new co-directors – Ven. Nyingje and Catherine Slocock
With grateful thanks to outgoing director – Chuck Walbridge
Lotsawa Rinchen Zangpo Translator Programme, India
lrztp6@yahoo.in
Nalanda Monastery, France
With grateful thanks to outgoing resident geshe – Geshe Sonam
O.Sel.Ling Centro de Retiros, Spain
We welcome new SPC – Esperanza Vides
Rinchen Jangsem Ling, Malaysia
We welcome new SPC – Ken Chuah

Tushita Retreat Centre, Spain
We welcome new director – Isabel Arocena
With gratitude and happy memories of the previous director who sadly died late last year – Kiko Segura
---
With love,
FPMT International Office