International Office News
January 2019
Lama Zopa Rinpoche with Tenzin Phuntsok Rinpoche, Bodhgaya, India, December 2018. Photo by Ven. Roger Kunsang.
Have this translated into your native language by using our convenient translation facility located on the right-hand side of the page. French and Spanish speakers will find the FPMT International Office News translated each month in the "Bienvenue" and "Bienvenidos" tabs on the FPMT homepage!
---
Lama Zopa Rinpoche News:
Lama Zopa Rinpoche teaching in Germany, November 2018. Photo by Harald Weichhart.
Find new additions to Rinpoche's teaching schedule for 2019: Latvia, Spain, Singapore, Russia, and India.
You can always find recordings of Rinpoche's recent teachings at Rinpoche Available Now.
Advice
The First Kopan Meditation Course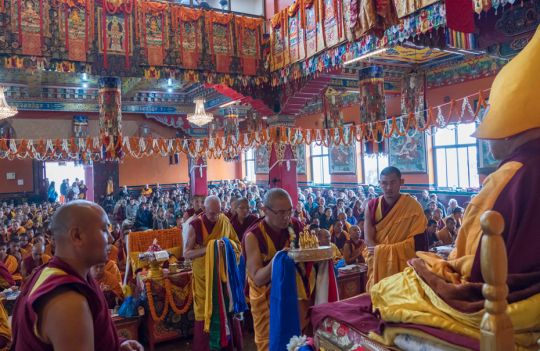 Long life puja for Lama Zopa Rinpoche at the conclusion of the 51st Kopan Meditation Course, Kopan Monastery, Nepal, December 2018. Photo by Ven. Lobsang Sherab.
The story of the first Kopan Meditation Course at Kopan Monastery in Nepal:

Zina was still eager for Lama Yeshe to teach a course, but he refused. She turned to Zopa Rinpoche. "She pestered me relentlessly," Rinpoche recalled. "She kept on asking until I began to feel encouraged in my heart and developed a strong wish to do it. I asked Lama Yeshe what he thought. He replied, 'Well, if you think it will be beneficial, then you do.' So, with Lama's blessing, I agreed," said Zopa Rinpoche. Read in full …
How to Benefit a Cat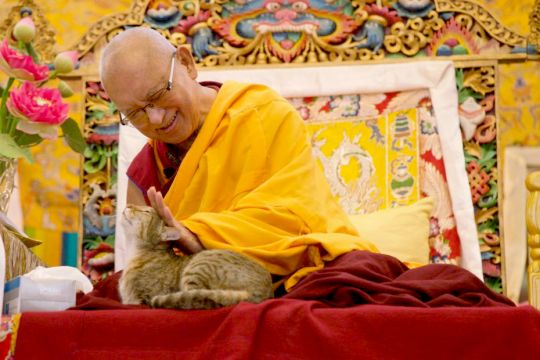 Lama Zopa Rinpoche petting Shamatha the cat who had jumped up onto Rinpoche's throne, Kopan Monastery, Kathmandu, Nepal, December 2018. Photo by Bill Kane.
Lama Zopa Rinpoche recently gave advice to a student who had asked how to benefit a very sick twenty-one year old cat. Read the advice for ideas on how to benefit your own pets.
Subscribe to our FPMT news blog to get updates as soon as they are announced.
---
International Office News
Merit Box Collection Time Is Here
Merit Box practitioners and coordinators – the time to turn in your accumulated Merit Box offerings is now! Offerings turned in between now and March 31 will be awarded as grants to support Dharma projects in need of help. For over 17 years, Merit Box funds have been disbursed to worthy projects such as building repairs at centers, retreat sponsorships, creating new stupas and statues, Dharma book publications, and more. You can submit your offerings online here.
Want to become a Merit Box practitioner? Learn more …
Lama Zopa Rinpoche with Ribur Rinpoche, Bodhgaya, India, December 2018. Photo by Ven. Roger Kunsang.
Order the 2019 LPP Calendar from the Foundation Store!
The Liberation Prison Project's 2019 calendar has just arrived and is available to order today. Save on shipping by ordering the PDF format. By purchasing this calendar, you are directly supporting the Liberation Prison Project, an international FPMT project that works with Dharma students in prison.
---
For Center, Project and Service Directors, SPCs, Board Members, Registered Teachers and Coordinators:
(This advice is specifically for those offering service in these roles.)
Lama Zopa Rinpoche's Advice for Those in the FPMT Organization
Lama Zopa Rinpoche with participants in the FPMT India National Meeting, Root Institute, Bodhgaya, India, January 2019. Photo by Ven. Roger Kunsang.
Lama Zopa Rinpoche met with participants in the FPMT India National Meeting earlier this month. Rinpoche made these key points:
"[If] People come to FPMT centers and they see that people there are more kind to others; not proud, not arrogant, not angry, not that old personality from beginningless rebirth, not that, [but showing] Dharma qualities: good hearted, kind, the same to uneducated people, educated people, young, old, everyone, like His Holiness has respect to everybody, educated, uneducated, poor, rich – like that. For FPMT that's very important, then people are so happy to come back again and again to the center.
"In the FPMT organization we have to pay attention to daily practice – that is so important. Your own daily practice – to be kind to sentient beings – that's what lamrim teaches all the time. Respect sentient beings, be kind. Be sincerely polite, not politically polite, but polite from the heart, by thinking of the kindness of others. That brings happiness to others, just in daily life, brings happiness to so many people in the heart."
Practices to be Done on Losar
Losar (Tibetan New Year) falls on February 5, 2019. Rinpoche's advice on what centers, projects, and services should do on Losar is in the Practices to be Done on Special Days part of the Collected Advice from Lama Zopa Rinpoche section of the Affiliates Area.
Rinpoche on the FPMT Five Pillars of Service
During the 2018 European Regional Meeting, Lama Zopa Rinpoche was asked about offering the 5 Pillars – read Rinpoche's response in The Five Pillars of Service section of the Affiliates Area!
Lama Zopa Rinpoche Gives New Advice for FPMT Hospice Services
Rinpoche recently advised all FPMT hospice services that they should display thangkas or posters of different pure lands.
Find all Rinpoche's advice for hospice services in the Centers, Projects, and Services section of the Affiliates Area.
Merit Box Grant Application Time
Applications for 2019 Merit Box grants are being accepted between now and March 31. As explained in the Fundraising Guidelines section of the Affiliates Area, the Merit Box is one of the ways in which International Office facilitates your center, project or service's fundraising goals.
Also see above – Merit Box collection time is also now!
---
FPMT World:
The Path to Happiness Is Priceless … and Reduced!
FPMT international project, The Foundation for Developing Compassion and Wisdom (FDCW) are offering their unique online course Finding Your Happy: An online 30 day journey into 16 Guidelines for Life for half price until the end of January. This course is a 30-day journey toward a new level of understanding of yourself, and others, through the 16 Guidelines. By thinking about universal principles which we encounter every day, noticing our patterns of thinking, speaking and acting, and getting to grips with how our minds work through mindfulness and self-inquiry, we can find lasting happiness. Get more information, and sign up to the course.
Opportunities to Offer Service in the FPMT Organization
Would you like to spend your days in a very meaningful way? Have a look at the regularly updated meritorious opportunities to offer service as a volunteer or as paid staff in FPMT centers, projects, and services around the world. Newly added: Root Institute, India is looking for a spiritual program coordinator; and Kopan Monastery is looking for qualified school teachers.
Impermanence at Work
Contact information for FPMT centers, projects, and services can be found in the FPMT Directory.
Centro Tara Cittamani, Italy
With grateful thanks to outgoing resident geshe, Geshe Dhondup Tsering
Hospice of Mother Tara, Australia, has changed its name to Tara Meditation Center

Istituto Lama Tsong Khapa, Italy
We welcome new director – Michele Cernuto
With grateful thanks to outgoing director – Filippo Scianna
Kalachakra Center, France
We welcome new spiritual program coordinator (SPC) – Arnaud Berger
With grateful thanks to outgoing SPC – Ven. Deunyeu
Tara Bianca Center, Italy
We welcome new director – Nicola Malerba
With grateful thanks to outgoing director – Stefano Antichi
Tara Meditation Center, Australia
We welcome new co-spiritual program coordinators – Glynis Jeffrey and Jodie Berryman
With grateful thanks to outgoing SPC – Fran Steele
---
If you received this from someone else, or unformatted, visit our subscribe page to receive this newsletter directly.
Contact Info
1632 SE 11th Avenue
Portland, OR 97214-4702 USA
Tel (503) 808-1588 | Fax (503) 232-0557
About FPMT
FPMT is an organization devoted to the transmission of the Mahayana Buddhist tradition and values worldwide through teaching, meditation and community service.
more...
About Buddhism
If you're new to Buddhism, please read our
Buddhism FAQ
. A place to learn about Buddhism in general, FPMT, and our Discovering Buddhism at Home series.