News/Media

*If a menu item has a submenu clicking once will expand the menu clicking twice will open the page.

Study & Practice

*If a menu item has a submenu clicking once will expand the menu clicking twice will open the page.

Projects

*If a menu item has a submenu clicking once will expand the menu clicking twice will open the page.

FPMT

Renunciation of samsara is not only the business of monks and nuns. Whoever is seeking liberation or enlightenment needs renunciation of samsara.

Lama Thubten Yeshe

*If a menu item has a submenu clicking once will expand the menu clicking twice will open the page.

Shop

The Foundation Store is FPMT's online shop and features a vast selection of Buddhist study and practice materials written or recommended by our lineage gurus. These items include homestudy programs, prayers and practices in PDF or eBook format, materials for children, and other resources to support practitioners.

Items displayed in the shop are made available for Dharma practice and educational purposes, and never for the purpose of profiting from their sale. Please read FPMT Foundation Store Policy Regarding Dharma Items for more information.
International Office News
July 2018
Lama Zopa Rinpoche teaching at Chag-tong Chen-tong Center, Tasmania, Australia, May 2018. Photo by Ven. Lobsang Sherab.
Have this translated into your native language by using our convenient translation facility located on the right-hand side of the page. French and Spanish speakers will find the FPMT International Office News translated each month in the "Bienvenue" and "Bienvenidos" tabs on the FPMT homepage!
---
Lama Zopa Rinpoche News:
Schedule
The next public teaching by Lama Zopa Rinpoche is scheduled to be in the USA. Rinpoche is giving a different initiation in Madrid, Spain, than initially publicized, and registration is now open for the teachings and initiation. See Lama Zopa Rinpoche's schedule.
Enjoy livestreams of Rinpoche's current teachings and recordings of recent teachings via Rinpoche Available Now!
Advice
Highlights from our blogs:
Numberless Bodhisattvas Love You Very Much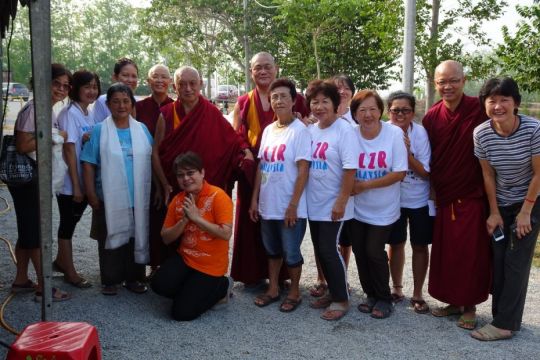 Lama Zopa Rinpoche with Great Medicine Buddha retreat volunteers at Rinchen Jangsem Ling, Triang, Malaysia, April 2016. Photo by Ven. Roger Kunsang.
Lama Zopa Rinpoche gave this thank you note to a volunteer:
All your past happiness from beginningless rebirths and now your future happiness up to enlightenment is received from every sentient being. … Every single person that you take care of, every single insect that you take care of, move out of the way or save from the water, numberless bodhisattvas cherish them the most and they love you very much, your work. Read in full …
The Benefits of Cooking Delicious Food for Others Including the Guru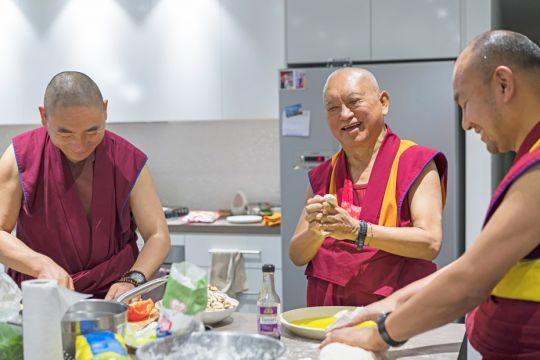 Lama Zopa Rinpoche, Ven. Lobsang Konchok, and Ven. Thubten Tendar cooking dinner for a few students from Buddha House, Adelaide, Australia, May 2018. Photo by Ven. Lobsang Sherab.
Lama Zopa Rinpoche sent the following advice to a cook at a Dharma center:
I like to make food for people because it pleases their minds very much. When you know how to make different food delicious, one of the greatest benefits is that you can invite your gurus and make food for them. They enjoy it and you collect the greatest merit and this becomes the greatest purification. Read in full …
New Photo Gallery and Video Recordings of Teachings from Lama Zopa Rinpoche's Visit to Australia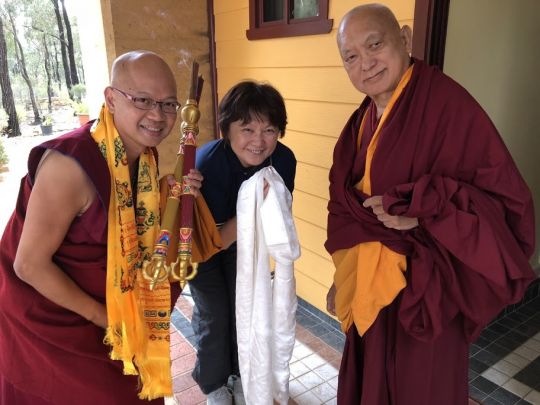 Lama Zopa Rinpoche with Ven. Sonam Yeshe and Pik Pin Goh from Malaysia, Thubten Shedrup Ling Monastery, Bendigo, Australia, April 2018. Photo by Ven. Roger Kunsang.
Lama Zopa Rinpoche spent over two months visiting Australia earlier this year. There is a new photo gallery sharing images from the time he spent there. Also, video recordings of Rinpoche's teachings at the Bodhicaryavatara and Rinjung Gyatsa retreat are available, as well as teachings from Chag-tong Chen-Tong Centre and Chenrezig Institute on FPMT.org's "Rinpoche Available Now" page. Read more …
Find a wide range of advice from Lama Zopa Rinpoche on Rinpoche's Advice page. Subscribe to our FPMT news blog to get updates as soon as they are announced.
---
International Office News
Ongoing Investment in the FPMT Organization by the Puja Fund
During all of the four annual Buddha multiplying days (Losar, Saka Dawa, Chokhor Duchen, and Lha Bab Duchen) and on every full eclipse day, Tibetan 8th and 29th (protector days), the FPMT Puja Fund sponsors pujas, offerings, and practices personally selected by Lama Zopa Rinpoche to benefit the entire FPMT organization. The practices are done by up to 15,650 ordained Sangha and offerings are made to each, as a way to offer to Sangha members, who are examples of "pores of the guru," and in appreciation of their time and service. On many of these holy days, the merit of any action is multiplied by 100 million and so this is not only an incredible way to create merit, but also a way to offer support to the individual Sangha members and the monasteries and nunneries where the pujas and practices are offered.
All are welcome to participate in these incredible offerings. As a small example of what is offered, this includes: recitation of the Prajnaparamita (short, medium, and long versions) by the monks of Gyurme Tantric College; recitation of the entire Kangyur by the nuns of Kopan Nunnery; extensive offerings for Lama Zopa Rinpoche's gurus and holy objects in India, Tibet, and Nepal; and many other virtuous activities, prayers, and pujas that were advised by Lama Zopa Rinpoche.
Even offering one dollar to the Puja Fund means that you are offering toward all of the activities sponsored. Additionally, all are welcome to participate by rejoicing in the many pujas, practices, and offerings that will be offered.
Merit Box Offerings Awarded to Help Dharma Projects
The International Merit Box Project, started in 2001, recently completed its 16th year of supporting projects and activities working to fulfill the FPMT mission. These funds come from offerings placed into Merit Boxes, which stand on home altars, and in FPMT centers and study groups all over the world. These offerings are collected once a year and become grants for a variety of Dharma activities.
This year, the collective generosity of Merit Box practitioners provided funds for new publications, work on new prayer wheels, renovations at centers, group recitations of the Sutra of Golden Light in war-torn Sri Lanka, and other beneficial projects. See the full list of 2018 grants and learn more about the International Merit Box Project here.
Lama Zopa Rinpoche during Saka Dawa celebrations, Chenrezig Institute, Australia, May 2018. Photo by Ven. Lobsang Sherab.
New from Education Services
---
For Center, Project and Service Directors, SPCs, Board Members, Registered Teachers and Coordinators:
(This advice is specifically for those offering service in these roles.)
Success in Fulfilling Rinpoche's Request for Practices
Thanks to you all for organizing the practices requested by Lama Zopa Rinpoche for Tibet and to fulfill the wishes of His Holiness the Dalai Lama! We managed to offer more than Rinpoche requested, with a total of 7,312 Four Mandala Offerings to Tara pujas, and 342,004 Mantras Promised by Arya Mother Liberator (Tara)! The practices were offered to Rinpoche on Chokhor Duchen!
You can find the count of practices offered and the original request under "Practices," in the "Collected Advice from Rinpoche" section of the Affiliates Area.
Translation of Recent Updates
If you haven't already, please update the FPMT Mission Statement on your center, project, service, or study group website as per our recent update. We are in the process of replacing the translations of the mission statement on FPMT.org.
With thanks to our Spanish and Italian national coordinators, the Ethical Policy translations into Spanish and Italian have been updated. Find these under the "Translations" tab on the Affiliates Area homepage.
---
FPMT World:
Rejoice!
Celebrating the Birthday of His Holiness the Dalai Lama
Photo courtesy of Gyaltsab Je Center
On July 6, there were celebrations of His Holiness's birthday all around the world. In Réunion, Gyaltsab Je Center director Marc Salomolard shares:
"We offered a puja, then watched a video about His Holiness's life with commentary from him, then cut the happy-birthday cake and offered food to 100 people in attendance. All was done in a very peaceful, joyful, and lovely atmosphere."
FPMT Celebrates Its 16th International Sangha Day!
On July 16, Chokhor Duchen, many FPMT centers around the world celebrated our precious Sangha!
Tse Chen Ling Buys Its Building!
Co-directors Ven. Carol Corradi and Peggy Bennington hold the title deed!
Peggy writes:
"Rejoicing is in order! FPMT center Tse Chen Ling now owns its building in San Francisco, USA, thanks to the generosity of many."
Opportunities to Offer Service in the FPMT Organization
Would you like to spend your days in a very meaningful way? Have a look at the regularly updated meritorious opportunities to offer service as a volunteer or as paid staff in FPMT centers, projects, and services around the world.
Newly added: Land of Calm Abiding, USA, needs a new director.
Impermanence at Work
Contact information for FPMT centers, projects, and services can be found in the FPMT Directory.
Ganden Tendar Ling, Russia
We welcome new spiritual program coordinator (SPC) – Anastasia Motuzenko
With grateful thanks to outgoing SPC – Daria Zamotorina
Nagarjuna Center, Madrid, Spain
Grateful thanks to resigned resident geshe – Geshe Thubten Choden
Tushita Mahayana Meditation Center, India
We welcome new spiritual program coordinator (SPC) – Ven. Kabir Saxena
With grateful thanks to outgoing SPC – Ven. Gyalten Samten
Vajrapani Institute, USA
We welcome new director – Heidi Oehler
With grateful thanks to outgoing director – Fabienne Pradelle
Vajrayana Institute, Australia
We welcome new spiritual program coordinator (SPC) – Reyne House
With grateful thanks to outgoing SPC – Ven. Thubten Chokyi
---
If you received this from someone else, or unformatted, visit our subscribe page to receive this newsletter directly.
Right understanding is the only solution to both physical and mental problems. You should always check very carefully how you're expending your energy: will it make you happy or not? That's a big responsibility, don't you think? It's your choice: the path of wisdom or the path of ignorance.
Lama Thubten Yeshe