News/Media

*If a menu item has a submenu clicking once will expand the menu clicking twice will open the page.

Study & Practice

*If a menu item has a submenu clicking once will expand the menu clicking twice will open the page.

Projects

*If a menu item has a submenu clicking once will expand the menu clicking twice will open the page.

FPMT

Each one of us is responsible for all other living beings' happiness besides our own. As a result, your loving kindness is the most wish fulfilling thing in life, more precious than anything else in the world. That makes for a most satisfying, fulfilling life.

Lama Zopa Rinpoche

*If a menu item has a submenu clicking once will expand the menu clicking twice will open the page.

Shop

The Foundation Store is FPMT's online shop and features a vast selection of Buddhist study and practice materials written or recommended by our lineage gurus. These items include homestudy programs, prayers and practices in PDF or eBook format, materials for children, and other resources to support practitioners.

Items displayed in the shop are made available for Dharma practice and educational purposes, and never for the purpose of profiting from their sale. Please read FPMT Foundation Store Policy Regarding Dharma Items for more information.
FPMT International Office News
March 2012
If you received this from someone else, or unformatted, visit our subscribe page to receive this newsletter directly. You can have this translated into your preferred language by using our convenient translation facility located on the right-hand side of the page.
Ling Rinpoche and Lama Zopa Rinpoche, Bodhgaya, India, February 2012.
Photo by Ven Roger Kunsang.
---
Lama Zopa Rinpoche's News:
Rinpoche writing a note for his sister with his right hand, Kopan, Nepal, February 2012.
Photo by Ven. Roger Kunsang.
Latest on Rinpoche's Health
Ven. Roger Kunsang sent the following update earlier this month:
Rinpoche's condition has been steadily improving. Recently, Rinpoche's brother, Sangay, offered Rinpoche an exercise bike. Rinpoche rides nearly every day three kilometers [two miles]. I am hoping soon we can increase that to five kilometers [three miles]. The right leg now is quite strong; the right arm still needs more effort to increase its functionality. Rinpoche's writing has improved and he can write short notes quite well.
The doctors are comfortable with Rinpoche's control of blood pressure and sugar levels – still not ideal, but for Rinpoche's present condition, they feel quite OK.
Go to Rinpoche's Health – Updates and Practices for photos, more information and to subscribe to our RSS feed for updates.
Advice for Rinpoche's Quick Recovery
Ven. Roger recently checked with Denma Locho Rinpoche whether there was anything FPMT centers, projects, services and students can do to help with Lama Zopa Rinpoche's quick recovery. Denma Locho Rinpoche kindly advised a few pujas, which we are arranging now, and then gave the following advice:
"The students and centers really need to work according to Rinpoche's wishes. Whatever Rinpoche has advised for them to do, it's important to follow Rinpoche's advice. 
The main thing is that everyone in the organization should really strive to fulfill Rinpoche's advice.
In order to be harmonious, generally, you should not look for any faults in others, but look for the positive, the inner qualities. Thinking negatively like, 'He is bad, she is bad,' will not lead to harmony. Try to see the qualities in others and try to work harmoniously.
Recite the prayer The Prayer for the Flourishing of Je Tsongkhapa's Teachings (Losang Gyaltänma) well. Please recite it well. If students can do that, that's really great.
But the most important thing is not looking at each others' faults, but looking at the qualities of others.
Then, whatever responsibility you have in the center [project or service], do the work from your heart, put all your energy into that, take the difficulties/hardships upon yourself and do the work wholeheartedly. If the work is done well, this will benefit the teachings of the Buddha, and also it will bring about happiness and joy to all sentient beings."
The Prayer for the Flourishing of Je Tsongkhapa's Teachings is available in letter and A4 formats.
Lama Zopa Rinpoche in prayer, Aptos, California, USA, March 2011.
Photo by Ven. Roger Kunsang.
New Advice from Lama Zopa Rinpoche
Here is why we need to practice Dharma besides doing ordinary work:
Even non-believers in reincarnation and karma need to practice Dharma because they want happiness and do not want suffering. To have happiness in life you have to change your mind, casting away negative thoughts, attachment to this life – clinging to the 'I', clinging to the body, clinging to possessions, to friends and family – the delusion which harms oneself, which harms others, which makes you suffer, which makes others suffer. Cast that away and establish a healthy, positive and happy mind, virtuous thoughts.
For example, you want to have a long-lasting happy relationship with your husband or your wife. That's one thing. Usually, you have lots of worries that the husband or wife might lose their love for you and leave you. So there you need to practice patience. If you are full of anger you think bad thoughts, then anger arises and then you fight. You are not happy with him or her, then that manifestation comes and the other person sees that you are angry, and then their mind is not happy. Then you fight with words that hurt the other's heart and also affects their mind, makes their mind upset or angry.
Then come the actions of the body like frowning at him or her, or throwing things, beating or even killing – the biggest danger – or breaking arms or legs or even maybe the nose!
Maybe you get angry because of a very small thing – such as the bread or tea being cold – and say some words and finally end up in a court case, spending millions of dollars all for nothing; not for virtue or helping somebody, it doesn't get used for that.
In America, in the Aptos house, one day I went to the sea with the house monks and nuns. We were sitting on a bench, using the table for eating and drinking. A car drove by and then came back. The driver told us she was so happy because she had built the bench after her husband died to help people. So, for example, that wasted money could have been used to help in such a way.
The delusion anger is so unbelievable. If you are not careful with your anger or other delusions, such as the jealous mind, they can cause huge unnecessary expenses in your life. Maybe you can't even pay the other person or the court fees because you don't have the money.
Just one delusion – anger or jealousy or another – makes life so miserable, and then causes the other person to separate, to end the relationship. Then you are depressed and everything is dark for you. Regardless of how much sunshine or light there is, your mind is dark.
It's good to know what makes life so difficult, the puzzle of how much suffering is caused by one delusion. One attachment creates such an unbelievable experience, so much difficulty just from one delusion. It's good to know that.
However much you gain in business, from ten dollars you might make $100, from $100 you make $1,000, from $1,000 you make $10,000, from $10,000 to a million, to billions and zillions, there is no end. I have seen in the world many billionaires go to prison because of their unsatisfied minds. You want more and more and so you do something illegal. Then, a person in your company becomes angry with you and reveals all the illegalities and you go to prison. Then you become famous in a different way, in suffering.
Even if you are a non-believer you need to have a satisfied mind, contentment. You need to practice having a satisfied mind and contentment: that is renunciation. As much as possible have less attachment, then life becomes happy. A simple life is a happy life; happiness comes from within. That is Dharma, contentment and a satisfied mind; renunciation of attachment brings peace from within.
As I mentioned about relationships, you need to practice patience. It's most important to keep the mind in happiness. With patience and tolerance, you can enjoy life with your partner. You don't find the partner harming you, disturbing you, because you are practicing patience. This brings incredible peace and happiness. Patience is Dharma, and contentment and a satisfied mind are Dharma, pure Dharma.
Historically, many times, due to not practicing patience, an influential and powerful person became extremely threatening, killing many millions of people, like Mao Tse Tung, Hitler or Stalin. This one person of influence and power didn't practice patience, so millions of people suffered and were killed.
On the other hand, a person practicing good heart and patience brings happiness to millions and millions of people, like Shakyamuni Buddha and great compassionate people from different religions, such as St. Francis and Mother Teresa.
So this is just a drop. If you want happiness and do not want suffering, you have to practice Dharma, even non-believers. Therefore, you need someone to teach you and so you can see the need for Dharma centers. We need as many centers as possible, to offer the education and practice that are necessary for happiness. That is the function of the center; not only teaching Dharma, but also healing and so many things, for example, social service.
So the best answer is to learn Dharma – and to meditate – especially how to develop wisdom and compassion towards other sentient beings. Therefore, we need a place where there is a teacher, the Dharma and facilities to practice.
The center is able to offer these facilities to everyone, as much as it can do. We each have full responsibility to free all sentient beings from suffering and bring them to full enlightenment. Therefore, we need to achieve full enlightenment and so we need to practice Dharma. Now we can see how important the Dharma center is. We should know how fortunate and lucky we are having different Dharma centers with teachers.
We can rejoice so much because the center is able to be of benefit to many sentient beings and the teaching of the Buddha.
Go to Rinpoche's Advice page and to the Lama Yeshe Wisdom Archive for lots more advice from Lama Zopa Rinpoche.
---
Lama Zopa Rinpoche in Lumbini, Nepal, in front of the tree where Shakyamuni Buddha is said to have been born, February 2012.
Photo by Ven. Roger Kunsang.
International Office News:
Education Services
Program News:
Basic Program: Chenrezig Institute, Australia contributes four more graduates who recently sat for the Basic Program Final Exam and passed with excellent results. Remarkably, among them is their interpreter, Yaki Platt.
A three-month retreat that will complete Kopan's first Basic Program, led by Kopan's BP teacher Ven. Fedor Stracke, is now confirmed to take place in Lawudo in the summer of 2013.
Masters Program: Istituto Lama Tzong Khapa's (ILTK) Masters Program is no longer the only MP worldwide. Fulfilling Lama Zopa Rinpoche's wish for more MPs in more centers, ILTK's MP is now becoming one of three: Chenrezig Institute, Australia will be offering their first MP subject, "Middle Way," starting September 2012 to be completed in 2013 with a month-long retreat; Nalanda Monastery, France is preparing for their six-year MP, due to start September 2013, with an additional one-year retreat. Also, Centre Kalachakra in France is offering extensive "Middle Way" teachings alongside their second round of BP started last autumn, but this course does not provide MP qualification.
Materials News:
Chöd: Cutting Through the Ego sadhana in downloadable PDF format and Wheel of the Meritorious Elephant Generating Power for success and wealth as cards and in downloadable PDF poster format are now available.
News from Mandala Publications
Mandala's April-June 2012 issue is on its way to mailboxes worldwide! In this issue, our cover story, "Actualizing the Path through Retreat," takes a look at retreat and practice within FPMT. We explore the purpose of retreat, introduce Mandala readers to the FPMT's international array of retreat centers and provide an overview of Education Services materials that support retreat. Also in this issue: a profile of Kopan Monastery's new abbot, Khenrinpoche Geshe Chonyi; a report from the Kalachakra for World Peace 2012; and an excerpt from Karuna Cayton's new book The Misleading Mind. Plus we've got new stories online at fpmt.org/mandala and a new Retreat Resources page, highlighting archival Mandala articles and interviews on retreat from the past 15 years. If you aren't receiving Mandala and would like to, please consider joining our Friends program.
Friends of FPMT
Become a Friend of FPMT and stay connected to all the FPMT has to offer including the FPMT Online Learning Center, Mandala magazine and many complimentary resources offered at the free FPMT Membership level.
Many, many thanks to all participants and coordinators who have submitted their International Merit Box Project donations for 2011. We are still accepting donations through March 31. You may make a credit card donation though the Virtual Merit Box or see our collection information page for more options.
We are also accepting applications for Merit Box Project grants from FPMT centers, projects and services until March 31. Please contact meritbox@fpmt.org with any questions and to request an application.
The Foundation Store
Read the latest Foundation Store newsletter for new product arrivals and monthly specials.
For Center, Project and Service Directors,
SPCs, Teachers and Board Members
(This advice is specifically for those offering service in the roles listed above.)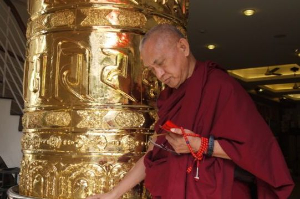 Rinpoche turning a prayer wheel at Amitabha Buddhist Centre, Singapore, January 2011.
Photo by Ven. Roger Kunsang.
Design for Success and Wealth
Following Rinpoche's design, the Wheel of the Meritorious Elephant Generating Power has now been made available by FPMT Education Services. Rinpoche has started to give this design to all directors he meets, advising them to put it in the office for success and wealth. It is not for the altar, but for one's place of business. Rinpoche usually suggests it to be made large for more success, so we have made it available as a card and as a poster.
Living in the Path Video Clips
Many short (3- to 20-minute) video clips of Lama Zopa Rinpoche's teachings taken from the Living in the Path program can now be viewed on fpmt.org. Each clip has a short description, making these ideal and easy-to-find bites to show during a teaching, retreat or open day.
Rinpoche's Advice Regarding Chanting the Heart Sutra
(This advice was sent via the CPMT e-group on February 21, 2012)
Lama Zopa Rinpoche recently advised that it would be very good for all centers, projects and services to encourage their chant leaders and students, if they have time, to learn the chanting of the Heart Sutra according to how Yangsi Rinpoche chants it.
Rinpoche commented that this is a good way to memorize the Heart Sutra, and to meditate on the meaning if reciting it slowly.
Therefore, we have put up a recording of Yangsi Rinpoche chanting the Heart Sutra in the FPMT Affiliates Area, under "Practice Materials."
---
FPMT World:
Passing of His Holiness the 9th Jetsün Dampa
The Khalka Jetsün Dampa is recognized as the spiritual head of Buddhism in Mongolia. The 9th Jetsün Dampa passed away on March 1, 2012. After Rinpoche received the information from the Ganden Abbot in Mongolia regarding Jetsün Dampa's death, Rinpoche wrote the following message in response:
"Dear Friends,
According to normal view, we see that His Holiness the 9th Bogd Jetsün Dampa Rinpoche has passed away. We know Buddha has no disturbing obscurations so it is impossible for him to experience death. If Buddha stayed with us forever, sentient beings would not regard his teachings as precious and laziness would arise as well. So to realize how precious the Buddha's teachings are, the Buddha showed the aspect of passing away. Similarly His Holiness the 9th Bogd Jetsün Dampa Rinpoche has chosen to show the aspect of passing away.
His Holiness the 9th Bogd Jetsün Dampa Rinpoche has mentioned in the past that he will reincarnate in Mongolia and from a young [age] will become a brilliant Buddhist monk – adopting this way of learning the extensive Buddhadharma in order to preserve and spread it throughout Mongolia, to have the pure Buddhadharma in many monasteries throughout Mongolia. In this way, everyone will enjoy the happiness of Dharma in Mongolia.
We should all pray and look for this good future. My advice is to pray to Lama Tsongkhapa and recite the Migtsema mantra.
Thank you very much, and I will also pray.
Lama Zopa"
Rejoice: We Welcome a New Study Group!
Our first new study group of 2012!
Togme Sangpo Study Group – a probationary center in Scotland, UK.
442 Field of Dreams, The Park, Findhorn,
Scotland IV36 3TZ, UK
Tel: +44 1309 690926
togmesangpo37@gmail.com
Coordinator Margo van Greta
Opportunities to Offer Service in FPMT
Please check out these and other exciting opportunities to offer service in FPMT centers, projects and services around the world!
O.Sel.Ling in Spain is looking for a vegetarian cook and various other long-term volunteers.
Impermanence at Work
Chiara Luce Edizioni, Italy
chiaralucedizioni@gmail.com
Ganden Tendar Ling, Russia
1-aya Pradilnaya street, 6 – 6
Moscow, 105037
Tel: +7 903 545 5096
Golden Light Sutra Center, Mongolia
gordon@fpmtmongolia.org
Tel: +976 7037 8856
Istituto Lama Tzong Khapa, Italy
We welcome new resident geshe – Geshe Jampa Gelek
We welcome new director – Filippo Scianna
With grateful thanks to outgoing director – Laura Pellati
Kadam Sharawa Buddhist Institute, Australia
kadam@kadamsharawa.org
We welcome new SPC – Ines Vansevenant
With grateful thanks to outgoing SPC – Jane Sheer
Kasih Hospice Care, Malaysia
www.kasihfoundation.org
admin@kasihfoundation.org
FPMT Mexico National Office, Mexico
Morena 1511 Dpto. 404
Col. Narvarte, Del. Benito Juárez
C.P. 03020, Mexico City
Tel: +52 (55) 4755 7159
Fax: +52 (55) 5514 1072
We welcome new national coordinator – Karla Ambrosio
With grateful thanks to outgoing coordinator – Moya Mendez
Root Institute, India
We welcome new SPC – Gilad Yakir
With grateful thanks to outgoing SPC – David Ilam
Tse Chen Ling, USA
We welcome new SPC – Mark Gillmore
Tushita Meditation Centre, India
We welcome new resident teacher – Ven. Tony Beaumont
---
With love,
FPMT International Office
When we are able to recognize and forgive ignorant actions done in one's past, we strengthen ourselves and can solve the problems of the present constructively.
His Holiness the Dalai Lama