News/Media

*If a menu item has a submenu clicking once will expand the menu clicking twice will open the page.

Study & Practice

*If a menu item has a submenu clicking once will expand the menu clicking twice will open the page.

Projects

*If a menu item has a submenu clicking once will expand the menu clicking twice will open the page.

FPMT

It is important to understand that true practice is something we do from moment to moment, from day to day. We do whatever we can, with whatever wisdom we have, and dedicate it all to the benefit of others. We just live our life simply, to the best of our ability.

Lama Thubten Yeshe

*If a menu item has a submenu clicking once will expand the menu clicking twice will open the page.

Shop

The Foundation Store is FPMT's online shop and features a vast selection of Buddhist study and practice materials written or recommended by our lineage gurus. These items include homestudy programs, prayers and practices in PDF or eBook format, materials for children, and other resources to support practitioners.

Items displayed in the shop are made available for Dharma practice and educational purposes, and never for the purpose of profiting from their sale. Please read FPMT Foundation Store Policy Regarding Dharma Items for more information.
International Office News
November 2015
Lama Zopa Rinpoche with a new friend he met while shopping and to whom he gave a 30-minute introduction to Buddhism, California, US, October 2015.
Photo by Ven. Roger Kunsang.

Have this translated into your native language by using our convenient translation facility located on the right-hand side of the page. French and Spanish speakers will find the FPMT International Office News translated each month in the "Bienvenue" and "Bienvenidos" tabs on the FPMT homepage!
---
Lama Zopa Rinpoche's News:
News, Activities and Advice
Highlights from our blogs on FPMT.org:
Lama Zopa Rinpoche teaching at Tse Chen Ling, San Francisco, US, October 2015.
Photo by Ven. Roger Kunsang.
"The minute you cherish others relaxes your life," Lama Zopa Rinpoche said during teachings at Tse Chen Ling recently. "That is the best vacation, that is the best holiday with the good heart and with bodhichitta. Even if you go to the beach, to a place that is very expensive, that costs a million dollars with a swimming pool, but mind is so much 'my, my, my, my pleasure,' there is no holiday; you are not giving a holiday to yourself. Although externally the place is very expensive, happiness is not there; real happiness – inner happiness – is not there."
Why We Need Dharma Centers (Audio)
Lama Zopa Rinpoche at Land of Medicine Buddha, California, US, October 2015.
Photo by Ven. Thubten Kunsang.
In early October, Lama Zopa Rinpoche visited Land of Medicine Buddha where he gave this dynamic, seven-minute talk on the significance of Dharma centers.
Lam-rim Is the Most Important Thing
Lama Zopa Rinpoche in the meadow at Land of Medicine Buddha, Soquel, California, October 2015.
Photo by Ven. Thubten Kunsang.
"The most unbelievably important thing in our life is lam-rim. The practice of the three principal aspects of the path is the most important thing. This is the most important, more important than a job, money, or anything else in our life. It is the most important thing," Lama Zopa Rinpoche teaches in the module "Advice for Realizing Lam-rim," which is part of Living in the Path, FPMT Education Services' essential lam-rim program as taught by Rinpoche.
Keep up to date with Lama Zopa Rinpoche News. Find a wide range of advice from Lama Zopa Rinpoche on Rinpoche's Advice page. Go to the Lama Yeshe Wisdom Archive for lots more advice from Lama Zopa Rinpoche.
Rinpoche's Schedule
November/December: Teachings during the one-month lam-rim course, Kopan Monastery, Nepal
December 2 – Long life puja offered to Lama Zopa Rinpoche at Kopan Monastery
2016
Amitabha Buddhist Centre, Singapore
February 27 – Teaching on and bestowal of refuge
February 28 – 1,000 Offerings to Maitreya puja
March 2 – 6 – Yamantaka initiation
March 9 – 11 – Vajrayogini initiation
March 13 – Long life puja
Chokyi Gyaltsen Center, Malaysia
March 19 – 20 – Teachings on the Three Principles of the Path
March 25 – 27 – Most Secret Hayagriva initiation
Losang Dragpa Centre, Malaysia
April 1 – 3 – Cittamani Tara initiation
April 6 – White Tara long life initiation
Rinchen Jangsem Ling, Malaysia
April 9 – 11 – Great Medicine Buddha initiation
April 12 – 19 – Medicine Buddha retreat
Cham Tse Ling, Hong Kong
April 28, 29, May 1 – Teaching on Daily Meditation
May 2 – Vajrapani/Hayagriva/Garuda jenang
August 14 – 28, 2016: Light of the Path Retreat, Kadampa Center, USA
Please contact the hosts directly with any questions. Subscribe to our FPMT news blog to get updates as soon as they are announced.
Rinpoche Available Now – Enjoy livestreams of many of the teachings above and recordings of Rinpoche's most recent teachings!
---
International Office News:
New from Education Services
Newly added to the Foundation Store:
Yamantaka Self-Initiation PDF
Amitayus Long Life Sutra

Newly added to the FPMT Amazon Kindle Store:
Heart Advice for Retreat eBook
Lam Rim Prayers eBook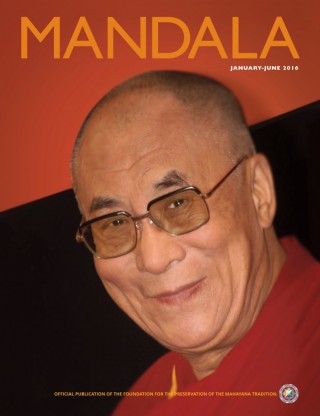 His Holiness the 14th Dalai Lama Tenzin Gyatso, Rimini, Italy, July 2005. Photo by Piero Sirianni. Lama Zopa Rinpoche personally chose this photo for this issue's cover of Mandala.
New Issue of Mandala Out December 8
The new issue of Mandala features interviews with the 102nd Ganden Tripa Rizong Rinpoche; with Jangtse Chöje Lobsang Tenzin Rinpoche, who will step into the position of the Ganden Tripa in the future; and with Samdhong Rinpoche, the former prime minister of the Central Tibetan Administration. These three important lamas share their understanding of His Holiness' vision to preserve the Gelug tradition, the significance of Lama Tsongkhapa's teachings and the importance of the monasteries in preserving them. Mandala is a benefit of the Friends of FPMT program.
Give a Gift that Helps Others!
FPMT Charitable Projects has a new alternative to material gift giving. This holiday season, you can give your loved one a gift that offers food to monks, liberates animals, builds holy objects, or provides social services. If you don't really want to give another material gift, give them something that will bring long-lasting benefits to others!
We send you an e-card or mail you a printed gift card that you can give as a present. The cards are personalized with the recipient's name and giver's name, and highlight what difference their gift will make in the world. Learn more …
Lama Zopa Rinpoche at Land of Medicine Buddha, US, October 2015.
Photo by Ven. Lobsang Sherab.
Friends of FPMT
By supporting the Foundation's work as a Dharma Supporter or Patron Friend of FPMT, you also have an open door to FPMT education. You can take the online learning courses you want, download the FPMT practice or prayer you need, have ebooks by our lineage lamas sent to you throughout the year, and get Mandala's new publications. Learn more …
---
For Center, Project and Service Directors, SPCs, Board Members, Registered Teachers and Coordinators:
This advice is specifically for those offering service in the roles listed above.
Please Offer Lama Chöpa with Tsog on Losar
Rinpoche recently reminded us that FPMT centers should offer extensive Lama Chöpa with Tsog on Losar (Tibetan New Year), to honor the anniversary of Lama Yeshe's passing away. Rinpoche added that it is good to do this at the time Lama Yeshe passed away, which was at 5 a.m. (on Losar in 1984). Rinpoche emphasized the importance and benefits in offering tsog on that occasion each year. So please plan this at your center this coming Losar, which is February 8, 2016.
In addition to this, Rinpoche also said for centers to start the tradition of telling stories about Lama Yeshe every Losar to keep his memory alive, for example, by inviting older students who knew Lama to share their favorite stories, or by watching video or reading published stories of Lama.
Rinpoche on Video:
The Importance of the Dharma Center and Study Group
Watch the video of a talk given by Rinpoche in July 2012 on the benefits and importance of Dharma centers and study groups.
New Thangka Available from the Foundation Store
This beautiful large thangka of the 35 Buddhas was painted for the Foundation Store according to the instructions given in the The Preliminary Practice of Prostrations by Lama Zopa Rinpoche. Receive a special discount when you invite this holy object into your FPMT center, project or service.
---
FPMT World:
Rejoice:
Maitreya Projects Soon to Host Relics!
Lama Zopa Rinpoche with Geshe Ngawang Dakpa, California, US, October 2015.
Photo by Ven. Thubten Kunsang.
We are delighted to announce that the Maitreya Projects in India are moving forward. Lama Zopa Rinpoche has advised that all the relics currently touring via the Maitreya Loving Kindness Tour should be placed on permanent display at the Maitreya Projects in Bodhgaya and Kushinagar, India, as Rinpoche feels it is very important that the relics are at the sites for pilgrims to pay respect to while the statues are being built.
This means that the Maitreya Loving Kindness Tour will finish at the end of 2015.
Congratulations to an FPMT Center on Its 25th Anniversary!
Kurukulla Center, USA, is celebrating its 25th anniversary of offering the Dharma.
Gyaltsab Je Study Group Now a Center!
Gyaltsab Je, on Ile de la Reunion, started as an FPMT study group back in 2005. Please join us in rejoicing that the group has now been able to transition into a full FPMT center affiliated with FPMT, Inc.! As director Marc Salomolard said, "This is a great day for us! This is the first day of a long and beautiful history as an FPMT center. I am also very, very happy for all the people who have worked intensively and have wished and dreamed about this day."
Opportunities to Offer Service in FPMT
Please check out the regularly updated meritorious opportunities to offer service as a volunteer or as paid staff in FPMT centers, projects and services around the world.
Impermanence at Work
Ganden Do Ngag Shedrup Ling, Mongolia
We welcome new director – Enkhmandakh Majaakhuu
With grateful thanks to previous director – Ven. Tsenla
Ganden Tendar Ling, Russia
gandentendarling@gmail.com
Centre Gyaltsab Je, Ile de la Reunion
We welcome new (first) SPC – David Le Perff
---
If you received this from someone else, or unformatted,
visit our subscribe page to receive this newsletter directly.
Living in morality is one fundamental spiritual practice that is a very important source of happiness for you and for all living beings. This is also one of the best contributions that you can give to this world, for world peace.
Lama Zopa Rinpoche