News/Media

*If a menu item has a submenu clicking once will expand the menu clicking twice will open the page.

Study & Practice

*If a menu item has a submenu clicking once will expand the menu clicking twice will open the page.

Projects

*If a menu item has a submenu clicking once will expand the menu clicking twice will open the page.

FPMT

When you recognize your problem comes from your concept or your concept is the problem, you don't blame others.

Lama Zopa Rinpoche

*If a menu item has a submenu clicking once will expand the menu clicking twice will open the page.

Shop

The Foundation Store is FPMT's online shop and features a vast selection of Buddhist study and practice materials written or recommended by our lineage gurus. These items include homestudy programs, prayers and practices in PDF or eBook format, materials for children, and other resources to support practitioners.

Items displayed in the shop are made available for Dharma practice and educational purposes, and never for the purpose of profiting from their sale. Please read FPMT Foundation Store Policy Regarding Dharma Items for more information.
International Office News
September 2018
Lama Zopa Rinpoche showing relics to Ling Rinpoche, Aptos, USA, August 2018. Photo by Ven. Lobsang Sherab
Have this translated into your native language by using our convenient translation facility located on the right-hand side of the page. French and Spanish speakers will find the FPMT International Office News translated each month in the "Bienvenue" and "Bienvenidos" tabs on the FPMT homepage!
---
Lama Zopa Rinpoche News:
Long Life Puja
The official long life puja offered on behalf of all in the FPMT organization to our immeasurably kind and precious spiritual director, Lama Zopa Rinpoche, will be on December 17th at Kopan Monastery, Nepal. If you would like to make a donation toward this and have your name included in the list of donors, we will need to receive your donation no later than December 12th.
Lama Zopa Rinpoche being welcomed by Amitabha Buddhist Centre at the airport, Singapore, September 2018. Photo courtesy of Amitabha Buddhist Centre's Facebook page.
Lama Zopa Rinpoche is teaching at Amitabha Buddhist Center, Singapore until September 29: watch live! Please note that the Hayagriva transmissions in Sera Je, India, have been postponed.
Enjoy livestreams of Rinpoche's current teachings and recordings of recent teachings via Rinpoche Available Now!
Advice
The Head of the FPMT Organization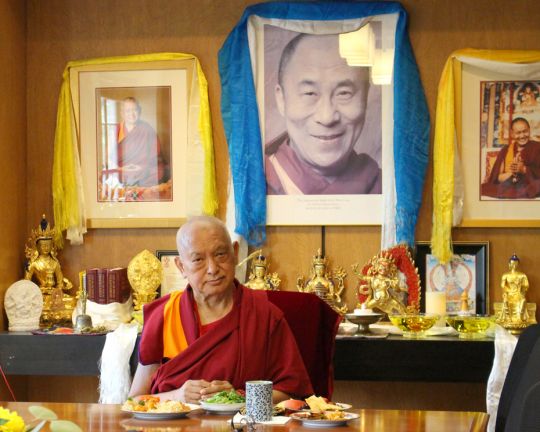 Lama Zopa Rinpoche having lunch at FPMT International Office, Portland, Oregon, US, August 2018. Photo by Diana Ospina.
"….Although Lama Yeshe started the FPMT organization, His Holiness the Dalai Lama is the head of the organization. Now the organization is okay. Many studied the Masters Program, the Basic Program, many, many things. Now it is better. We need to protect the organization, to make it most beneficial for sentient beings. That is very, very important. Now I was thinking also to put effort into retreat, into actualizing the lamrim path…." Read in full and watch the video….
What to Focus On, for Experienced Students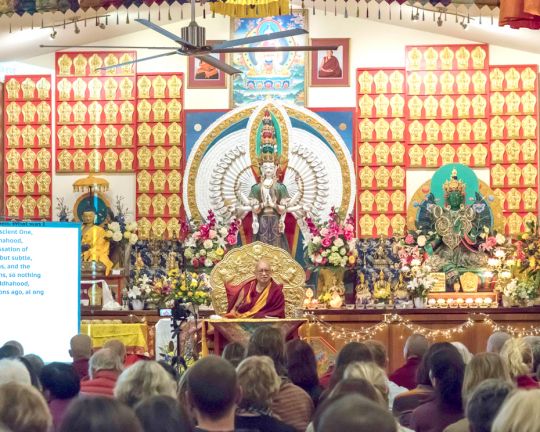 Lama Zopa Rinpoche teaching at Chenrezig Institute, Australia, June 2018. Photo by Ven. Lobsang Sherab
"For older students, when you are looking for spiritual happiness, Dharma happiness, inner happiness—not the ordinary happiness that you have had numberless times already, in this life and from beginningless rebirths—I think the most important thing is if you live life every day with the basis that your mind is where all the sufferings came from." Read in full and watch the video….
Thanks for Practices for Tibet and Fulfilling the Wishes of His Holiness the Dalai Lama
Lama Zopa Rinpoche at Kurukulla Center, US, August 2018. Photo by Ven. Lobsang Sherab
Lama Zopa Rinpoche offered thanks to all the students at FPMT centers, projects, services who did practices requested by Rinpoche to benefit Tibet and for the success of fulfilling all of His Holiness the Dalai Lama's wishes. Read in full, and watch the video!
Subscribe to our FPMT news blog to get updates as soon as they are announced.
---
International Office News
Lama Zopa Rinpoche with some of the staff at his office – FPMT International Office – in Portland, USA, August 2018. Photo by Ven. Lobsang Sherab
Problem Solving in the FPMT Organization
Those offering service in positions of authority within the FPMT organization are held to a high ethical standard, as expressed within the FPMT Ethical Policy. Each FPMT center, project, service, and study group is asked to protect all using the entity, to help ensure they provide a harmonious environment where the FPMT mission can be fulfilled. FPMT International Office's role is to provide overarching, generic policy and guidelines for local implementation in FPMT centers, projects, and services. The appropriate place to direct any complaint or concern is to the local FPMT entity at which the complaint/concern arose. It may be helpful to refer to our new resource: Problem Solving within the FPMT Organization.
New from Education Services
A Brief Meditation-Recitation on Guru Medicine Buddha, a new Medicine Buddha text composed and arranged by Lama Zopa Rinpoche. Rinpoche has consistently taught that Medicine Buddha practice is beneficial for anyone who is dying, sick, injured, or who has already died, and for success in general.
Lama Zopa Rinpoche with some of the animals he chose to hold various Dharma messages around Buddha Amitabha Pure Land, USA, June 2018. Photo by Ven. Roger Kunsang
Support Continues for the Annual Winter Debate
In January 2018, monks from various Gelug monasteries participated in an extensive twenty-two day debate on Buddhist logic, known as the Winter Jang Debate, in Bodhgaya, India. This annual debate dates back to the time of Lama Tsongkhapa and was continued each year until 1959. In 1981 the present and former abbots of the three great monasteries revived this debate. However, due to costs the monasteries were only able to sponsor about 200 monks to attend. Seeing the incredible importance of this tradition of bringing together the best scholars to hone their understanding of the Buddha's highest teachings, Lama Zopa Rinpoche, through the Lama Tsongkhapa Teachers Fund, now sponsors 400 monks from Sera Je Monastery to attend. The total amount offered 2018 for this was US$23,104.82. Read more….
Foundation Store News
Lama Zopa Rinpoche's extraordinary teachings on emptiness, given in September 2005, were captured on an MP3, "How to Meditate on Emptiness." It includes preliminary teachings on happiness, what is mind, how to most effectively make use of the mind, and a detailed commentary on emptiness. It also includes teachings from Rinpoche on refuge, and a commentary and recitation of several sutras, including four chapters of the Sutra of Golden Light. Get it now at no cost!
---
For Center, Project and Service Directors, SPCs, Board Members, Registered Teachers and Coordinators:
(This advice is specifically for those offering service in these roles.)
Creating Harmony
The current issue of Mandala magazine includes an article about creating harmony. As it is such a helpful resource, we've added the article to the Offering Service: People Development and Management section: see the heading "Creating Harmony" in the Working with Others section. All students can read the article on the FPMT website, and read additional submissions for which there was no space in the magazine itself.
---
FPMT World:
Rejoice!
First Teacher Development Service Seminar Offered Successfully!
The first Teacher Development Service Seminar (TDSS) – the first as it is the updated seminar following the trial pilots – was hosted by Jamyang Buddhist Center, London, UK in August. The seminar has been designed as the next step for registered (or almost registered) FPMT teachers and introductory class leaders who have graduated from a Foundation Service Seminar. Andy Wistreich and Ven. Connie Miller facilitated. Andy commented:
"This seminar is more than a technical "how to" training. It thoroughly explores the meaning of the teacher-student relationship and how to engage in it for maximum benefit to the inner development of the student. The seminar prompts participants to transcend self-centeredd attitudes in their roles of sharing Dharma, and to become sensitive and aware of the totality of the interactions involved in supporting the inner work of the students. Sharing Dharma is not like teaching in a worldly context. Sharing Dharma is practice. By the end of the seminar, participants learned how to construct a program, and how to lead a group. They learned the kind of personal commitment required for this privileged role of helping others learn Dharma."
Participant feedback included these comments:
"It made me think about a wider range of approaches to teaching Dharma."
"I am very glad I came as I have a new-found enthusiasm for teaching/sharing the Dharma and being of service."
Another Inspiring Foundation Service Seminar
Participants in the recent Foundation Service Seminar, also hosted by Jamyang Buddhist Centre, UK.
The TDSS followed a fruitful Foundation Service Seminar. Read more….
We welcome Nyingje Kunkyab, a new study group (probationary center) in Salamanca, Mexico.
Opportunities to Offer Service in the FPMT Organization
Would you like to spend your days in a very meaningful way? Have a look at the regularly updated meritorious opportunities to offer service as a volunteer or as paid staff in FPMT centers, projects, and services around the world. Newly added: Chandrakirti Center, New Zealand, has work-study program opportunities; Maitreya Institute, Loenen, The Netherlands, needs an interpreter.
Impermanence at Work
Contact information for FPMT centers, projects, and services can be found in the FPMT Directory.
Chagtong Chentong Center, Australia
We welcome new spiritual program coordinator (SPC) – Alison Fuglsang
Nagarjuna's Wisdom Center, Spain
We welcome new spiritual program coordinator (SPC) – Olga Benitez
With grateful thanks to outgoing SPC – Itxaso Cadenato
Osel Shen Phen Ling, USA
We welcome new spiritual program coordinator (SPC) – Bill Pfeiffer
With grateful thanks to outgoing SPC – Zhiwa Woodbury
Spanish National Coordinator
We welcome new national coordinator – Francisco "Kiko" Llopis
With grateful thanks to outgoing national coordinator – Paloma Fernandez
Wisdom Publications, USA
Lama Zopa Rinpoche with Tim and Daniel, Boston, USA, August 2018. Photo by Ven. Lobsang Sherab
We welcome new director – Daniel Aitken
With grateful thanks to outgoing director – Tim McNeill
---
If you received this from someone else, or unformatted, visit our subscribe page to receive this newsletter directly.
If your path teaches you to act and exert yourself correctly and leads to spiritual realizations such as love, compassion and wisdom then obviously it's worthwhile.
Lama Thubten Yeshe