News/Media

*If a menu item has a submenu clicking once will expand the menu clicking twice will open the page.

Study & Practice

*If a menu item has a submenu clicking once will expand the menu clicking twice will open the page.

Projects

*If a menu item has a submenu clicking once will expand the menu clicking twice will open the page.

FPMT

If you have compassion in your everyday life, you collect the most extensive merit and purify much negative karma in a very short time. Many lifetimes, many eons of negative karma get purified. That helps you realize emptiness.

Lama Zopa Rinpoche

*If a menu item has a submenu clicking once will expand the menu clicking twice will open the page.

Shop

The Foundation Store is FPMT's online shop and features a vast selection of Buddhist study and practice materials written or recommended by our lineage gurus. These items include homestudy programs, prayers and practices in PDF or eBook format, materials for children, and other resources to support practitioners.

Items displayed in the shop are made available for Dharma practice and educational purposes, and never for the purpose of profiting from their sale. Please read FPMT Foundation Store Policy Regarding Dharma Items for more information.
Living Conditions in Tsum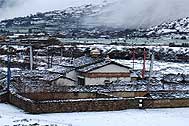 Life in this remote, high altitude area is hard beyond imagination. The weather is cold all year around, and in winter, snow is piled high, making any movement impossible for more than two months. A fierce wind is a daily companion, making life difficult.
Before the monastery and nunnery were handed over to the care of Lama Zopa Rinpoche, most of the nuns and monks depended for survival on the kindness of their family or maybe some rare benefactor. Each person had to take care of their own food, and quite often they needed to go begging to the villages. As the families are also poor, they will give food only in exchange for work in the fields. A little bit of tsampa, and some hot water, sometimes black tea was the daily diet, supplemented in summer by some herbs, potatoes and vegetables.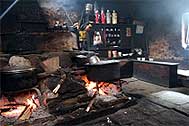 The rooms and sleeping places were very simple; a mat or some stones or a sheet of wood in the floor. There are no tables, no beds, no carpets, not even glass in the windows. The roofs consist of slabs of stone over a simple beam construction and do not provide much protection from the elements. There were no toilets in the nunnery or monastery, and the hygienic conditions were very poor.
Improvements that have already
been made with your kind help:
The monastery and nunnery now offer food and medical care to all its residents. To cover the cost of food in the coming years, a food fund has been established.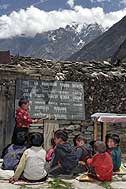 A teacher has been employed for Tibetan and English classes. The resident geshe of Mu gompa comes three days every week to the nunnery to teach on philosophy and supervise the memorizing of the prayers and rituals. A Tibetan doctor is available for basic medical care.
New buildings are cropping up – a new dining room, kitchen and storeroom has nearly been completed. The kitchen will have a fuel efficient fireplace for cooking, and a solar system for hot water.
Several classrooms are under construction now. All the rooms will have large windows with glass (quite a novelty in this area) and are built using a special stone construction with thick walls to keep the warmth in and the cold out. Special material will be used in the walls and ceiling to provide insulation from the cold and windy climate.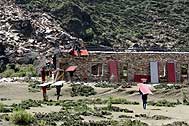 The new buildings are the first step to upgrade the buildings in the nunnery. Next year the renovation and rebuilding of the actual accommodation will start.
Work on improving the infrastructure of the monastery and nunnery is being carried out continuously: Water pipes have been laid to bring clean water directly to the monastery and nunnery buildings, toilets are being built. A satellite telephone available to all the villagers has been installed to help with communication with Kathmandu and the neighboring valleys.
Difficulties in carrying out the work in a remote area.
Work in the Tsum Valley is restricted to the summer months, when the temperatures are more conducive to outdoor work.
Due to the Maoists controlling the access routes to the valley carrying the supplies in by porters is not possible. Therefore most of the building material and supplies has to be taken by helicopter – at great expense.
How Can I Make a Donation?
Any amount of donation is welcome. To make a donation simply send your check in US dollars to FPMT Inc. and write Tsum on the check or provide your credit card details and mail to:
FPMT Inc.

1632 SE 11th Avenue

Portland, OR 97214-4702 USA

Click here to Donate On-Line

Your donation will go towards supporting the following activities

Building new rooms for the sangha at Rachen Nunnery and Mu Gompa
Providing the daily food for all sangha
Developing infrastructure (water supply and sanitation for nunnery and monastery)
Developing educational facilities – teachers wages, education material
Providing continued health care and affordable medicines for everybody
FPMT has established Tsum (TSUM) as a designated purpose fund, which with the support of generous benefactors, supports the work of FPMT's affiliate, Tsum (TSUM). All donations made to the fund are tax-deductible to the extent allowed by law.
Faith alone never stops problems; understanding knowledge-wisdom always does. Lord Buddha himself said that belief in Buddha was dangerous; that instead of just believing in something, people should use their minds to try to discover their own true nature.
Lama Zopa Rinpoche