FPMT Online Learning Fund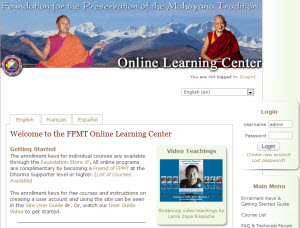 The FPMT Online Learning Center (OLC) offers Buddhist study courses and media resources ranging in level from beginner to advanced, and philosophical to practice-oriented. Initiated in 2009 as a means to make available Lama Zopa Rinpoche's Light of the Path teachings- the OLC is now a site for integrated quality online Buddhist education and community support. 
Available through the Friends of FPMT program and as individual online modules through the FPMT Foundation Store, the Online Learning Center makes it possible for students who do not have access to a Dharma center, or who prefer an online learning environment, to thrive with their study and practice.
Your support enables this work to continue and helps us support students with financial difficulty who would like access to this precious online opportunity.
Current Achievements of the FPMT Online Learning Center


The OLC currently has over 10,000 registered users from 160+ countries.
49 active courses are available in English, French and Spanish.
16 courses are offered completely free of charge.
The Light of the Path teachings (Lama Zopa Rinpoche's teachings which provide the raw material for the Living in the Path course) are available for free in their entirety.
All English standard FPMT Education programs are available online: Discovering Buddhism, Basic Program, Meditation 101,  Buddhism in a Nutshell, Heart Advice for Death and Dying and Living in the Path.
Special Commentaries and Other Teachings are available free of charge. These are ongoing teachings and commentaries by Lama Zopa Rinpoche and other teachers on specific texts and practices such as Lama Tsongkhapa Guru Yoga, Lama Chöpa, Bodhicaryavatara and Calm Abiding meditation.
Live webcasts of Lama Zopa Rinpoche's teachings have been available through the Online Learning Center and video of these teachings made available on YouTube.
In addition to English, select courses are available in Spanish and French with plans for the development of more modules.
Free access granted to International Mahayana Institute Sangha and students with financial difficulties.
By providing materials through the Online Learning Center, FPMT can also provide continuously updated materials to students quickly, easily and inexpensively, eliminating the need for students themselves to necessarily own and store hardcopy versions.
Donations also help cover the costs of the 2014 Light of the Path teaching event and the expense to make the teachings available on the Light of the Path teachings page.
---
How Can I Make a Donation?
To make a tax-deductible donation:
Or simply send your check in US dollars payable to FPMT Inc. and write "Online Learning Fund" on the memo line.
FPMT Inc.
1632 SE 11th Avenue
Portland, OR 97214-4702
USA
The Online Learning Fund is a project of FPMT Inc. and is administered by FPMT International Office located in Portland, Oregon, United States. All donations made to this fund are tax-deductible within the United States in accordance with IRS Code article 501(c)(3) to the extent allowed by law.
For more information please contact: Justin Jenkins, Donor Services Coordinator.